"It was in the month of January, 1699, that a one-masted vessel, with black sides, was running along the coast near Beachy Head, at the rate of about five miles per hour." Not the kind of opening sentence you'd expect to find in a library book at the Royal Society Centre for History of Science? Well, our book collection includes a wide variety of literary productions by our Fellows, and the epic 'Snarleyyow, or the Dog Fiend' (1837) earns its place on our shelves as one of the naval novels of Captain Frederick Marryat FRS. To celebrate World Book Day, I thought I'd take a look at Marryat, his works, and his devilish canine creation.
Snarleyyow, "one of the ugliest and most ill-conditioned curs which had ever been produced", with ears "torn to ribbons by the various encounters with dogs on shore, arising from the acidity of his temper", is the loyal companion of the wonderfully-named Cornelius Vanslyperken, lieutenant-commandant of a ship hunting smugglers in the English Channel. The tale takes in Anglo-Dutch relations, Jacobite politics, and the ongoing battle between Snarleyyow and the downtrodden sailor Smallbones, seen here in a plate from an early chapter in the book getting his revenge in first. 'Man bites dog', indeed …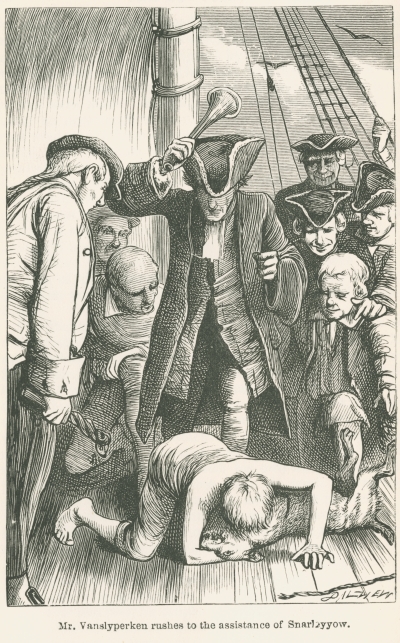 Dog Fiend of Snarleyyow
The naval details in 'Snarleyyow' and Marryat's other shipboard tales have the authentic tang of the sea, a testament to the author's long and eventful naval career. Entering the Royal Navy as a midshipman in his early teens, he survived storms, malaria and close action in the Anglo-American War of 1812. He was one of the first people to see Napoleon Bonaparte on his deathbed in St Helena, sending a sketch in his dispatches back to Britain. Marryat's certificate of election to the Royal Society, dated 13 May 1819, records him as "a Gentleman well versed in Mineralogy and in other branches of science"; his proposers included Charles Babbage, a former schoolmate, and John Barrow of Admiralty fame.
Following the publication of his debut novel 'The Naval Officer' in 1829, Marryat decided to resign from the navy and dedicate himself to writing. His best known works are probably 'Mr. Midshipman Easy' (1836) and the children's story 'The Children of the New Forest', which was published in 1847, a year before Marryat's death at his home near Blakeney, Norfolk. A trawl around the internet, though, does throw up a fair few supporters of 'Snarleyyow' as Marryat's great 'lost' novel; with chapter titles such as 'In which Mr Vanslyperken proves false to the widow Vandersloosh', and 'A long chapter, in which there is lamentation, singing, bibbling, and dancing', I'm sure you're guaranteed a riotous read!
'Snarleyyow', along with several other Marryat novels, is located in our Lower Mezzanine stacks, under the classmark 'Language and Literature'. We're always happy to bring this material up to the main Library rooms for consultation by readers interested in the literary output of our Fellows; for those of you keen to discover more about the life of Captain Marryat, we also have a couple of biographies available to borrow from our modern loan collection. And if you're wondering about the eventual fate of Snarleyyow and the despicable Cornelius Vanslyperken? Well, it's on page 355, and it isn't pretty; further than that, I cannot say…