I'm a big fan of Horrible Histories – my ten-year-old has a shelf on his wall devoted entirely to the books, and I'll fight both my boys for sofa space when the telly programme is on. As a lover of both Victorian literature and the Smiths, the recent 'Dickens as Morrissey' song made me particularly happy.
So I'm not quite sure how I missed a Royal Society-themed sketch during the recent half-term holiday. I'm blaming the kids, who watched all the episodes while I was at the office; they know where their Dad works, and they've both done Pepys and the Great Fire of London at primary school, so I'll be taking them to task for their lax media briefing skills. Anyway, a colleague has alerted the Library team to the item, and I thought I'd share it with you via this Youtube link.
If we're being picky, Pepys's racy diary-writing heyday in the 1660s was long past by the time of his Royal Society Presidency (there are later diaries, but they deal purely with administrative and legal issues). However, the sketch otherwise plays pretty fair with the true story, as far as I can see (as well as being a real hoot) – Willughby and Ray's De Historia Piscium (The History of Fishes) certainly wasn't a best-seller, and the Society was reduced to virtually giving them away in the eighteenth century. Maybe we should have kept a few in reserve, as they now sell for several thousand pounds a copy...
While the Horrible Histories writers derive much amusement from the financial failure of De Historia Piscium, and its knock-on effect on Newton, it's worth pointing out that the book itself is spectacularly beautiful, and a valuable resource not just for 'fish historians' (there's more than one these days!) but for anyone who appreciates fine natural history illustrations. We've digitised a few of the images for our Royal Society Picture Library – click on the link and type 'Willughby' in the 'Search' box.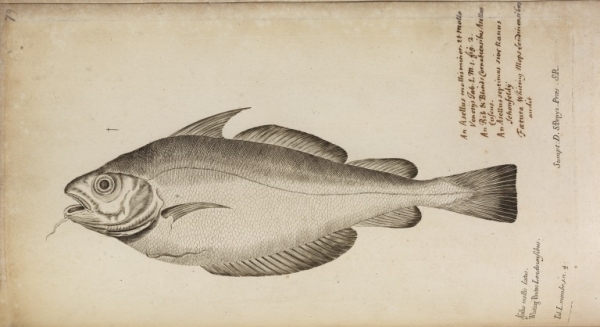 The whiting, from De Historia Piscium by Francis Willughby and John Ray (1686)
As the skit shows Halley and Newton being completely beastly to the poor old diarist and snickering at the tiny potential audience for fishy books, it's somewhat ironic that Halley himself would later present his own pelagic drawings to the Royal Society, following his 1699-1700 sea voyage; a Picture Library search using the term 'Paramour' (the name of Halley's ship) will bring these up. Not bad, Halley, but Willughby and Ray win hands-down on the artistic front!
You can read about the publication history of De Historia Piscium in detail in this article, and if you're able to visit the Library in person, we'll be happy to bring out the original to show you. It's usually locked away in our vaults along with our other seventeenth-century volumes, which means of course that our reading rooms are much more modern-looking than the 'Pepys Library' in the Horrible Histories skit. I'm intrigued to know which library they filmed this in – any ideas?