Opening a parcel and unwrapping a new book is one of the pleasures of the librarianly life. When the book is a donation from an author who has spent many hours in the Royal Society Library hunting for treasures in our collections, and a quick look at the 'Acknowledgements' section reveals that the assistance of the Library team has been graciously noted, the feeling of satisfaction is magnified. My cataloguing in recent weeks has included four such books, highlighting the depth and diversity of our archives, so I thought I'd draw these to your attention – you can come in and take a look for yourselves, or even borrow the books if you pick up one of our ID cards.
First of all, a beautifully illustrated new book by Matthew C Hunter, 'Wicked intelligence: visual art and the science of experiment in Restoration London'. Drawing heavily on the Library's Classified Papers and Early Letters, Hunter looks at scientific image-making in the formative years of the Royal Society, and at how the arts of painting, printmaking, architecture and sculpture were utilized, and subtly reshaped, in the circulation of natural philosophical knowledge. Robert Hooke, of course, plays a major role – the book begins with Hooke's description of a 'Waggish Painter' and his fearsome cure for toothache (read it and wince!) – and it's great to see Hooke drawings such as 'felt-makers at work', sourced from our online Picture Library, reproduced on the page and discussed within their scientific and commercial context.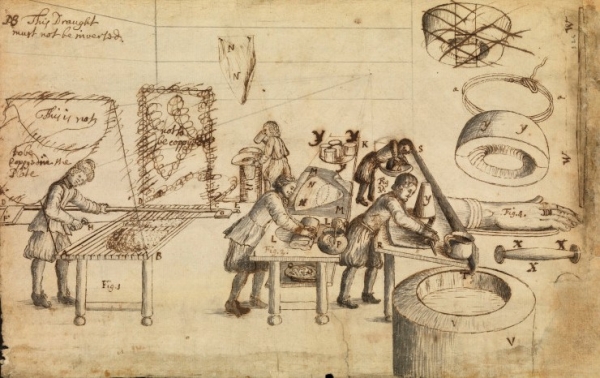 Robert Hooke's illustration of felt-makers at work, ca.1666. Royal Society Classified Papers Cl.P/20/96
Hooke's friend and biographer Richard Waller produced a table showing a 'Catalogue of Simple and Mixd Colours', printed in the Society's Philosophical Transactions in 1686. This table forms the frontispiece of Cristina Malcolmson's 'Studies of skin color in the early Royal Society: Boyle, Cavendish, Swift', the second recent donation written with the 'expert help' (in the author's words) of Royal Society librarians, and drawing heavily on our Boyle Papers and other archives. Malcolmson places Waller's catalogue within the wider context of Fellows' fascination with skin colour in the late 17th century, which included instructions to travellers asking them to acquire information on the complexion of natives in "remote, and uncivilized, or Pagan Countries". The author contends, somewhat uncomfortably, that while "the Royal Society was not the cause of increasing racialization, but rather slavery in the Americas … the attention to skin color in the Royal Society allowed racialization to develop and eventually flourish within the practices of the new science".
On a cheerier note, Richard Sorrenson thanks the Society for "its outstanding support of the history of science" in the acknowledgements section of 'Perfect mechanics: instrument makers at the Royal Society of London in the eighteenth century'. The book looks at the crucial and under-appreciated role played by leading artisans such as John Dollond, George Graham and Jesse Ramsden, who "set out to improve themselves and their artefacts and they did so, in part, by adopting the new experimental philosophy of the previous century."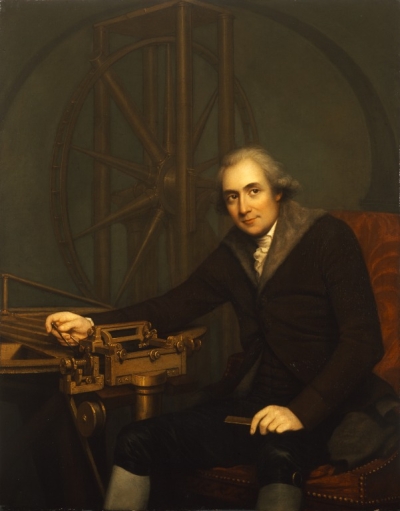 Portrait of Jesse Ramsden by Robert Home, ca.1791
© The Royal Society
Finally, and bringing our story forward to events almost 100 years ago, author David Rogers has made extensive use of the Society's War Committee papers and other Committee Minute Books in compiling 'Top secret: British boffins in World War One'. Rogers notes the help of our Picture Librarian in providing photographs of Fellows for his book, and a quick flick through reveals many familiar faces, all of whom were involved in war work. They include William Henry Bragg, head of the Hawkcraig Research Station, which produced important work on submarine detection; Sir Alfred Kempe, Chair of the Food (War) Committee; Sir Alfred Ewing, head of 'Room 40', the secret department which decrypted intercepted German naval messages; and numerous others. The author has promised us a copy of his sequel, which will take the story forward to World War Two – we look forward to receiving this, along with books by other future researchers who are planning a trip to the Society's archives for their research. All are welcome – we look forward to guiding you through our collections!