With scientists all over the world asked to work from home, we asked editors from our different journals to gather comments about the impact on research programs. Part one of Science in Lockdown shared comments from countries including Sweden, Brazil and the UK. Part two once again takes us all over the world, including to the remote Bamfield Marine Science Centre, Canada.
Professor Bruce Drinkwater, Faculty of Engineering, University of Bristol, UK
"As a researcher undertaking experimental work, these are very challenging times. For the moment, there is still plenty of work to be done, analysing data and underpinning it with simulations. I meet the members of my team each week on-line which allows our work to move forward. But I worry that this is not sustainable, and my group needs new experiments and new data to make progress. I'm also involved in projects with industrial partners who are facing huge financial uncertainty. In some cases, contributions to current and future projects are on-hold. Again, we can cope in the short-term, but if this situation lasts much longer the impact of this decline in funding will mean our group shrinks. I also strongly believe, science and technology are the key to rebuilding the economy post-COVID19, so we need to find a way of helping our students and post-docs through. But like many other sectors, University research will need government support to thrive."

Bruce's working environment has changed from a busy lab to working from his spare room.
Zoe Lee, PhD student at Cancer Research UK Manchester Institute, The University of Manchester, UK
"My PhD project combines genetics, biochemistry and molecular biology to study phosphatases in fission yeast. Due to the current coronavirus pandemic, CRUK MI has temporarily closed. Whilst in lockdown, I was really keen to use my laboratory skills to help out with COVID-19 testing in order to do what I can to help and aid the reopening of CRUK MI so that we can return to fighting cancer as soon as possible. Eager to resume my work in cancer research, I immediately signed up to the call for volunteers to help out with COVID-19 testing at the Alderley Park Lighthouse Lab, which is led by Medicines Discovery Catapult. On my first day at the Lighthouse Lab, I was shown around the different workstations which link together from receiving the swab sample up until analysing the sample for the presence or absence of the virus. After I met everybody on the different workstations, I received thorough training at my workstation and got stuck straight in. The smoothness of the workflow is incredible and everybody is very motivated to push out increasing numbers of tests. The diversity amongst the volunteers from different companies and the army, all coming together for a single goal, has made the experience very rewarding. The atmosphere on site is extremely uplifting and the team have made volunteering a real pleasure. I'm looking forward to the future weeks and I'm delighted that I am able to be a part of the Alderley Park Lighthouse Lab. I am striving to get things back to normal to address this dreadful pandemic and then get back to my important work in the CRUK MI Cell Division lab where we are pushing back the boundaries to find new and better cancer therapies."
Professor Steve Carlip, Department of Physics, University of California at Davis, USA
"Like most American professors, I have three duties: research, teaching, and "service" (anything from graduate admissions to reviewing journal papers). For promotions and grants, research counts the most. But with less than a week's notice to move classes online, I've had time for little else. I'm lecturing from my dining room, over a fairly slow Internet connection shared with my family. My students have dispersed to different time zones, and some don't have reliable Internet or a quiet place to watch a lecture, so I record everything: an extra hour to upload each lecture, and another to store it properly. I'm posting extensive notes, trying to figure out how to give fair online exams, cooking up demonstrations from household objects, dealing with obscure bugs in online course software, trying to keep myself and my students sane. When will I get back to the research I love? Beats me."
Professor Peter Burgess, Earth, Ocean and Ecological Sciences, University of Liverpool, UK
"The current lockdown presents many challenges to university-level Earth Science teaching and research, for example how to provide the field training that Earth Science students need, and how to run the conference meetings to communicate and disseminate our research results. But as an Earth Scientist with experience in natural resource exploitation, I can see that it also provides a significant opportunity to show how we could live differently, for example consuming less fossil fuel driving and flying, to reduce greenhouse gas emissions to limit and mitigate the effects of the climate crisis. So these are strange times, a mix of great sadness at the loss of life, frustration at the restrictions on our usual lifestyle, but also a sense of possibility, that if learn from our current experiences and avoid a return to business as usual, we could really change things to create a better, more sustainable way of living."
Dr Catherine Hall, School of Psychology, University of Sussex, UK
"This crisis will stratify us according to who could use it and those who could not: Those who took the online training resources, networking opportunities and conferences to emerge better connected, more skilled, with 5 more programming languages and 5 more articles submitted. Because they were at that point in their research cycle where they didn't need to be collecting data, or who had the time because they weren't home-schooling a kid while restraining a toddler, or who weren't so lonely and sad and scared by this whole thing that they couldn't work. Probably every experience is mixed – you can watch an online conference talk after toddlers are asleep; the toddler might make you less lonely and sad. But anything that measures productivity will separate us out based on how we existed during COVID not our ability to do science. Will funders, recruiters and promotion panels be able to recognise this in a post-COVID economy where money is scarce?"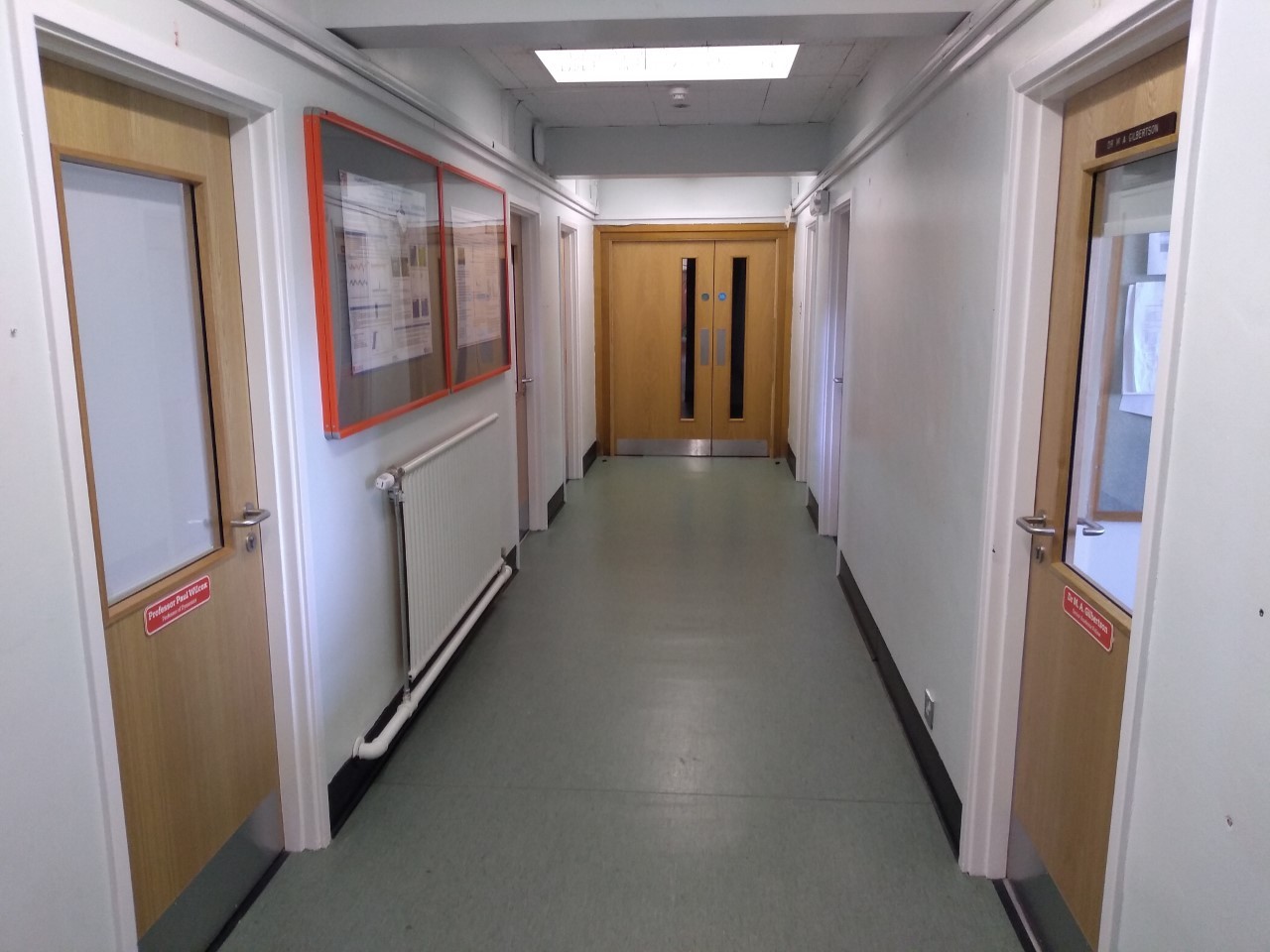 An empty university hallway, as seen around the world at the moment (photo by Bruce Drinkwater).
Chris Neufeld, Associate Director Education, and Sean Rogers, Director, Bamfield Marine Science Centre, Canada
"The Bamfield Marine Science Centre (BMSC) has been hosting over 100 international researchers and 4000 students annually in the isolated community of Bamfield, British Columbia. Like most field stations, our remote location challenges our response to this global pandemic. Research has been severely restricted to accommodate only "critical" ongoing research and animal care, and we have cancelled all of our in-person university field courses. In their place we are innovating to shift two of these 'field' courses online, and now offer weekly "Live Labs" for K-12 students supported by NSERC Promoscience. Dealing with uncertainty is common in field work. This global pandemic continues to challenge us, yet field stations and their local communities embody resilience. Together, we will get through this and be there to promote life-changing exploration and discovery for the next generation of scientists, even as they prepare to re-enter a world filled with new challenges."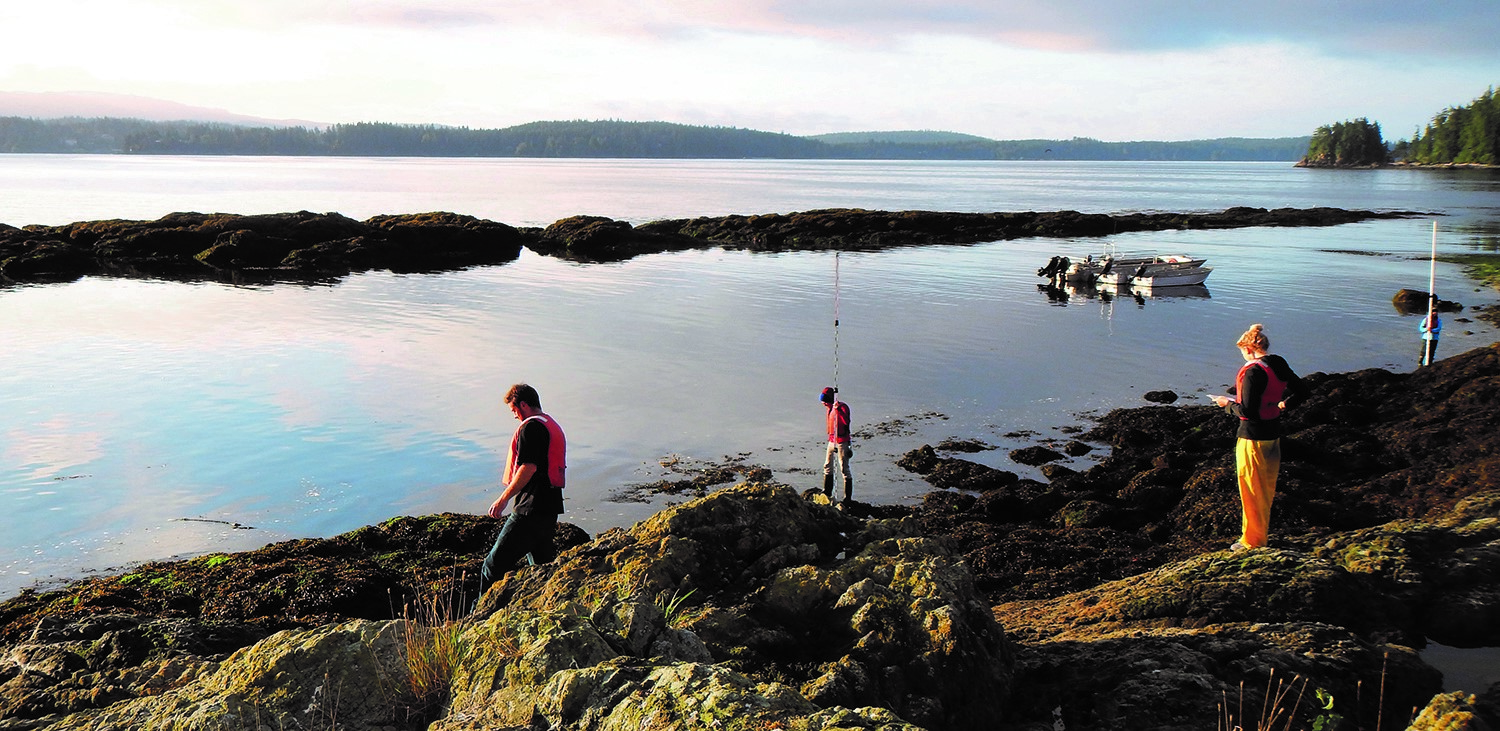 Image courtesy of the Bamfield Marine Science Centre.
Professor Anne Juel, Manchester Centre for Nonlinear Dynamics and School of Physics & Astronomy, University of Manchester, UK
"From the endless list of cancelled plans and activities, a new Zoom-focused work life has emerged somewhat haphazardly. We received notice of university shutdown at lunchtime on Tuesday 17th March with less than 5 hours to go. Heading a primarily experimental research group, the immediate concern was to mitigate the effect of the shutdown on the activity of PhD students and PDRAs. A frenzy of activity followed to consolidate plans for research away from the lab, finishing last minute runs of experiments prior to shutdown, using available cars to move computer equipment to different homes and in some cases supplies for safe home experiments. Quick decision-making on the part of all involved has provided us with the tools for a smooth transition to experimental data analysis, modelling and writing-up. While for me as a faculty member, the shutdown has in some ways provided the opportunity to take stock, the potentially severe consequences for postgraduate and ECRs must not be underestimated."
Prof. Susanne Foitzik, Institute of Organismic and Molecular Evolution, Johannes Gutenberg University Mainz, Germany
"This summer semester would have been my first sabbatical in over 10 years. I just received two large grants last year and was looking forward to doing field work in Panama, Arizona, France, Italy, Canada and New York. I have several new PhD students, who are eagerly waiting to start their projects and now we are not even allowed on campus, except for emergency maintenance of our study animals. Over the last weeks, I organized so many ZOOM and TEAMS meetings, discussing papers, giving lectures on scientific methods, helping students to turn this into a productive time. At the same time, I became dean, as our dean retired and we are not allowed to vote digitally (I was vice-dean before). Instead of being in the field starting new research projects, I am managing, supporting, discussing, in addition to digitalizing lectures and developing a digital curriculum for our students. Yet for our international students, often living in small apartments on their own, the stay-at-home order is much more problematic than for me with my family. I hope we will manage to pull through this together and there will be a time when we can concentrate on our science again."
Royal Society Publishing remains open during this crisis, if any member of the team can help with anything please do get in touch.