From time to time we hear about forgotten women in the history of science and there are books and articles about such heroines.
However there are some women who are even more hidden and they have left their traces in the archives of the Royal Society. As you would expect, the library holds all volumes of the Philosophical Transactions since they were first published. But the library also keeps the original manuscripts as they were submitted for publication. And here is where you find the gems: wonderful drawings and illustrations of scientific papers. Who did them? A variety of people, including famous artists, but some were the wives, sisters or daughters of the authors. These drawings provide clues that some of Fellows of the Royal Society had an invaluable asset in their female assistants. It is obvious that these assistants had to be highly talented and knowledgeable to produce the high quality drawings they did. One of these was Mary Buckland, née Morland.
Mary Morland (1797-1857) was not just a technician and designer. She was a fossil collector and fossil geologist. Even before her marriage to William Buckland FRS, she produced illustrations for a famous French palaeontologist Georges Cuvier, and for the British geologist William Conybeare. She also made models of fossils, labelled fossils for the Oxford museum and mended broken fossils. However, the main information we have about Mary Morland is that she was the wife of William Buckland and the mother of Frank Buckland.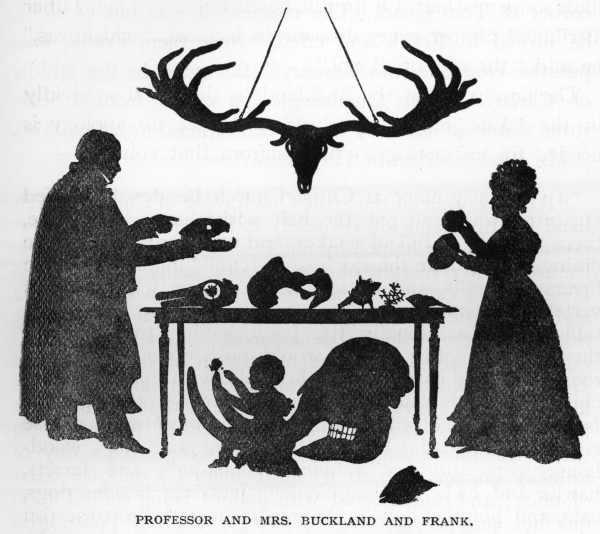 Silhouette of the Buckland family, from Elizabeth Gordon's 'The life and correspondence of William Buckland, D.D., FRS … by his daughter', 1894

Here you see a charming silhouette of family life at the Buckland's home, with little Frank playing with fossils under the table and the parents studying fossils. Scenes from the household are described in a biography of Frank Buckland and they tell of a house full of amazing objects, curious stuffed animals but also an assortment of live animals. No wonder Frank was destined to become a scientist too.
Home life may be sometimes idyllic and charming, but science is not, and in reality Mary had her hands more than full. She bore nine children, five of whom survived to adulthood, and she taught these children at home when they were small, using the vast collection of natural science specimens she had amassed. She also taught in a village school in Islip near the family's country home and tried to set up a club that provided lectures and a library for working men when her husband had become Dean of Westminster. Mary continued to work 'on the microscope' on marine zoophytes after her husband died.
Keep an eye out for part 2, in which our heroine encounters the hyenas…