As a keen London walker, I'm always on the lookout for Royal Society connections in my strolls around town.
The locations of the Society's previous homes can be traced along a (roughly) east-west path from the City to Piccadilly. Crane Court, a narrow alleyway off Fleet Street, remains on the map despite the best efforts of the Luftwaffe (albeit with few remaining traces of the eighteenth century), and Somerset House and Burlington House are still magnificent edifices, of course. However, if you wish to stand on the site of the original Gresham College, you'll have to negotiate a rather dismal concrete walkway beneath Tower 42, the former NatWest Tower.
We visited all these former sites a couple of years ago on a Royal Society group walking tour – something we'd be happy to do again if anyone is interested in getting a party together – during which we also tracked down a couple of sites where our Fellows spent their 'off-duty' hours. The great seventeenth-century coffee-houses such as Jonathan's and Garraway's are now visible only via commemorative wall plaques in Change Alley, but Newton and Halley's favourite watering-hole, the Grecian, survives as the Devereux, a rather good pub near the Inns of Court.
Our Fellows are found on English Heritage blue plaques galore, as you'd expect. I was lucky enough to attend the unveiling of one for James Smithson FRS, the founder of the Smithsonian Museum – worth a look, if only to escape the Oxford Street crowds. Keep an eye out for statues, too: Pepys turns up in Seething Lane, his former Navy Board accommodation, and the great radical and libertine John Wilkes (yes, he was a Fellow!) can be found in Fetter Lane, just around the corner from Crane Court. I'm currently unable to perform my usual tip of the hat to the bust of Newton in Leicester Square – as with large parts of London at the moment, it's behind hoardings as the city gets its pre-Olympic Games spruce-up. Mind you, poor Newton has been looking rather neglected for years now; I wonder if he's getting a 2012 makeover as well?
Of course, all this pavement-pounding can leave you in need of a tranquil bit of urban greenery in which to pause for a rest. I stumbled upon the lovely Postman's Park a few weeks ago, and was surprised, while doing some follow-up reading, to find two more Royal Society links – not with our Fellows this time, but with artists and architects who have graced our current home in Carlton House Terrace.
The highlight of Postman's Park is the Memorial to Heroic Self Sacrifice, created by the painter and sculptor George Frederic Watts. Partly a moving tribute to selflessness and community spirit, and partly a wonderful bit of late-Victorian kitsch, the Memorial's 55 tablets record the passing of everyday heroes who died while attempting to save others. Many will leave you genuinely moved; a few (rather in the manner of modern-day readers learning of the death of Little Nell) will have you struggling to suppress a guilty chortle: pity poor William Donald of Bayswater, for example, who "drowned in the Lea trying to save a lad from a dangerous entanglement of weed"…
Our section of Carlton House Terrace has (or had) a George Frederic Watts connection: when the third Earl Somers was a Terrace resident in the 1850s, he commissioned Watts to paint nine frescoes in number 7. These frescoes were removed from the Terrace to the country seat of the Somers family, Eastnor Castle in Herefordshire. I've been attempting to trace their fate, and am very grateful to the castle's owner, James Hervey-Bathurst, for sending me an old photograph of the interior of Eastnor, showing one of the Watts frescoes in the Staircase Hall: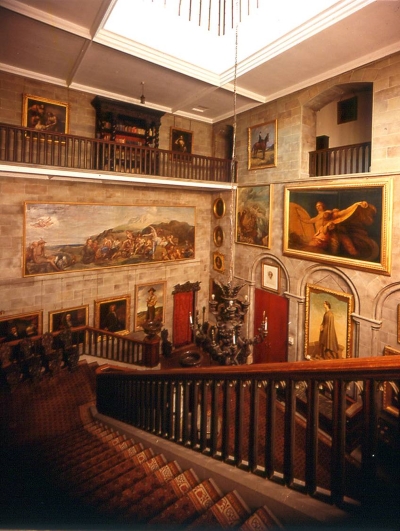 Photographs of frescoes in Eastnor Castle, reproduced by kind permission of James Hervey-Bathurst
However, the frescoes have since moved on, and are now believed to be at Malvern College in Worcestershire. My investigations are ongoing; I'll update you if I find out anything more.
The loggia and tiled roof covering the Memorial to Heroic Self Sacrifice were designed by Ernest George, of the London architectural firm Ernest George and Peto. Here's the second of the links to the history of Carlton House Terrace: these same architects were responsible for our magnificent 'Italian palazzo' interior in number 6, created for the millionaire Charles Henry Sanford in 1890-91, and now the home of the Centre for History of Science.
We're always happy to entertain visiting tour groups with a look at our splendid 'Renaissance palazzo' ceiling in the Library, together with other interesting nooks and crannies in 6-9 Carlton House Terrace – please contact us for further details of our tour programme. In the meantime, on your next London stroll, do keep your eyes open for more traces of the Royal Society and its Fellows, and please drop me a line if you're interested in the possibility of guided walks further afield. Perhaps we should start in the Devereux, and drink a toast to capital Fellows past – make mine a London Pride, please!