Are you heading off to a Bonfire Night firework display this evening? Or did you wrap up and go to a local park – or just your back garden – over the weekend? While you might get to see some spectacular fireworks, I'm willing to bet that a fiery dragon doing battle with St George is unlikely to feature in your evening's entertainment:

This engraving is taken from a work in our Rare Book Room, John Babington's Pyrotechnia; or, A discourse of artificiall fire-works (1635). The book, the first description of recreational fireworks in English, is dedicated by 'John Babington, Gunner' to his boss the Earl of Newport, Master of King Charles I's Ordnance. The dragon display relied on an intricate system of pulleys set up so that, 'as you turn [a] wheele, the George and dragon will runne furiously at each other'; in a separate description, Babington shows how to prepare the dragon with a slow-burning fiery mixture at the eyes and mouth, and rockets in its belly and tail which will go off as the creature is 'wounded' during the fight – a spectacular sight indeed for seventeenth century audiences.
The figure below shows a man in the process of lighting Babington's 'fixed wheele which shall cast forth many rockets into the ayre'; each rocket is set off in succession by a slow-burning fuse made up of 'Roch peter, Sulphur vive, Camphire and Fine powder dust', in proportions listed precisely in Babington's instructions.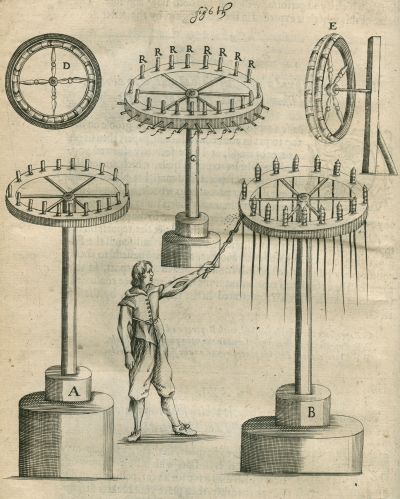 Finally, for 'the pleasure of a Prince or some great person', Babington sets out his most ambitious (and, presumably, expensive) pyrotechnic tableau: two model castles equipped with 'all manner of works, as well fire bals, as rockets, with divers small Ordnance to give a more grace to the worke', together with fire ships and more of his rocket-assisted dragons. The whole shebang, in all its glory, is shown below: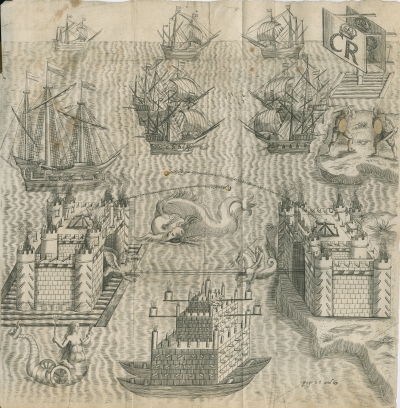 Interestingly, Babington's text makes no mention of the blazing-eyed sea monster depicted between the castles, which makes me wonder whether this is part of the show or just a random fishy interloper. It's also interesting to speculate as to how many of these displays were actually put on as Babington intended; presumably the start of the Civil War, seven years later, would have put a stop to such frivolity and seen Babington's explosive mixtures diverted to more hostile uses. Pyrologia remains a fascinating period piece, however, and we'll be pleased to show it to you if you pop in to the Royal Society Library. Happy Guy Fawkes Night!