Christmas is the traditional time for fairytales, from Peter Pan to The Nutcracker, and I've just discovered another fairy-story from looking over examples of the Society's botanical illustrations. The great flower painters of the eighteenth century are well represented in our collections, but I've been examining more recent artwork and musing on which of our Fellows might be the twentieth century equivalent of a Georg Ehret or a James Sowerby.
The botanist Arthur Harry Church FRS (1865-1937) must rank among the finest of flower painters. Church's scientific career was Oxford-based, within the Botany Department where he lectured, demonstrated and produced research papers on marine plants before turning to the study of flowers. Church used drawing as a teaching tool but for his own benefit studied the techniques of artists from earlier periods, including Ferdinand Bauer. His works are invariably precisely scaled, neatly annotated and beautifully coloured against the neutral background of his Bristol board. What appears to be an initial flatness of style is a consequence of his scientific intent. Church wanted to understand the internal structure and purpose of each bloom and therefore he would show the whole flower, but then a magnified partial section.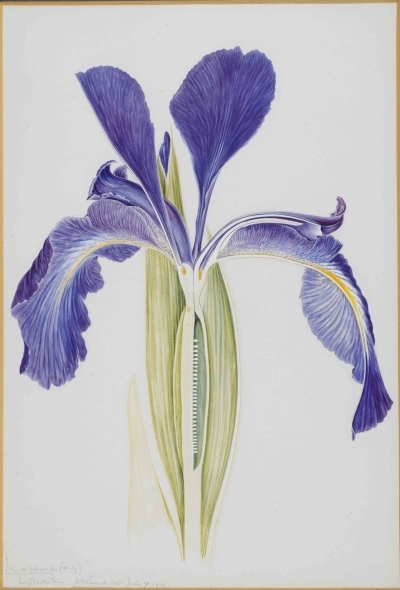 English cultivated iris by A H Church, 1907
It's an interesting exercise to compare Church's enlarged flower details with those of the lush close-ups of irises and other studies by the American 291-artist Georgia O'Keeffe (1887-1976). One has a cool, appraising eye, the other presents an opulent, vertiginous look into the blooms. But where are the flower-fairies?
Something like them appears in the work of Thomas Alan Stephenson FRS (1898-1961) whose professional path took the opposite trajectory to Church's. Stephenson began producing watercolours of orchids and other plants for his father, a fine amateur naturalist, before the younger man became a marine biologist. The Society holds just two painting by him from this early period including a fine presentation from 1917 of the sea campion Silene maritime.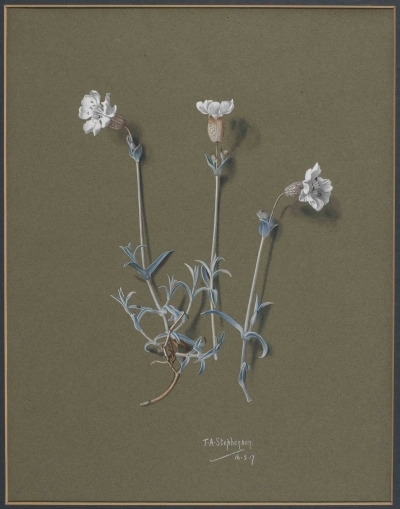 Sea campion by T A Stephenson, 1917
Stephenson's great joy was sea anemones and he reported on specimens of these marine creatures obtained during the 1910 Terra Nova expedition when he was only 18 years of age. He later joined the Royal Society's Great Barrier Reef Expedition in 1928-29 and by then had already established himself as a formidable artist in support of his scientific work. He described British sea anemones in two Ray Society books and produced some extraordinary images as a result. Stephenson was fascinated by the patterning of sea-life and this informed the aesthetics, as well as the science, of his zoology.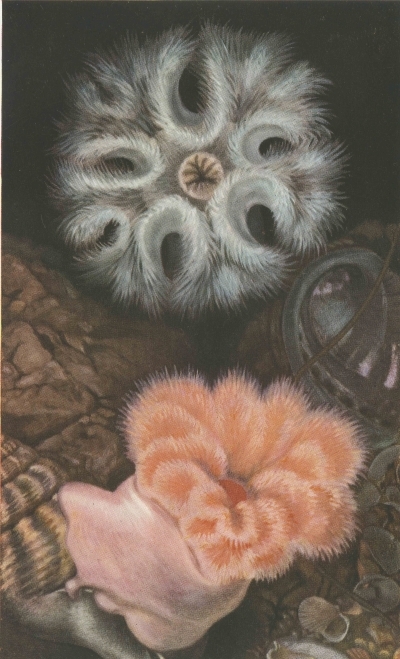 Sea anemones by T A Stephenson, 1935
The Royal Society has the privately-printed (and limited to 16 copies) book of Stephenson's Illustrations of the British Sea Anemones (1935). This reproduced some of the finest examples of Stephenson's particular genius. But tucked into the back of the volume are items that didn't reach his formal scientific works: these are the jeux d'esprit of letterpress sea-fairies, perched on hermit crabs or weaving within anemone fronds, and dedicated to his wife Anne and to 'HJF' – his Aberystwyth University colleague Professor Herbert John Fleure FRS (1877-1969), to whom this copy of the book belonged originally.
Personally, I'm no great fan of the fairy on top of the Christmas tree. At this time of year I prefer to look forward, to the summer warmth of Church's blooms and Stephenson's rock pools, and I hope that you too will enjoy this little seasonal reminder of the scientific magic of the natural world. Happy Christmas from the Royal Society Library team!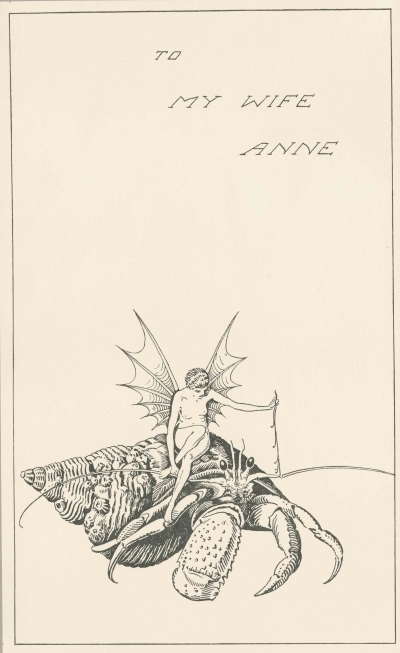 A 'sea-fairy' by T A Stephenson, 1935