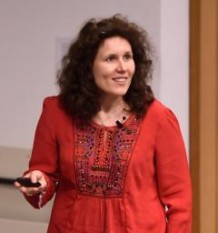 Nathalie Pettorelli is a research fellow at the Institute of Zoology in London. Her research focuses on methods to assess, predict and mitigate the impacts of global environmental changes on populations, species and ecosystems. Together with Kamran Safi, Woody Turner and Stefan Dech, she recently edited an issue for the Philosophical Transactions B, entitled 'Satellite remote sensing for biodiversity research and conservation applications'. We asked Nathalie a few questions about how the issue came together and her career in conservation biology.
Tell us a bit about this theme issue and the papers included.
This all started with the organization of a Committee on Earth Observation satellites workshop in Munich in 2012. As I helped identify potential participants, I was stunned by how disjointed the remote sensing and conservation communities were, despite the clear overlap in interests. Based on these observations, it was decided that part of the workshop would be devoted to help generate new collaborations between communities, which used the prospect of potentially putting together an issue for Philosophical Transactions of the Royal Society as bait. And it worked. A lot of collaborative ideas worth a publication emerged at the workshop. Coupling these to some of the work funded by NASA related to biodiversity research, we quickly realised that we would have enough material for an issue.
To me, the best bit about our compilation of articles is that the research presented needed both communities to engage with the work to make it happen. The papers included cover a wide array of topics, from using free satellite data to support the monitoring of threats to Saharan biodiversity, to tracking the current and future distribution of invasive species, modelling biodiversity distributions at multiple scales and assessing the contribution of Protected Areas to improvements in biodiversity conservation.
What impact do you hope this issue will have in this research field?
I'd love to see more communication between the remote sensing and ecological communities. There is so much potential for collaborative work, so many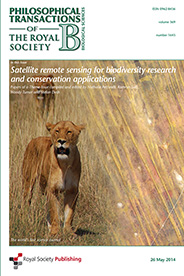 opportunities for increasing our understanding of the Natural World and making a difference in biodiversity monitoring and conservation. I hope this issue will help jump start a discussion about possible platforms where these communities could meet, and how to move forward in terms of making sure that collaborative work becomes more common and appreciated within both disciplines.
What do you think are the most exciting challenges/applications at the moment in satellite remote sensing?
There are so many. Detecting species from space is the one that always captures my attention, but then being able to discriminate among genotypes using imaging spectroscopy is pretty impressive and definitively exciting in terms of future prospects. Ultimately, it's the combination of a good question, relevant data and adapted methodology that leads to important findings and potential progress in applied ecology. That perfect mix could occur more and more often as inter-disciplinary work becomes increasingly common; to me, this could be the exciting bit.
What made you pursue a research career in conservation biology, and what have been your personal career highlights?
As far as I am concerned, there is not a single research area that is as inter-disciplinary and challenging as conservation biology. Conservation biology is about working at the interface between people and nature, which means that every problem might contain an economic, social science, mathematics and technology angle, as well as a classical ecology angle. I also enjoy producing knowledge that has clear application.
As for my career highlights, holding my first published book was something amazing, but so are the last four years establishing Soapbox Science as a key scientific event in the UK. I'm also proud of the recent work we did with my team in terms of presenting a coherent framework for quantitatively assessing mammals' vulnerability to extreme natural events, and in terms of pioneering efforts to combine population dynamics modelling and species distribution models to better inform translocations.
'Satellite remote sensing for biodiversity research and conservation applications' publishes on Monday 14th April 2014.