Professor Nigel Bennett is Austin Roberts Chair of Mammalogy at the University of Pretoria and a Handling Editor on the Biology Letters Editorial Board. Here, he talks to us about his career.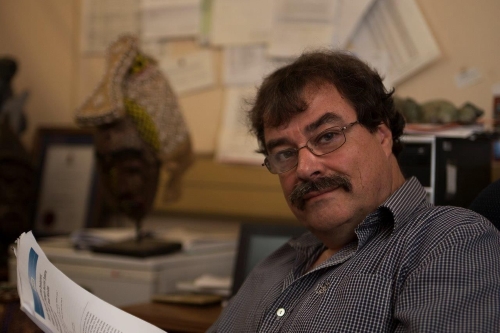 Nigel Bennett, image copyright Rudi van Aarde
Tell us a bit about your research.
My research focuses on animal physiology and behaviour using African mole-rats as model animals. My co-workers and I have investigated the ecological and physiological factors that affect the control of reproduction and the evolution of sociality in African mole-rats. Unlike other researchers investigating cooperative breeding in mammals, I have done so from a variety of perspectives. The strength of this multi-faceted approach is that it has led to an integrated understanding of reproductive suppression in mole-rats of a type that has not been achieved for any other taxa. My research has set the benchmark for our understanding of phylogenetic and ecological constraints regulating reproductive success and social evolution in mammalian species. My research is directed primarily at studying social regulation of reproduction in mole-rats.
What prompted you to work in this field?
I have always been interested in why some organisms adopt a social lifestyle and others do not. As a young boy I was fascinated at how wood ants worked for the common good of a queen. My interest in mole-rats came when I was an undergraduate at Bristol University and read a seminal paper by Jennifer Jarvis on cooperative breeding in the naked mole-rat. On obtaining a position as a doctoral student at the University of Cape Town I wanted to see if this was a feature common to other African mole-rats, and this is where the passion was ignited when I went on to study the Damaraland mole-rat and also found it to have an incredible social organisation similar to that of social insects and termites.
What has been the biggest influence on your career?
Two people influenced my career. I undertook my Honours project under the supervision of Professor Sir Brian Follett – his infectious enthusiasm for science and his incredible lectures fired up my imagination. Professor Jennifer Jarvis later introduced me to everything mole-rat and this, together with her dedication for research, further drove my passion to work on these incredible animals.
What are the big challenges still remaining in your field?
After nearly three decades of research on the reproduction of social African mole-rats I still have not been able to determine how the breeding female actually inhibits reproduction in the physiologically suppressed non-reproductive females in the colony.
Why did you join the Biology Letters Editorial Board?
I joined the Biology Letters editorial team because I am fascinated by biology and being a Handling Editor allows me to keep abreast of the latest findings in the field of biology and also gives me a perspective of the hot topics currently being explored.
What advice would you give to someone who want to submit to Biology Letters?
Ensure your research is cutting-edge, novel, the topic is of broad interest, and make it exciting.
What do you do in your spare time?
In my spare time, which is limited, I like to travel to different countries in Africa to explore the wildlife. I have a particular weakness for visiting the mountain gorillas in Rwanda and Uganda. I also like to collect African art and frequently visit markets to collect 'pieces' from all over the continent of Africa.
If you weren't a researcher, what would you be doing instead?
If I were not a researcher I would have liked to have been a game warden in one of the East African national Parks, protecting the incredible African fauna from poaching.