Clare, you're on the Biology Letters editorial board – what do you like about it?
Clare: I enjoy the huge diversity of fascinating papers from across ecology and evolution, and the challenge of being made to think critically about new ideas – I suppose that sums up why science in general is such fun. I've also met some wonderful and stimulating people on the editorial and publishing teams.
And, Innes, you're on the Proceedings B board…
Innes: Yes, as an editor I am exposed to a far wider range of science than I would normally encounter, all of it at the highest standard. I am also learning all the time, from what I read about how to craft a great paper.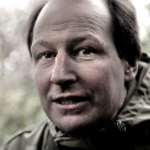 We had three categories in our competition, what was your favourite and why?
C: I liked the Evolutionary Biology category best – it's quite a challenge to communicate an evolutionary idea in a single static photo, but many of the entries did that brilliantly. I was also impressed at the originality and breadth of images in the Environmental Biology category – I found this one hardest to narrow down to a shortlist, despite the fact that it had the smallest number of entries.
Alex: To me, the Evolutionary Biology category had the most visually interesting entries. This may be because it was the category where photographers had to make an explicit connection to a historical and ongoing process – evolution – with just a still image. In some of the photos this link was obvious – such as in intricate mimicries or unusual morphologies. But in most, viewers needed to make their own journey through the evolutionary story behind the image.
I: Behaviour – I became a biologist because of a fascination for animal behaviour, so these photos speak to my heart as well as my head. In the winning photo, the coordinated motion of the fleeing fish and the dynamic response of the shark are both beautifully evoked in this wonderful composition — beauty and a tingle of fear in a single image.
What were you looking for in our winners – did you have a strategy for picking the winners?
I: First, an aesthetic and emotional reaction to the image – composition, message, originality – and then how well it evoked the theme of the individual category.
C: Aesthetic appeal, originality, and a clear message: a photo that makes you stop in awe, then stop and think.
A: First and foremost the judges valued the scientific contribution of an image – it had to be biologically meaningful as well as photographically excellent. In this sense it is a unique competition, where photographic mastery and creativity had to coexist with accurate depiction of biologically fascinating phenomena. Expert scientists and expert photographers are hard to impress, but for different reasons. But every now and then you get an image that is just stunning: you know exactly what is going on biologically and recognize that you are seeing the best way to depict it. Those are our winners.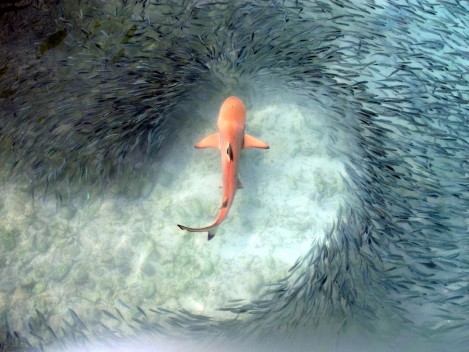 What made you say yes to being one of our judges?
A: There is tremendous talent out there in both science and nature photography and it was great to be a part of a unique competition that integrates the two fields.
C: Images have huge power to inspire and intrigue people about the natural world. I felt very lucky to be involved in such feast of amazing natural history.
I: What a privilege to be involved in this celebration of nature, technical achievement and an eye for the aesthetic.
Are you a keen photographer yourself? What's the best thing you've taken a picture of?
C: Yes, I've been a keen photographer since I was ten, when I nicked my dad's ancient Yashica to chase lizards. Now I use photography as a research tool, and to try to better communicate our work – not only its findings, but also the excitement of doing research, seeing wonderful natural history and learning from the knowledge of local people. I'm made happiest by the photos I've taken of the brood-parasitic birds I study in Zambia, because of the amazing adaptations they show.
I: I'm a very keen photographer, both for fun and, as a sensory ecologist with an interest in how animal vision shapes the evolution of animal coloration, for my research. Probably my best set of photographs are from a holiday in the Galapagos – it's the only place I can think of where a telephoto lens is unnecessary for wildlife photography, so tame are the animals.
What makes a great (scientific) photo – any top tips?
C: To me, a great scientific photo has to have both aesthetic as well as intellectual appeal – the best photos make me feel awed and happy to be alive, as well as intrigued and stimulated to ask questions. And a high technical standard is important too.
Personally, when I think I'm onto something promising I take a huge number of shots, tweaking the focus and exposure each time. That doesn't always result in the perfect picture of course, but at least increases the chances that one of them will turn out all right when something fascinating happens. And wasn't something I could do as a teenager using expensive slide film!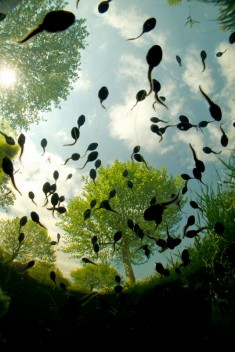 Can you tell us why 'Tadpoles overhead' was chosen as the overall winner?
I: Particularly appealing was that this is a familiar animal from an unfamiliar perspective. We are used to looking down at tadpoles from above, or in a jar, but the tadpole's eye view immediately illustrates the relationship between the animal and its habitat. It also captures group behaviour and so works across multiple competition categories.
C: All of three of the finalists certainly made me feel both awed and intrigued, so for me it was a tough call. But in the end, I think we all felt that the unusual perspective was very refreshing – so many questions come to mind when you momentarily put yourself in a tadpole's shoes, so to speak! It's also a lovely reminder that inspiring natural history can be found even in the most quotidian of settings.
Clare Spottiswoode is field biologist interested in the evolution of interactions between species based at the University of Cambridge; Innes Cuthill is Professor of Behavioural Ecology at the University of Bristol; and Alex Badyaev researches the interface between evolutionary developmental biology and ecology based at the University of Arizona and is a previous category winner of the Wildlife Photographer of the Year competition.

The Royal Society Publishing photography competition was launched earlier this year by two of the Society's biological sciences journals: Proceedings of the Royal Society B and Biology Letters. It is part of the programme of events celebrating the 350th anniversary of Philosophical Transactions of the Royal Society, the world's longest running scientific journal. For more information and details about the event please visit our website.