The Man Who Knew Infinity, which first appeared in UK cinemas last week, charts the incredible story of Srinivasa Ramanujan FRS, one of the youngest Fellows ever to be elected to the Royal Society. Ahead of its release, we partnered with Warner Brothers to hold an exclusive screening of the film and invited some special guests.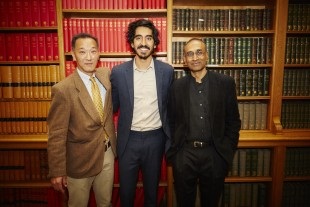 Sir Venki Ramakrishnan, our recently elected President, himself Indian born, introduced the film, and describes Ramanujan as 'a legend to all Indians'. Alongside Venki at the screening was actor Dev Patel, who plays the plucky Ramanujan. Patel called the film a 'labour of love [that was] over 10 years in the making… an intellectual piece about two men coming together for their art.'
The film tells of how Ramanujan, a self-taught mathematician from southern India, was able to convince the eminent English mathematician, G.H. Hardy, also a Fellow, of his raw talent for numbers. Hardy invited Ramanujan to Cambridge, where he encouraged him to derive proofs of his work – not always easy in the face of Ramanujan's purely intuitive grasp of equations, which he believed were expressions of God.
This often trying relationship is set against the background of World War I Britain, and Ramanujan's time in England is one not easily spent. As well as the rigours of establishment mathematics, Ramanujan battles with racism, an unfamiliar diet and a pining for his deserted wife, all of which conspire to exacerbate his declining health.
Ultimately, Ramanujan was able to prove himself more than worthy of recognition by his peers, and he became a Fellow of both Trinity College and the Royal Society. His contributions to mathematics continue to be appreciated and the improbable story of his rise to the top will serve as inspiration to generations of mathematicians to come.
In addition to the screening, the Society were delighted to host a lecture from Professor Ken Ono, from Emory University, and Professor Manjul Bhargava, Princeton University. Both are distinguished researchers in number theory, an area of mathematics which builds, in part, on the work of Ramanujan, and consulted on the film.
In their lecture they discussed the role Ramanujan played in driving forward the field of number theory, highlighting key discoveries over the last 100 years which would not have been possible without his work. Without proofs for many of his equations, mathematicians today are still working to understand some of his work.