To celebrate Open Access Week, Open Biology is highlighting some of its most popular content. A few months ago the journal published a Review Targeting BCL-2 regulated apoptosis in cancer that looked at the BCL-2 family, their deregulation in cancer and the potential development of family members into anti-cancer therapies. The first author of the review, Kirsteen J. Campbell, University of Glasgow, tells us more.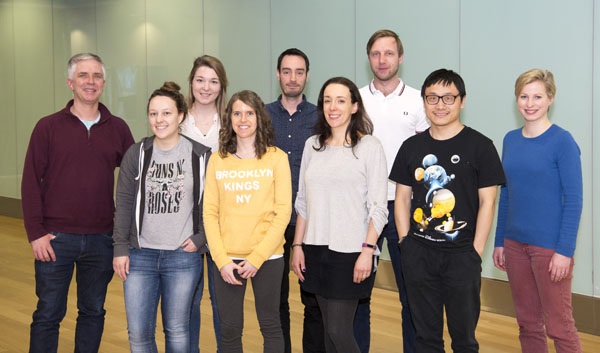 Your paper is currently one of the 'most read' papers in Open Biology, tell us about your review?
Apoptosis is an evolutionarily conserved process that allows the elimination of superfluous or damaged cells from an organism. In certain physiological settings, including development, homeostasis and response to infection, resistance to apoptosis can be desirable but these resistant mechanisms can be hijacked during cancer development. Evasion of apoptosis is required at a number of stages throughout the oncogenic process and creates a significant barrier to efficient cancer therapy. In our recent review in Open Biology we discuss regulation of the intrinsic cell death pathway by the BCL-2 family and how deregulation of these processes can occur in cancer. The BCL-2 protein family controls apoptosis through balanced intra-family interactions that can protect against, or trigger, mitochondrial permeabilisation and subsequent caspase activation and cell death. Elimination through apoptosis allows the potential for clearance of tumour cells and is therefore an attractive therapeutic possibility. The BCL-2 family lies at this key tipping point of viability within the cell and as such represents an Achilles heel that can be targeted for therapeutic gain regardless of the oncogenic signalling pathways that lie upstream. Inhibitors specifically targeting pro-survival BCL-2 family members have recently emerged and are showing promise in pre-clinical and clinical settings. It is therefore timely to discuss the role of the BCL-2 family in cancer development and as a target of anti-cancer therapy.
Tell us about yourself and your research? What made you work in this field?
My first research interests were in how the complexity of multiple signalling pathways could converge to influence transcription factor activity and alter cell outcome. I realised that interactions within the BCL-2 family sit at a powerful position in cell fate decisions and focused my interest on this family. Post-doctoral training in the laboratory of Professor Suzanne Cory at the WEHI institute in Melbourne allowed in vivo insight into the importance of the BCL-2 family and, together with Professor Stephen Tait's interest in mitochondrial function in cancer at the University of Glasgow, I have been investigating the role of the pro-survival BCL-2 family member MCL-1 in breast cancer.
What was your experience like publishing in Open Biology?
Publishing in Open Biology was smooth, flexible and well managed.
Open Biology has an open peer review policy – what are your thoughts on open peer review?
Open peer review is a positive move and represents a more transparent process for publishing that can only benefit the scientific community.
Open Biology is looking to publish more high quality research articles in cellular and molecular biology. Find out more about our author benefits and submission process. As part of our participation in Open Access Week, we are offering a 20% discount on article processing charges for papers submitted up to and including 31 December 2018. To qualify for the discount, please email us to get your code.
Image credit
The Tait lab at Cancer Research UK, Beatson Institute.