I have always loved science since a young age, and there's nothing I enjoy more in teaching than being able to share my enthusiasm for science. Encouraging children to question the world around them and moving their own learning forward through investigations.
Science is an incredibly important subject, that I feel can often be overlooked, as it allows pupils to develop such valuable skills. It is especially essential now as the future work force will require our children to be creative and critical thinkers, who are able to work collaboratively and solve problems.
This year I took on a new role as Year 3 teacher and Science Lead within school, and have been working on establishing myself. As part of this, the decision was made to carry the PSQM GILT award to develop science within school. Through this I have been looking at how to raise the profile of science within the school.
As part of my new role as Science Lead, one of my initial priorities has been to evaluate the current science curriculum being used across school. After speaking with members of staff I found that teachers felt they were confident with their subject knowledge but that far too much content was being squeezed into one year, and that they had to pick and choose from different resources leading to confusion in how they should be teaching the subject. After discussing this with SLT a decision was made to invest in resources to deliver a science programme that would not only cover the national curriculum aims, but integrate STEM into the curriculum through the teaching of science, and following this with a technology/engineering project. This programme also offers a summative assessment for each unit of work, providing an opportunity to accurately assess pupil progress within science and see the impact of teaching.
I am really looking forward to using these resources to help teach science, and use them as an opportunity to introduce engineering and technology into my own teaching. Other members of staff have shown the same enthusiasm as I have, and are pleased that there will be a whole school consistent approach to teaching and making assessments within science.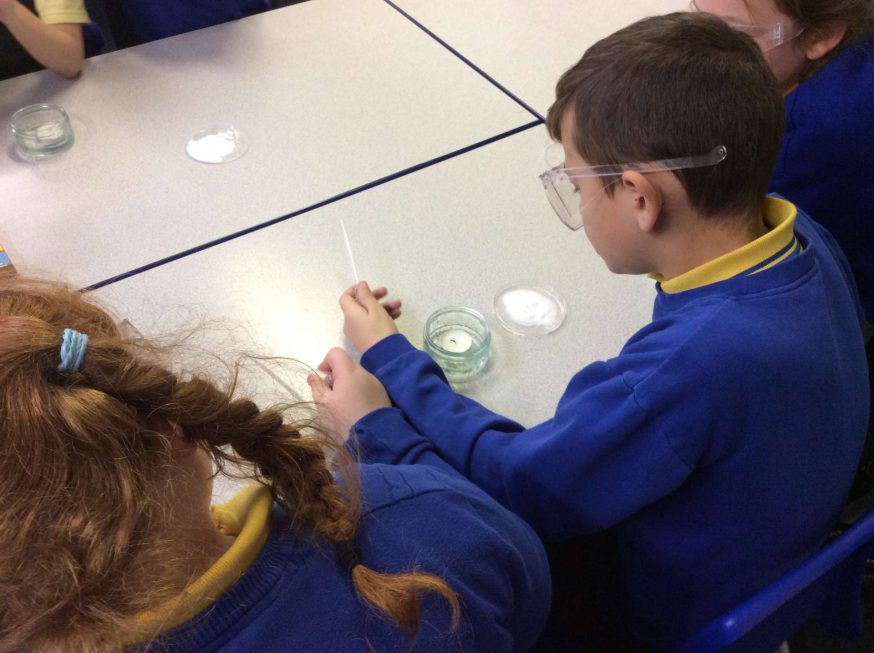 Students undertaking activities at Our Lady of Mount Carmel RC Primary School
In an effort to garner pupil's interest in Science I have organised and run a weekly science club since the beginning of the school year. While children do carry out practical activities as part of the programme of study, I wanted to run experiments and demonstrations that pupils would not normally be able to access within the normal science setting at school.
Each session starts with a "big question", which leads to pupils looking to answer that through carrying out an experiment. For example:"Does Heavy Metal Music cause bad driving?" That week children used meter sticks to determine how quick their reaction times were whist listening to different genres of music. They were encouraged to question what variables must remain the same in order to ensure a fair test, what variables they could possibly change, and look at other possible factors that could affect their reaction time. Pupils were very excited to share their results and tell me which genre of music work led to their best reaction times, with a number of the younger boys' results showing Heavy Metal as their best reaction time.
As the year goes on we are looking to develop our science club into a STEM club, introducing elements of technology and engineering, as well as starting a lunchtime maths club. We will be participating in the Greater Manchester Engineering Challenge, where children will be completing a series of challenges using the Engineering Design Process to help come up with solutions to key issues seen in society.
As the year progresses I will be looking at opportunities for CPD in science for all members of staff, and making links with outside agencies to bring science into school. I feel we are just at the start of our science journey in school and am looking forward to what we can possibly achieve!