On 12 February 2019, I represented National Careers Week at the Royal Society's Broad and Balanced: Business Forum. The forum examined how the current post-16 curriculum prepares students for the modern world of work, how employers engage with schools to expand students' learning, and how the future of work may demand new skills. Hearing from people in the fields of education, science, business and society during the day, there was a strong focus on the need for an updated model to allow students of all disciplines to be able to choose a more blended curriculum of learning.
Keynote speech – Venki Ramakrishnan PRS
In his speech, the President of the Royal Society launched the 'Jobs are changing, so should education' explainer. This proposes that post-16 education adapts and evolves into a broad and balanced range of subjects from different disciplines, to better prepare students for their future careers and continued development. Ultimately a narrow curriculum will narrow opportunity.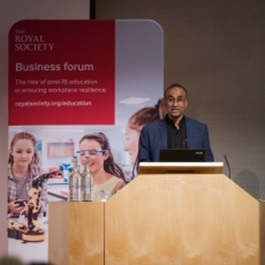 Venki Ramakrishnan PRS
Keynote speech – Carolyn Fairbairn (Director General, Confederation of British Industry)
Stating that 80% of employers in the UK expect to need employees with higher-level skills, Ms Fairbairn agreed that a review of education is essential for global competitiveness.
Whilst echoing Education Minister, Damian Hinds who said 'Character is as important as knowledge…' she also acknowledged it is wrong to expect teachers to prepare young people adequately for the fast-changing world of work. She highlighted the need for a greater focus on skills alongside knowledge and emphasised the idea that, if reviewed and revised, the added curriculum time in post-16 education could be used to develop these creativity, problem solving and leadership skills.
The responsibilities of companies – with 90% of employees working in small/medium sized enterprises (SMEs), Ms Fairbairn emphasised the important role these companies have in bringing practical skills learning and experiences to life through supporting local schools – without highlighting the skills development needs through local engagement, companies cannot hope to successfully influence the skills of the students who will become their employees in the future.
Panel sessions
There was clear high-level structural/institutional support for revision to education and work experience systems in the UK in order to enable young people to flourish in future careers – but what about some real businesses? What do they do to support schools and young people? A number of panellists with experience of supporting education and young people each discussed their own approaches to outreach: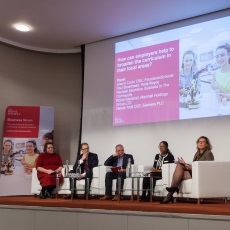 (L-R): Rachael Saunders (Business in the Community); Robert Marshall (Marshall Holdings Group LTD); Paul Broadhead (Rolls Royce); Valerie Todd CBE (Siemens); Chair: Sherry Coutu CBE (Founders4Schools)
Keynote speech – Paul Clarke (Chief Technology Officer, Ocado)
Passionate about the need for better skills acquisition in the UK alongside excellent qualifications, Mr Clarke spoke about the need for 1200 coding staff in the Ocado business, how they now create their own hardware as well as software and finally – controversially – that the education system should be taken from Government control and given its own professional college like the medical profession. This, Mr Clarke argued, would build longer-term solutions to educational development, free education from rigid curriculums and stop education being treated as a 'political football'.
Conclusions
As a nation, we have been talking about these subjects for the past 12 years or more: the need for more skills-based curriculums, the request from businesses for more 'work-ready' young people, and a broader mix of skills and opportunities for 'meaningful' work experience.
None of this will happen by accident!
What is needed: Whilst it is important to establish support for work experience and meaningful careers education, all married to a broad and balanced curriculum, what we need now is a dedicated national scheme to strongly encourage 'sending the ladder back down'. This scheme would have a focus of placing a responsibility on anyone aged under 30 with a permanent job to spend at least 2 days annually working on schemes to support a young person/people locally.
Why is this needed: every one of us has had some support – either structured or randomly – which helped our careers. In order to ensure work for the next generation is as fulfilling as possible, we need to harness that goodwill, share skills, knowledge and experience to support young people in making the early decision and steps along the way in their careers.
Are you with me?
Find out more about the Society's work in this area, and visit the National Careers Week website to see how you could help young people near you!