The Royal Society has been partnered with Publons since 2017 to give peer reviewers more recognition for their hard work. Every review performed for a Royal Society journal can be automatically added to the reviewer's Publons profile, which they can use to showcase their contributions. Over 9,600 Royal Society reviewers have been recognised for over 22k reviews.
But did you know you can do much more on Publons than just record your reviews? Here's our five favorite features:
1. Indicate your interest to review for a journal
It's not easy breaking into the world of peer review. It often requires publishing articles and then waiting for editors to contact you. That's a slow process for early-career researchers, who want to benefit from everything peer review has to offer. With Publons, you can indicate your interest to review for any partner journal in one click. If your skills meet the editors' needs, review requests could be coming your way. See how it works here.

2. Get recognition for helping your supervisor
Whether journals recognise it or not, it's not uncommon for senior researchers to solicit the assistance of their graduate students or post-docs in writing reviews they have been commissioned to do. On Publons, after you've added a review to your profile, you can invite collaborators using a privileged link; when a collaborator follows this link, they will have a copy of the review added to their profile – great for ensuring all reviewers get recognised for their reviewing work. Learn more here.
3. Keep track of the manuscripts you reviewed post-publication
It can be frustrating to spend time reviewing a manuscript and not knowing if it eventually got published and in which journal. Publons sends you an email alert after the manuscript you reviewed (and received recognition for on Publons) has been published, letting you know where it was published, and including a link to the paper and Altmetric score so you can see how the paper was received by the research community.
4. Improve research with post-publication reviews
Despite the peer review process, fraudulent and careless research does slip through the gaps and it can slow down breakthrough research for several years. Publons provides a platform for experts to critique, add to, or ask questions about research post-publication. Read more here.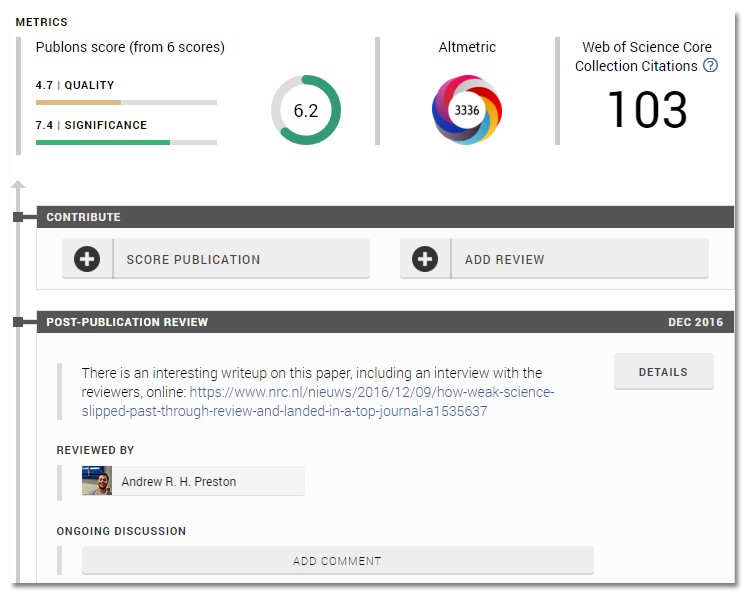 5. Export your peer review records to ORCID
Over 6.8 million researchers use ORCID to help ensure proper attribution of their scholarly work. In order to provide maximum flexibility and utility, Publons have partnered with ORCID so that every verified review added to your Publons record is automatically exported to your ORCID profile. You just need to link both accounts by following these steps first.
On ORCID, every review is associated with a unique resolvable identifier that links back to a record on Publons. This allows the community to confirm the review has been verified and, if it's an open review, allows them to read it too.
We hope these features will encourage young researchers to get involved with peer review, and help all reviewers get the recognition they deserve.
Thanks to Mathilde Darbier at Publons for writing this post.