While the Royal Society Library is closed because of COVID-19, Library team members are busily working from home on a variety of background admin tasks.
Our networked IT drive containing digitised images was in need of a good pruning, so I started with the folder of scans taken from books in our collection, with an eye to weeding out the duplicates. With 750 subfolders at the start of the project, this has proved to be a lengthy job, but also a good opportunity to reacquaint myself with the wide variety of material we hold. I'd only got as far as 'B' when I was reminded of one of the most stunning botanical treasures on our shelves, and discovered a curious love story in the process…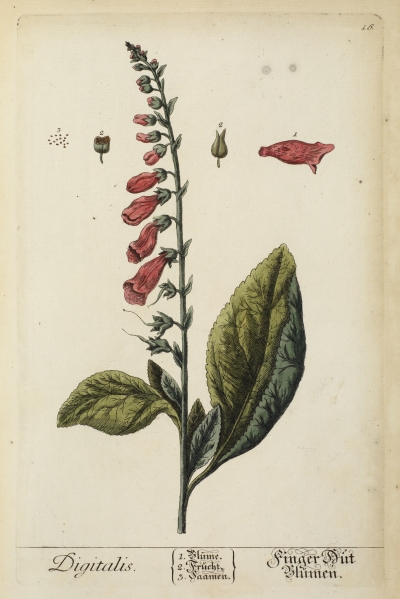 Botanical study of 'Digitalis' (foxglove): plate 16 from Herbarium Blackwellianum, volume 1
The image above shows a foxglove from volume one of our copy of Elizabeth Blackwell's Herbarium Blackwellianum, published in 1750. My colleague Ellen tells me that the Blackwell images are perennial bestsellers in our Print Shop, and you can see why; however, other than registering the slightly unusual fact of a female author in the exclusively male world of the eighteenth-century Royal Society, I'd never investigated further – for what purpose were the images produced, and who was Elizabeth Blackwell?
Born in Aberdeen around 1707, Elizabeth Blachrie trained as an illustrator, before eloping with and marrying her cousin Alexander Blackwell, who had been working as a doctor in her home town. By all accounts a bit of a chancer, Alexander's life story does tend to dominate that of his wife: the subheadings on Elizabeth's Wikipedia page read 'Aberdeen-London-Prison-Sweden', charting her husband's fall from grace despite her attempts to stabilise the family fortunes. Exiled from Scotland amid claims of illegally practising medicine, and sent to debtors' prison in London after setting up as a printer without the necessary guild apprenticeship, Alexander's fecklessness forced Elizabeth to seek employment as the only way to support her family.
From 1722 onwards, the Worshipful Society of Apothecaries had been asked to supply an annual selection of 50 plant samples to the Royal Society, under the terms of Sir Hans Sloane's lease of the Chelsea Physic Garden. An illustrated catalogue of the plants – particularly the exotic specimens arriving from the New World – was in demand by apothecaries and physicians, and Elizabeth Blackwell took on the job, aided by the garden's curator Isaac Rand FRS.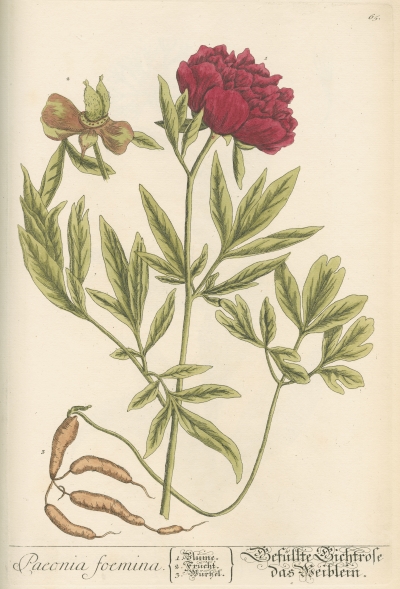 'Paeonia foemina' (peony): plate 65 from Herbarium Blackwellianum, volume 1
The book, A curious herbal, was issued in weekly parts between 1737 and 1739, and immediately acclaimed for the accuracy and scientific value of its illustrations. Numbering 500, all drawn, engraved and hand-coloured by Elizabeth, the plates are a visual treat in their own right, with the accompanying text providing much useful information on the preparation of the plants for medicinal use. The Herbal generated enough money for Elizabeth to spring Alexander from prison but, true to form, further dodgy business dealings followed, forcing the partial sale of publication rights to the book – the copy in the Royal Society's collections is a later edition, re-engraved and published in Nuremberg between 1750 and 1767 under the title Herbarium Blackwellianum, with parallel German-Latin text edited by Christopher Trew FRS.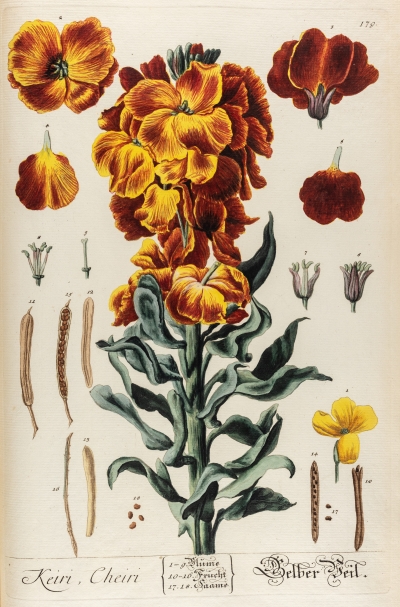 'Keiri, Cheiri' (erysimum): plate 179 from Herbarium Blackwellianum, volume 2
The last place-name in the list, 'Sweden', marks the end of Alexander Blackwell's sorry tale. Fleeing his London creditors, and leaving Elizabeth behind, he briefly rose to fame in Scandinavia as court physician to the Swedish monarch, Frederick I. However, he then became involved in convoluted diplomatic manoeuvres, landed himself with a treason change, and was sent to the executioner's block in 1747, even as his wife – apparently believing in him until the bitter end – was about to leave London to resume their life together. Elizabeth lived on for a further 11 years, and was buried near Sloane in the graveyard of Chelsea Old Church – I must make a pilgrimage when we're allowed out again…
Posterity – quite correctly – has been kinder to Elizabeth than the hapless Alexander, and the Herbal continues to attract attention. Click on our Picture Library to see the 26 images we've digitised from our Nuremberg edition – I've added a couple more below to whet your appetite – and you can also see a Turning the Pages version, with images from a first edition copy owned by King George III, on the British Library's website.
Meanwhile, a combination of merging digital image folders and blogpost-writing has taken me to the end of another working-from-home day, so I shall adjourn to my (considerably less impressive) garden for some weeding of a different kind. If anyone has any foolproof tips to dissuade cats from digging up newly-planted flowerbeds, please let me know! Maybe I should check to see if there's some herbal advice for apothecaries on the topic, hidden somewhere within Elizabeth Blackwell's vivid plant specimens?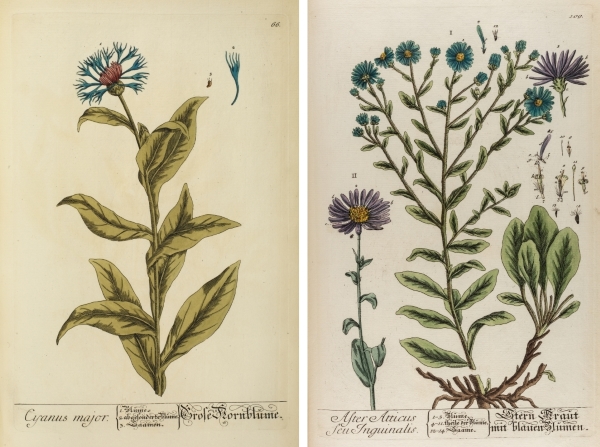 (L) 'Cyanus major' (cornflower): plate 66 from Herbarium Blackwellianum, vol.1 (R) 'Aster atticus' (European Michaelmas-daisy): plate 109 from Herbarium Blackwellianum, volume 2