The latest issue of Philosophical Transactions B is on 'The political brain: neurocognitive and computational mechanisms ' . Guest Editors Dr Leor Zmigrod (University of Cambridge) and Professor Manos Tsakiris (Royal Holloway, University of London) tell us how this issue came about, and why it is so important to conduct original and innovative research on the psychology of ideology at this time.
Tell us about the idea behind this theme issue and how it came about.
We wanted to create a theme issue that engaged deeply with the challenge of studying minds in their political habitats – what happens when brains enter the ballot box or march on the streets; why some individuals commit to extreme ideological violence or, at times, to tolerant open-minded discussion. We were interested in bringing together state-of-the-art research in political neuroscience, psychology and political science to illustrate that a robust science of political behaviour is possible and productive, illuminating critical insights about the nature of ideology, the human brain, and how the societies we live in may shape the implicated brain processes. We are particularly passionate about promoting research that adopts innovative computational and neurocognitive approaches to ideological cognition, and are delighted with the original, impactful research that the theme issue showcases.
What do you think is the most exciting idea discussed in the papers?
One of the most exciting insights that this collection features is about how the brain processes political uncertainty. Different research teams – led by Amy Krosch, Ingrid Haas, and Laura Cram – repeatedly found that similar brain regions (such as the anterior cingulate cortex) were implicated in how the brain responds to socio-political ambiguity in the context of race, political policy evaluation, and misinformation. This is quite remarkable because it starts to point to common neural mechanisms that may shape ideological cognition in diverse contexts. Indeed, it is fascinating to see how the concept of uncertainty was one that shaped how the researchers conceptualized group membership, polarization, and political emotions. These converging patterns and parallels would not have been as potent and visible if they were not brought into the collection, and so this is a wonderful example of converging science at work.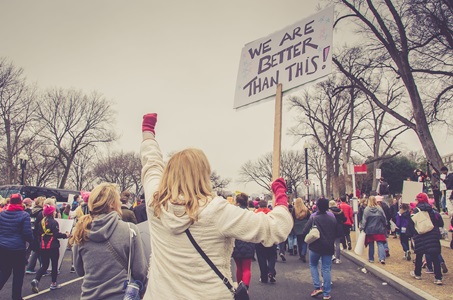 Did you learn anything new when editing the papers?
Definitely! It is a privilege to work in a field that is still in its infancy and so rapidly changing and expanding – it meant that we were continuously learning about novel approaches and cutting-edge findings throughout the editorial process. For example, we were excited to learn about the power of computational simulations in shedding light on different sub-profiles of ideological actors and the double-edged sword of confirmation bias. We were also impressed by ideas of how cyclical self-reinforcing loops can sculpt gender ideologies and ideological obsession and radicalization more generally. The papers even featured rare brain lesion studies in the context of political ideology, and so the theme issue really is a fresh, novel, and rigorous contribution to the literature that we feel will take the discipline forward.
How was your experience of being a Guest Editor on Phil Trans B?
Fantastic! It is rare to get a bird's-eye view of a field and so the process of compiling the issue and identifying emerging thematic strands was a rewarding and intellectually stimulating experience. The process of commissioning and learning about cutting-edge research being conducted in the field during such a politically tumultuous moment in history felt important in many ways. It was a pleasure to work on this special collection with the expert and experienced editorial team at Phil Trans B and we are grateful for their flexibility, care, and rigor, as we are also indebted to the researchers' efforts at a time of huge pandemic-related challenges to work and academic research.
Tell us a bit about your own research.
Leor's research takes a cognitive approach to the question of what makes individuals susceptible to adhering to dogmatic, parochial, and extreme ideologies. She uses large datasets that incorporate cognitive, neural, and genetic data to evaluate individual dispositions to ideological thinking and person-environment interactions shaping radicalization. Manos's research focuses on psychophysiological approaches to human behaviour and identity, and he is increasingly interested in understanding our bodily reactions to politics and how political processes become embodied.
Image credits:
Brain: kontekbrothers/iStock
March: StockSnap/Pixabay