Unfortunately, 2021 did not bring with it a return to normality, with the Royal Society's journal editorial staff still working from home, and Royal Society Discussion Meetings remaining postponed. As it has done for the last 356 years however, Philosophical Transactions A has continued to publish high quality content across the physical sciences. From 'Astronomy from the Moon' to 'Recent progress and open frontiers in Turing's theory of morphogenesis', the journal continues to publish research across its wide scope, and encourage collaboration between researchers around the globe.
2021 facts and figures:
We received a broad range of fascinating proposals, covering topics from artificial intelligence to mathematical cosmology
We published 26 issues, containing a total of 316 articles in 5142 pages
1487 authors from 65 countries
89 Open Access papers published – almost 30% of the journal's published articles!
For original submissions, 1559 reviewers were invited, and 680 reviews were completed (representing reviewers from 45 different countries).
In total, our papers published in 2021 were accessed almost 277,000 times
The journal's Impact Factor rose again for the 3rd year in a row to 4.226
On average, manuscripts took 41 days to reach their first decision in 2021
70% of the articles published last year were research articles, with the rest consisting of introductions, reviews, and opinion/discussion pieces
By far, our most successful issue published in 2021 in terms of numbers is 'Machine learning for weather and climate modelling'. Not only is this issue our most cited issue to be published in 2021 (with 109 citations), but it is also our most accessed issue, with 70,000 downloads so far! Furthermore, this issue also features both last year's most cited paper (with 19 citations) and last year's most accessed paper (with 18,000 downloads).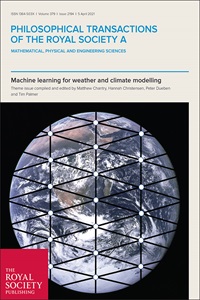 Overall, the journal's most downloaded paper of all time continues to be 'Principal component analysis: a review and recent developments', a review article which has almost 270,000 downloads and 1,825 citations!
The journal's top three most 'talked about' articles from 2021 all belong to the two-part theme issue, 'Rising methane: is warming feeding warming?'.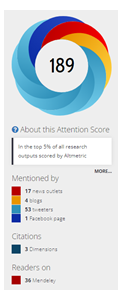 Published around the time of the COP26 conference in Glasgow, this timely issue explores the rise of harmful methane in our atmosphere. The three top-scoring papers in question focus on methane removal, how this can reduce surface temperature and ozone, and how riparian Amazon trees act as a significant methane source.
Although we would love to mention every issue, we can of course only provide you with a taster of the articles published in 2021. So to explore all of the issues published in Philosophical Transactions A last year (and back to the 1600's!), visit our website now.
If you're interested in Guest Editing a theme issue yourself, please do get in touch – we're currently looking for new Guest Editors and topic ideas for 2022 and beyond!