Proceedings B Associate Editor, Professor Marc Johnson, from the University of Toronto Mississauga, recently published an exciting new study in Science looking at how changes in urban environments influenced the evolution of the white clover plant. Sampling from 160 cities worldwide showed that urbanization led to parallel adaptation on a global scale. We asked Professor Johnson a few questions about the study and what the future holds.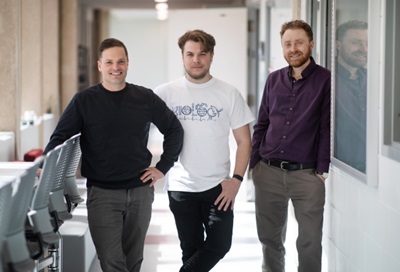 Please tell us more about the findings of your recently published paper in Science?
We show that across 160 cities in 26 countries across all inhabited continents, urbanization is causing similar environmental changes in certain aspects of the environment, and a model cosmopolitan plant (white clover, Trifolium repens) adapts to these environmental changes in nearly 50% of cities. This adaptation to city environments occurs in both the native (Europe and western Asia) and introduced ranges of white clover.
Were there any surprising observations made and what implications does your research have on the field?
It was interesting that plants don't always adapt to cities, and when they do adapt it isn't always in the same way. When populations evolve in response to urbanization, we found that white clover typically adapt to have lower levels of plant defences in urban habitats (higher defences in rural habitats), but in a minority of cities they evolved in the exact opposite way (higher defences in cities, lower defences in rural habitats). This is the largest scale study of parallel evolution and urban adaptation ever performed. With nearly 300 co-authors, it is also the largest collaboration in evolutionary biology to date.
The study included a large, diverse group of authors and samples were collected from 160 cities worldwide – was this difficult to coordinate?
Quite difficult, as it involved constant emails, mailing sampling kits, lots of online sharing of Google sheets, Google forms, adapting Google forms to emails in counties where Google is banned (e.g., China), coordination of data collection, sample shipments, permits, etc. It was made easier by an excellent lead team of 12 researchers that helped with logistics, especially a succession of 7 technicians that helped with the logistics, communications, dissemination, and receipt of materials. The first author on the paper, my co-advised PhD student James Santangelo (co-advised with Rob Ness), has also become a remarkable scientist capable of wrangling massive datasets. He touched every analysis in the paper and helped pioneer some new analytical methods and lab techniques that made this possible. Rob and I were truly fortunate to have him help lead the project. It was also facilitated by an amazing group of enthusiastic collaborators. The dedication of so many scientists to a single project still astounds me!
What has been the biggest influence on your career?
The mentors that helped train me, and the trainees that taught me so much while I tried to mentor them.
What's next for you and your research?
The GLobal Urban Evolution project, GLUE for short, is just getting started! The paper that was published last week was GLUE 1.0. We launched GLUE 2.0 several weeks ago, in which our collaborators are leading 8 new projects (GLUE 2.1-2.8). These projects leverage the data from the 110000 plants we collected, >6100 locations we sampled and the >2500 genomes we sequenced to answer a range of questions that relate to adaptation to climate change, evolution during invasions, and genome-wide signatures of adaptive and nonadaptive evolution to cities.
Proceedings B is looking to publish more high-quality research articles and reviews in urban ecology and evolution. If you have an idea for a review, we strongly encourage you to submit a proposal by completing our proposal template and sending it to the journal. More information about the journal and the submission process can be found on our website.
__________________________________________
Image credits
Clover image: Marc Johnson
Marc Johnson, Rob Ness (co-lead) and James Santangelo (first coauthor, co-lead, PhD student of James and I): Nicholas Iwanyshyn