Open Biology has a scope that extends across all of cell and molecular biology and that is reflected in the varied expertise of our authors and editorial board. Our article type, 'Open Questions', highlights current developments in an area of cellular or molecular biology that is developing quickly and ripe for discovery. The articles are written for an educated lay audience, with the aim of communicating scientific advances to the public - especially potential funders.
The need for Open Questions
In the current funding climate with decreasing government support for science, funding of basic biological research is of increasing importance. Approximately 40% of biological research in high-income countries is funded by public and philanthropic funding organizations [1]. These organisations play a central role in the development of new knowledge and treatments, particularly in areas that are not sufficiently profitable [2].
However, most philanthropists are not scientists and must be educated to understand the potential impact of funding developing areas of basic biomedical science. We believe that research scientists should address this challenge.
We believe that Open Biology should take a leading role in creating a forum to publish emerging, understudied and/or underfunded areas of biological research. The first Open Questions article was written by geneticist and radiation biologist, Tin Tin Su, on non-apoptotic roles of apoptotic proteins and highlights exciting new findings and future directions in the field. We welcome short contributions from researchers which represent their views on pressing or just interesting 'open questions' in their fields, and thus to share their perspective with readers, contributors, and authors or potential funding bodies.
Recent Open Questions Highlights:
RNA polymerase II pausing in development: orchestrating transcription.
Transcription has long been recognised as an integral part of the process controlling the expression of genes, which in turn determine the identity of a cell. Understanding how transcription is itself controlled underpins our understanding of normal and diseased cellular states. This article explores a key step in controlling transcription in animals, referred to as RNA Polymerase promoter-proximal pausing. Centrally, it discusses how and why promoter-proximal pausing controls transcription, recent breakthroughs, and speculates on potential function.
The proteostatic effects of traffic-derived air pollution on Alzheimer's disease risk.
All organisms face the threat of infection. The ways that we defend ourselves from bacterial infection have long been considered to be representative of how other life forms protect themselves. This paper describes how humans detect bacteria and offers evidence that the ways that we detect these infectious agents may not be representative of the defense strategies used by other forms of life. Much more needs to be learned about the diversity of defensive strategies used in nature, and this review offers a perspective on this topic.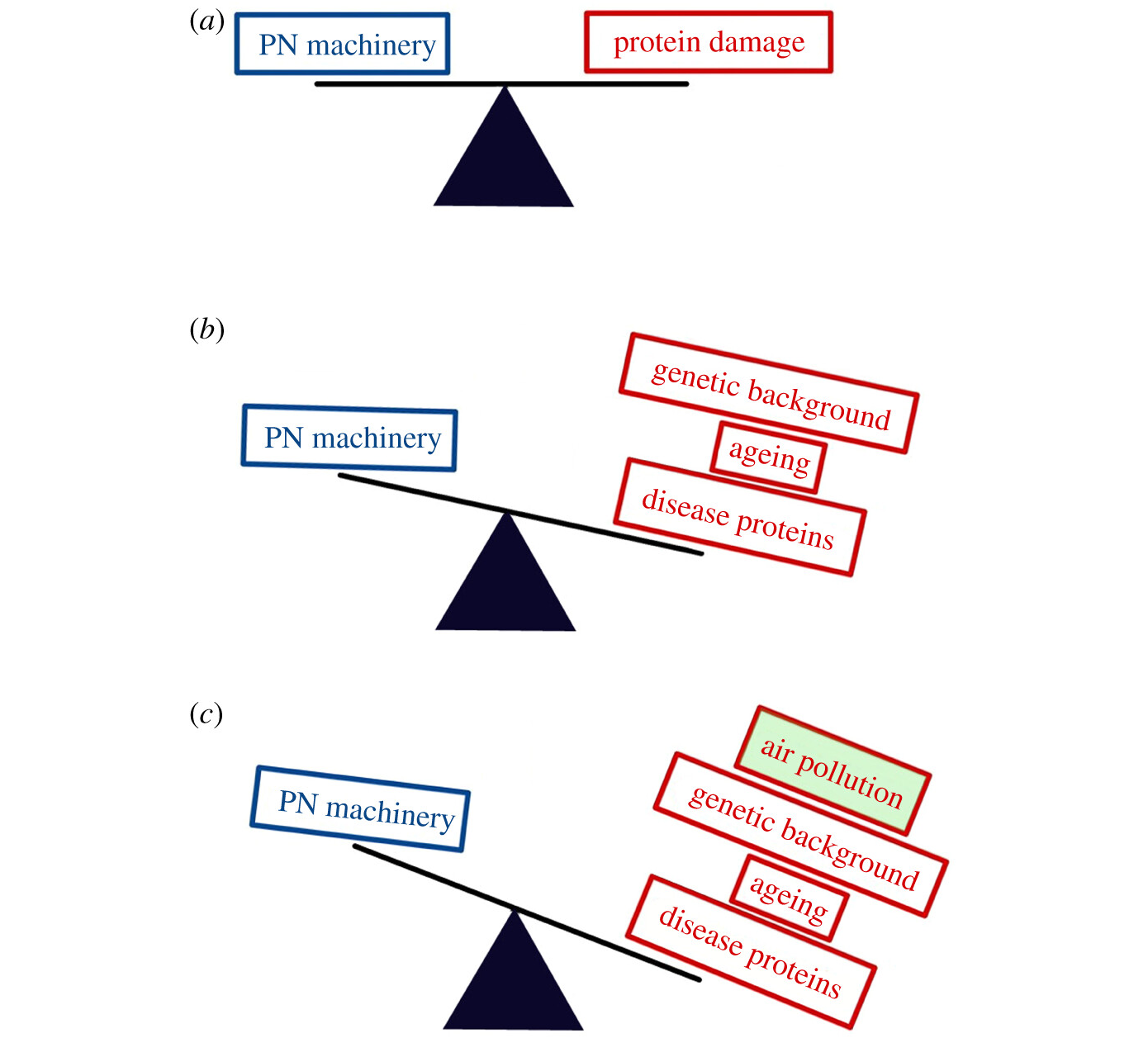 Caption: The failure of proteostasis under conditions of high misfolded protein load (doi.org/10.1098/rsob.200146)
Malaria, COVID-19 and angiotensin-converting enzyme 2: what does the available population data say?
This Open Question put forth a scientific probability where a human genetic factor may link malaria and COVID-19 severity. This study examined the available data on malaria, COVID-19 burden/deaths, and human gene ACE2 mutation which has a critical role in COVID-19 spread and severity in population living in malaria-affected areas, so that the suggested link may be strengthened.
How to submit your Open Questions?
Authors interested in submitting an Open Questions article will need to follow the Royal Society Publishing instructions for authors when preparing articles for submission. All submissions will be handled by our dedicated Associate Editor, Professor Martha Cyert. The criteria for assessment will include: timeliness and importance of the topic, potential impact, and novelty of the understudied and/or underfunded research area. The articles are to be written for an educated lay audience, with the aim of communicating scientific advances to the public, especially potential funders. They should be succinct, non-exhaustive review-type articles (ca. 2500 words).
-----------------------------------------
References:
1. Viergever RF, Hendriks TCC. 2016 The 10 largest public and philanthropic funders of health research in the world: what they fund and how they distribute their funds. Health Res. Policy Sys. 14, 12. (doi:10.1186/s12961-015-0074-z)
2. Røttingen J-A et al. 2013 Mapping available health R&D data: what's there, what's missing and what role for a Global Observatory. Lancet 382, 1286-1307. (doi:10.1016/S0140-6736(13)61046-6)