Much of the past couple of months has been taken up with preparing a new batch of Royal Society manuscripts for release in Turning the Pages digital format. Fellows' scientific and expedition diaries will dominate this time, and there are many unusual travellers' tales hidden away in these texts.
I suppose we are all very familiar with tales of famous explorers such as Scott of the Antarctic (some of whose reports are included in this project). But my curiosity was piqued by Edward Sabine's first-hand account of a controversial 1818 voyage towards the opposite Pole. Just as Scott's 1901-1904 Discovery expedition was a who's who of the extreme south (Ernest Shackleton, Edward Wilson and others were all in Scott's party) so those who shipped with Sabine would form an earlier generation of leaders in polar exploration. Commanded by Sir John Ross (1777-1855) the two ships Isabella and Alexander contained his nephew James Clark Ross (1800-1865) and William Edward Parry (1790-1855). Edward Sabine (1788-1833) would himself assume pole position in the work of 19th century world science by becoming President of the Royal Society.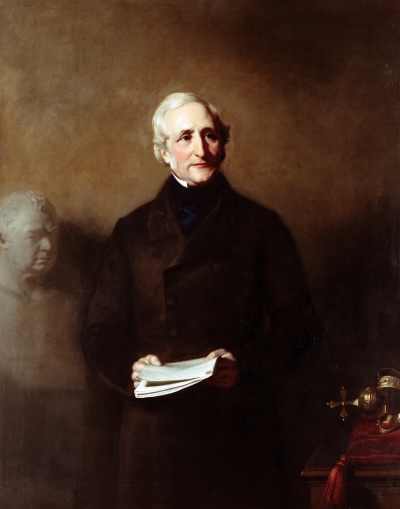 Portrait of Edward Sabine
What was so striking about this particular voyage? Well, they turned back. The ships were intended to search for a maritime North-West passage by skirting the western coast of Greenland, sailing across Baffin Bay and through the Arctic waters of Northern Canada. Along the way they stocked up on whale oil and seal meat, intending to over-winter if necessary. At the point at which they might well have managed a passage – by striking west through Lancaster Sound – John Ross declared the waterway ahead was blocked by a mountain range, and promptly went home.
Although he could not have known for certain what lay ahead, Sabine correctly considered Lancaster Sound "a threshold". He elaborated: "Capt. Ross who was I believe the person who saw the land at the bottom of this Inlet (eg Croker's Mountains)…he regretted very much that the advanced state of the season, approach of the Equinox, and extreme bad sailing of the ships on a wind, obliged him to quit this place…" It's quite a list of excuses if Sabine's record of the conversation was as accurate as his scientific measurements, especially since no-one else in the ships saw Ross's phantom hills. Recriminations followed, of course and Ross's reputation suffered. Were Croker's Mountains an optical illusion? It seems unlikely, in that expedition members had seen many refracted images in the atmosphere before and were familiar with them.
Perhaps Ross deserves some credit in not subjecting his crews to the rigours of an Arctic winter. The question of a North-West passage seemed important at the time, but in another of our digital manuscripts from 1921, just a century later, the physiologist Joseph Barcroft FRS (1872-1947) describes steaming through the newly-opened Panama Canal to reach the Pacific in perfect comfort, no doubt lamenting the lack of ice – for his drink.