As we prepare for the launch of the Society's new picture database there's plenty to do in scanning and cataloguing collection imagery. Recently I've compiled descriptions of scientific portraits, botanical illustrations, studies of insects, nebulae drawings and all manner of other original artwork. I've been scanning some of them too: a really high-resolution image file allows you to see far further into the detail of a picture, often more than looking at its original. And that's how I managed to spot a new drawing of the legendary Newtonian apple tree.
The story of Sir Isaac Newton and his falling fruit is one of the most famous (and embellished) anecdotes in science. You can read William Stukeley's first-hand account of the great scientist telling the tale in our Turning the Pages resource. Stukeley can be a pretty dull writer – his Memoirs of Sir Isaac Newton's life (1752) feel padded with the inconsequential and say nothing of Newton's scientific achievements and little about his character. But the apple tree story has a beautifully rhythmic and Wordsworthian quality which makes it stand out: "…he told me, he was just in the same situation, as when formerly, the notion of gravitation came into his mind. Why sh[oul]d that apple always descend perpendicularly to the ground, thought he to himself; occasion'd by the fall of an apple, as he sat in a contemplative mood…"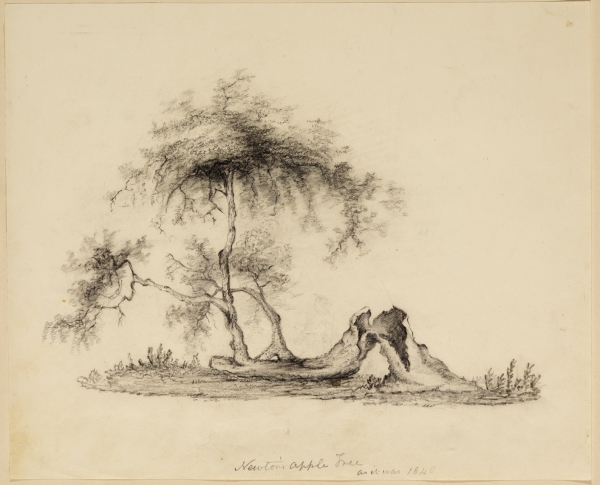 Stukeley records Newton sitting under apple trees, rather than any particular chunk of wood. Which is quite right of course – the point of the science is that gravity is a universal force and isn't special to one piece of fruit. It applies to all apples and all trees and always has. But Newton, in common with storytellers after him, appreciated the power of a good myth. And so the tree at his birthplace, Woolsthorpe Manor in Lincolnshire, has resolved into the particular Newtonian tree. Who's to say it isn't?
There are pictures of the tree: grafts of it have been cultivated worldwide, and there are lots of wood specimens too. The Royal Society has a piece of apple-wood on exhibition right now, a fragment sent into orbit aboard the Space Shuttle Atlantis during 2010. The nineteenth-century astronomer and collector Charles Turnor owned Woolsthorpe Manor and he donated his fine collection of memorabilia Collectanea Newtoniana (compiled 1837-) to the Society. This includes a good sketch of the gnarled and fallen tree by Thomas Howison, taken from an 1820 lithograph (above). But I hadn't noticed a related pencil drawing in the same volume, this time of the manor-house by George Rowe (1796-1864) after a Howison painting. In this, a second, very small version of the tree appears to the side of the house. There's no mistaking the characteristic shape of the fallen trunk, re-rooting itself and showing a healthy twenty more years' worth of growth: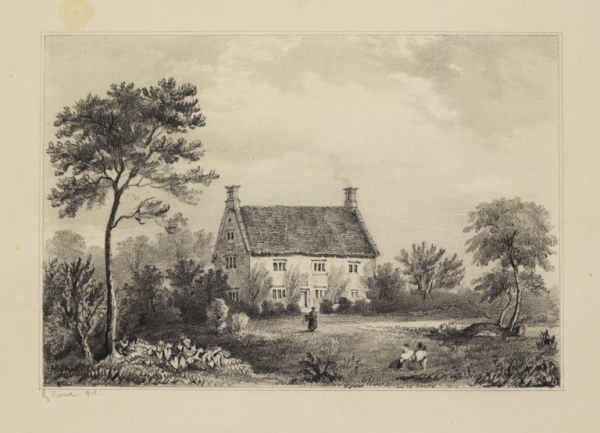 The Newtoniana still hadn't given up all its secrets, however. I've seen Howison's version of the tree many times and used it for lectures and talks. But look really closely at it, and a ghostly figure materializes from under the greenery. Sir Isaac is right there and (of course) the story must be true…