Since 2015, we have collaborated with the Royal Society of Chemistry to jointly peer review and publish chemistry in Royal Society Open Science. This unique partnership typifies the innovative approach we have taken with the journal since it was launched in 2014. Now, just over three years since we began our collaboration, we are delighted to report that this 'publishing-in-parallel' model has been a resounding success – for both the Societies involved, for the journal and, most importantly, for chemistry.
How it works
In common with our other journals, chemistry submissions to Royal Society Open Science are sent directly to the journal where they are subject to initial checks by the editorial office before being assigned to the Chemistry Editors who manage the peer review process. The Editors work very closely with the Royal Society of Chemistry editorial team, who have access to an extensive reviewer database. If accepted, all such papers are published in the chemistry section of the journal and co-branded with the Royal Society of Chemistry logo to denote the collaborative process.
The benefits and advantages
As with all partnerships, each party contributes unique and positive elements to the arrangement, thus enhancing the advantages of a collaborative approach. In this case, the collaboration allows Royal Society Open Science to provide the high quality and objective peer review, while the Royal Society of Chemistry provides the breadth of Editor and peer reviewer expertise. Moreover, in an increasingly competitive publishing landscape, the two Societies are able to retain a greater proportion of high quality papers than might otherwise be the case. An additional benefit for authors is that, by submitting to a journal that operates this kind of collaborative approach, their work reaches a cross-disciplinary audience that might otherwise miss out on valuable work traditionally published in very field-specific journals.
Submission statistics
In the three years since it was launched, the collaboration has gone from strength to strength. The huge growth in submissions is testament to this fact, as is the burgeoning chemistry section of the journal. Starting from a base of 2% in 2015, by 2017 21% of all submissions to Royal Society Open Science were in chemistry, while so far in 2018 that figure has risen to almost one third.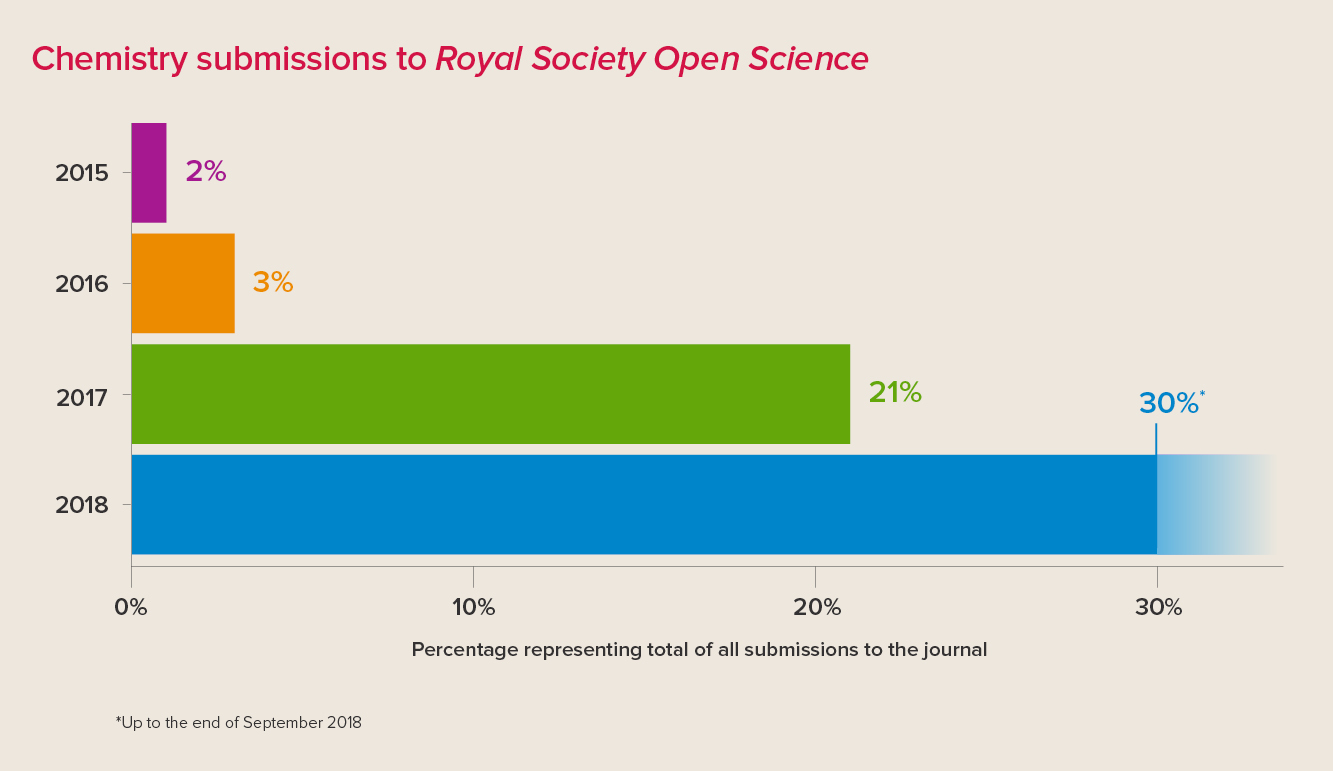 Our geographical spread and huge growth from China
The growth in chemistry submissions to Royal Society Open Science – and the ensuing published content – has been the most visible sign that the collaboration has been a success. Like all publishers, however, we always want to know more. We are interested in our authors: who they are, where they come from and what motivates them to submit to us. In poring over such statistics, we were pleased to see the geographical diversity of submissions. In particular, we were amazed to see that the journal seems to be extremely popular with chemists in China. A remarkable 64% of all chemistry submissions to the journal this year so far have come from that one country!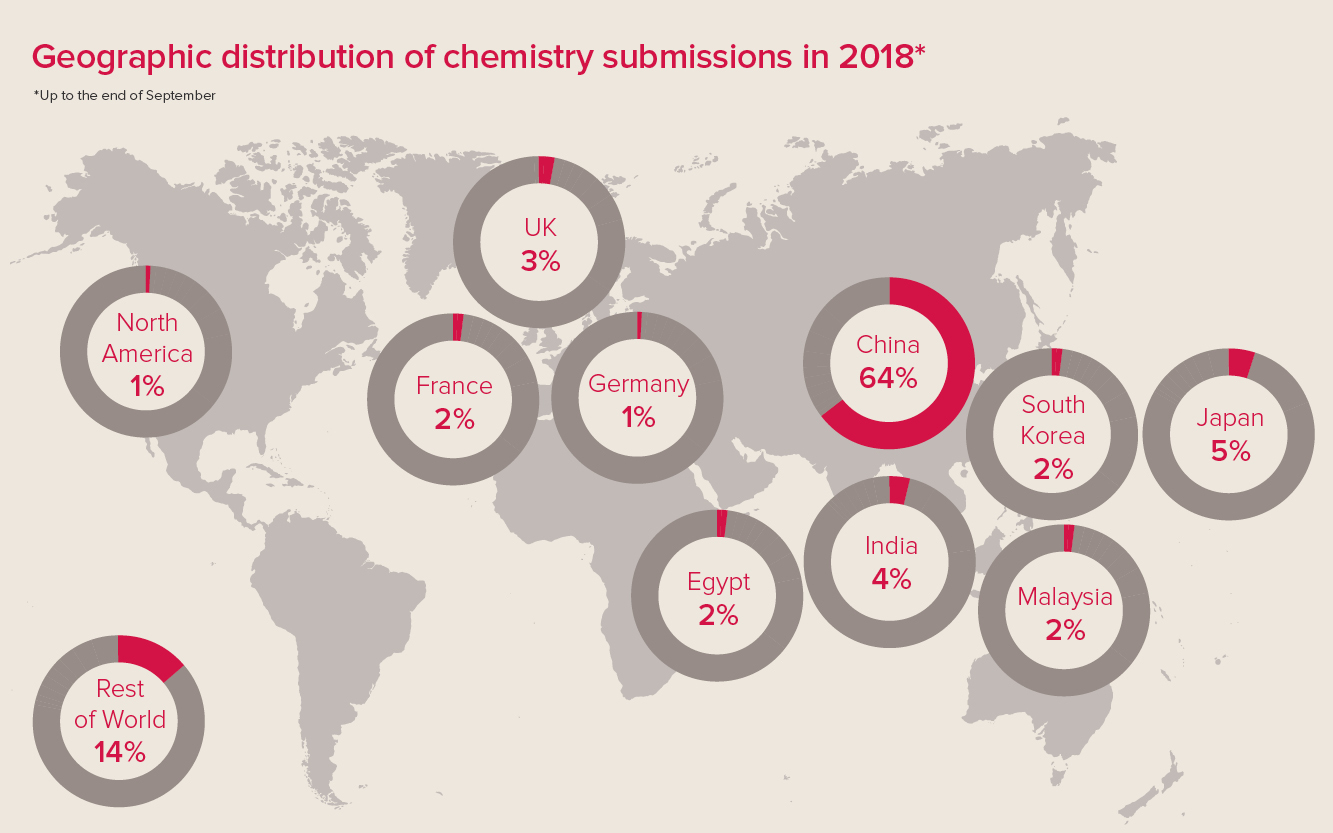 Highlighted content
We have outlined some of the more statistical successes of our collaborative approach to publishing, but it would be remiss not to mention the content. It is impossible to showcase all the high quality chemistry content published in Royal Society Open Science, so instead we will just pick out a couple of recent highlights. Possibly our favourite success story from 2017 features Cherprang Areekul and her colleagues. Cherprang published a paper with Royal Society Open Science in late 2017, but we soon discovered that she had another role, as a performer in one of Thailand's biggest pop bands. A highlight from this year is the very recently published New Talent Collection, a special compilation of invited articles showcasing the latest exciting developments in chemistry and materials science, funded by the Royal Society. All contributors are either Royal Society University Research Fellows or holders of the Royal Society Dorothy Hodgkin Fellowships, and all are rising stars and future leaders in their respective fields.
Last but definitely not least
The success of any collaboration is down to the people involved in making it work. Over the past three years, our authors, Editors, Advisory Board, referees and readers have all been key to the growing success of Royal Society Open Science, and directly responsible for the increase in the high quality chemistry content published in the journal. We would like to thank everyone involved in making the past three years such a success. Here's to the next three years, and beyond.
A special event will be held at the Royal Society in London on Wednesday 24 October to launch the Royal Society Open Science New Talent collection. If you would like to come along, you can request a ticket to attend. To find out more about Royal Society Open Science or to submit a paper, visit the journal website.