A couple of weeks ago, we hosted a series of tours from the Art Fund. A total of 90 people came on a guided walk round the building to view our extensive collection of scientific portraits, and popped into the Library Reading Room to see some treasures from our collections.
When deciding on the items to display, I figured that the 'usual suspects' (the first meeting of the Society, Newton's Principia manuscript) could take a break – they're of huge historical importance but, frankly, they don't contain many pictures. I focused instead on visual and artistic impact, and brought out our distinctive MS/131 scrapbook, Benjamin Franklin's 'magical circle of circles', and the notorious, coffer-draining history of fish. And finally, as it was a gloomy January day and I wanted the display to finish on a colourful high, A monograph of the Ramphastidae (1834) – or, in layperson's terms, John Gould's book of toucans.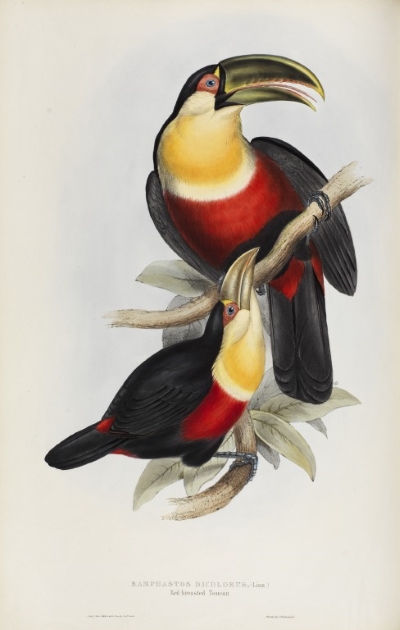 Ramphastos dicolorus, the red-breasted toucan (also known as the green-billed toucan), by J. & E. Gould
I'm sure many of you are familiar with Gould (1804-1881), taxidermist, finch-classifier for Charles Darwin, artist, bird book entrepreneur, and Fellow of the Royal Society from 1843. It's always a joy – albeit a slightly risky one given their size and my rickety back – to slide one of his many volumes from our shelves and bring it up to the Reading Room for the delectation of visitors.
Published two years after his debut A century of birds from the Himalaya mountains, Gould's toucans represent an early phase in his career, and were drawn from specimens in Berlin, Paris and the Earl of Derby's menagerie at Knowsley Hall. The afterword on toucan anatomy was provided by another up-and-coming young scientist, born in the same year as Gould and namechecked in the preface as 'Richard Owen, Esq., Assistant Curator of the Royal College of Surgeons'.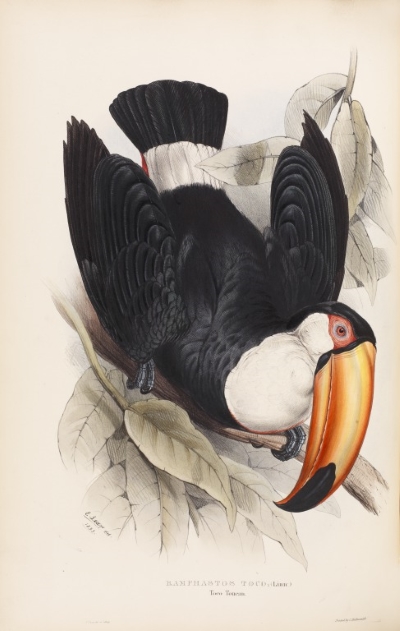 The toco toucan, by E. Lear
The illustrations I've used here are the four plates that are currently available via our Picture Library: the toco toucan, the culmenated toucan , the Ramphastos ariel and the Ramphastos dicolorus. They show various examples of a bird family described by Gould as 'strictly confined to the tropical portions of America … they are a retiring and shy race, are mostly observed in small flocks or companies, and inhabit the dense woods and forests of that luxuriant country.' We seem to have gone for a colour palette of mostly black, white, yellow and red, but other plates show beautiful iridescent greens and blues, particularly when Gould moves on from the 'true' toucans to the genus Pteroglossus, or aracari. The book certainly drew gasps of admiration from our Art Fund visitors, and we'll have to scan some more plates to bring them to a wider audience.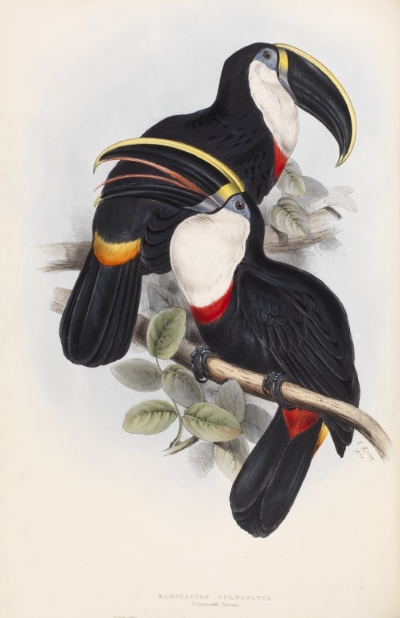 The culmenated toucan, by E. Lear
If you look again at the 'creator' listings in our Picture Library records, you'll see a pair of interesting names. The first, John's wife Elizabeth Gould, was a noted ornithological illustrator, working up her husband's basic sketches into finished lithographs for the toucan volume (to which she contributed 24 plates) and other early Gould projects, before dying at the age of just 37 shortly after the birth of their eighth child. Elizabeth had been taught lithography by our second notable name, Edward Lear – yes, the nonsense verse chap – who also drew toucans for John and became a regular collaborator, presumably regarding the Gould household as rather underpopulated having been born as the 20th of 21 children!
We know from our library lending registers that a book illustrated by Lear was borrowed from the Royal Society Library by Charles Darwin, and I wonder how many books from John Gould's prolific output found their way onto Darwin's shelves, either on loan or permanently. They'd fully deserve a place on the basis of their ornithological accuracy and classificatory value, of course, but I wouldn't think any less of the great scientist if I found that he just liked to open a Gould book on a January morning for a blast of tropical colour to see off the dark winter blues.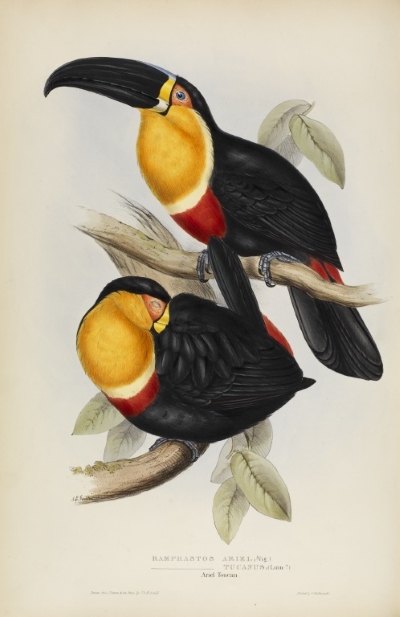 Ramphastos ariel, the ariel toucan, by J. & E. Gould