A recent issue of Philosophical Transactions B, Biotic signalling sheds light on smart pest management, is the first in recent years to be Guest Edited solely by Chinese researchers.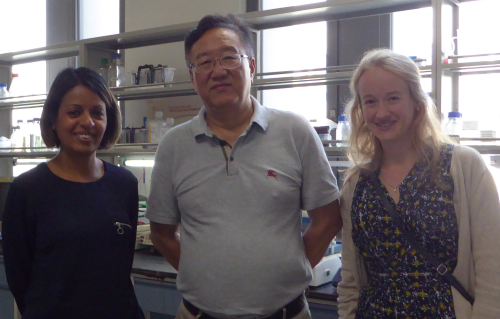 Royal Society Publishing Editors Helen Eaton and Shalene Singh-Shepherd met with Professor Le Kang in August 2017 during a visit to the Institute of Zoology, part of the Chinese Academy of Sciences in Beijing, and discussed the possibility of a theme issue. It was officially proposed and accepted. The strong line-up of authors from around the country is a testament to the growing number of high quality research articles coming from China.
The issue explores the development of alternatives to pesticides, looking closely at the possibilities for targeting biotic signalling to manipulate intra- species and inter-species interactions to create more specific, environmentally friendly, and sustainable next generation of pest management. At present, pest control still relies heavily on pesticides, which can have negative impacts on human and animal health, as well as resulting in pesticide resistance, biodiversity loss and environmental pollution. With global food security threatened by insects, fungi, bacteria, viruses, and weeds, there is an urgent need to develop alternative theories and methods for pest management.
The Philosophical Transactions B theme issue brings important Chinese scholarship on a topic of global significance to an interdisciplinary, English speaking audience. An opportunity which was created through a serendipitous meeting and discussion; showing how important it is that publishers travel to meet researchers and discover new and exciting science that can be brought to a wider audience.
Find out about how you could become the next Guest Editor of Philosophical Transactions B.