Last month marked a subtle yet significant milestone for Open Biology. In February 2012, the journal's Editor-in-Chief Professor David Glover, reported on what was then the first few months of the journal and predictions for the road ahead. Now seven years on, we reflect on our journey as the Royal Society's first fully open access journal. We have selected a few of our successes and innovations over the years to highlight.
Our journey timeline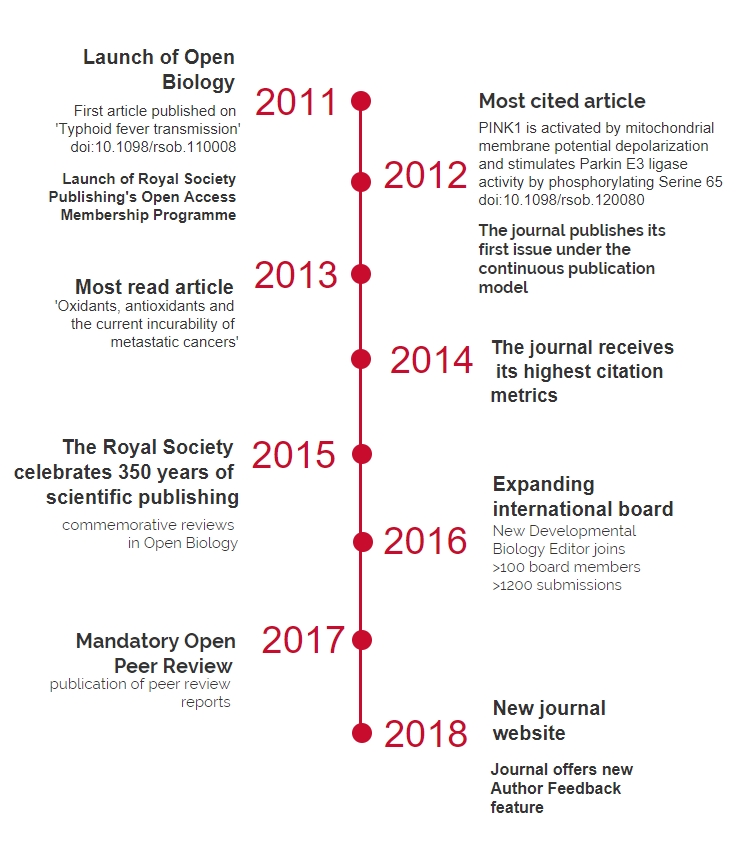 Meeting the needs of researchers
Creating new open access titles at Royal Society Publishing has been about identifying and addressing the real needs in the research community. The 2012 Editorial outlined the journal's mission to provide a service that actively meets the needs of biologists with cellular and molecular interests. This included providing a rapid, constructive and fair peer review system that allowed valuable work to proceed quickly to publication. In 2019, our mission remains unaltered and we are pleased that the journal maintains an average time from submission to first decision of 28 days. We remain encouraged by the feedback received from our authors over the years, who have commented on the speedy turnaround times, good quality reviews and expert handling of manuscripts by our Editors who provide constructive, insightful critiques.
Then and Now
The challenge for any new journal is to build and maintain momentum. Although we published a relatively small number of articles in those first few months, the quality and impact of the articles helped the journal achieve its first impressive Impact Factor of 3.625. It is noteworthy that one of the articles highlighted in the first editorial, a study on the mutation of PINK1 kinase in Parkinson's disease from a group of researchers based in Dundee, was the start of a scientific journey that we have had the privilege of following over the past seven years; with the group's most recent contribution published in Open Biology in 2018. The impact and importance of the research published in Open Biology is demonstrated by over a million downloads in 2018 and hundreds of citations.
Our Open Access Membership Programme allows institutions to pay an annual fee to help with APC costs. We are encouraged by the growing number of member institutions that are supporting open access and benefit their authors by lowering the financial barrier for publication.
Moving forward
Since launch we have published many exciting articles across cellular and molecular biology. A recent development is to create special interest article collections to highlight exciting work in particular fields. Our current open call for papers is for a collection on Centrosome Biology. The collection will improve knowledge on centrosome function, evolution and abnormalities. We plan to publish the centrosome collection in Summer 2019.
There are still areas that we are keen to publish in and in particular, we are looking for ideas for 'Special Features' that are guest edited issues on timely and important topics across cellular and molecular biology. We welcome suggestions for future issues. If you or your colleagues are working in an area that you feel deserves better exposure and would like to find out more this opportunity, please get in touch with us.
Through all of the growth and changes within the field of cell biology, one element has not changed: Open Biology's commitment to the journal's core principle of being a journal run by scientists and for scientists. If you're a researcher in any area of cellular and molecular biology ready to publish work of broad interest and special importance in a high quality open access journal, we look forward to receiving your next submission in Open Biology.
Find out more about the benefits of publishing with Open Biology in our recent blog post.