In 2017, Proceedings B appointed our first Preprint Editor, Dr Maurine Neiman from the University of Iowa. In a recent blog, we asked Dr. Neiman a few questions about preprints and her role as preprint editor. Next, we spoke to three members of the preprint team about how the experience has affected their perspectives on science, publishing, career trajectories and equity.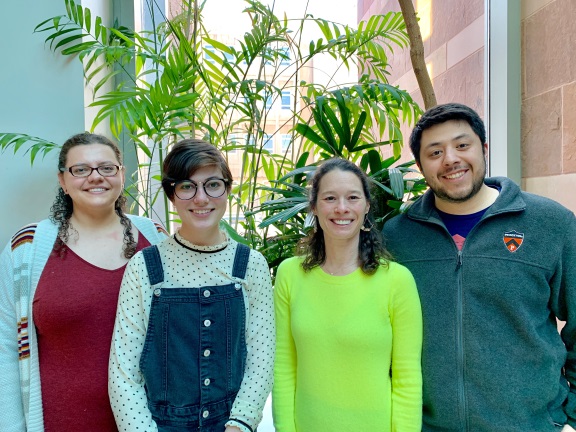 From left to right: Robin Bagley, Beth Osia, Maurine Neiman and Jorge Moreno – University of Iowa.
Jorge Moreno
I really had no idea what I was getting myself into when I was first invited to be part of the Preprint Editorial Team. As an undergraduate student at the time, I did not think I was ready to make such a substantial contribution to science. Nevertheless, I decided to join the team in the hopes of gaining valuable scientific experience beyond the laboratory work and literature review that represent the foundation of an undergraduate scientific career.
I was introduced to preprints early in my undergraduate experience and have been a strong supporter ever since. I believe that many scientists get their start because of their inherent curiosity, and I have always felt that the publishing process allows for this curiosity to grow. The idea of facilitating the rapid and open distribution of scientific findings to the community seemed to me the logical way that science should work. Instead, I was surprised to discover just how slow and complicated publishing can be, to the extent that it at times seemed to impede scientific progress. These realisations are why the Preprint Editorial Team opportunity was so intriguing: the idea that a prominent professional journal would attempt to build an alternative route to publishing that could paint a more positive picture of preprints, decrease time to publication, and actively seek papers that fit the journal was something with which I was excited to be involved.
As a young scientist, I think that each generation wants to leave some sort of mark on a field. My generation of scientists grew up with new access to resources that facilitate the spread of knowledge and information. As someone who aspires to have an academic career, this opportunity has put me at the forefront of being able to change how science is being shared with both the scientific and non-scientific communities, and I hope that others begin to do the same.
Beth Osia
I was first introduced to the existence of preprint servers as an undergraduate, where I was often frustrated with paywall barriers. I saw preprints as a way to encourage deliberate sharing of scientific data without the monetary and temporal confines of the traditional publishing process, and in turn, as a way to increase public access to that data. While we all have control over our own work, without support from the existing publishing system and journals themselves, it's tough to make any substantial changes.
Active solicitation by journals seems both mutually beneficial and synergistic with the interest of promoting more authors to submit their publications as preprints. As journals move to include preprint solicitations in their repertoire of tools to increase their reach, authors (especially young researchers) have a new incentive to publish preprints as soon as they begin their search for a suitable journal rather than after they have already submitted their manuscript, which carries its own benefits. Actively taking part in building an infrastructure for preprint solicitation has been eye-opening in that regard. I'm also excited for the opportunities to collect data on how our solicitations have been received, where our solicited papers eventually end up, and whether receiving solicitation emails has changed views on the utility of preprints within the scientific community.
As for myself, this experience has been overwhelmingly positive. It has fostered conversations I wouldn't have otherwise had with my peers and advisors on publishing preprints. It has driven me to seek journals that are "preprint friendly" for my publications. I've also noticed an increasing trend in journal interest in preprints and data on why authors choose to publish them. Unexpectedly, while scouring BioRxiv for papers in my subject area to recommend for submission to Proceedings B, I have happened upon a number of highly anticipated papers within my field. On top of giving my lab an edge when it comes to staying current in our field, I think that these discoveries have also had a positive effect on those with whom I share these preprints. As I move forward with my career, I hope to continue to promote preprints as an integral part of the publication process, centering them as a beneficial first step to peer-reviewed publication and not just a tangent to the full process. An easy first step, of course, will be advocating for the preprint publication of my own manuscripts.
Dr Robin Bagley
Maurine invited me to join the preprint team shortly after I started as a postdoc at the University of Iowa. I was already familiar with the idea of preprints and supported the concept as a way to make research more widely available in a world where open access publishing is sometimes prohibitively expensive, but had never really looked into them beyond a handful recommended to me. Since I've been checking preprints monthly, however, I've noticed that many of my collaborators, as well as many other scientists whose work I follow, actually post almost every paper they publish as a preprint! I often see newly posted preprints promoted by the authors on Twitter, where many of them attract attention and inspire discussions as much as newly published manuscripts. I actually posted my first preprint after joining this team, and was pleasantly surprised by how positive the reception to the work was, even though it was "just a preprint" at the time.
It seems like the majority of preprints are posted shortly before or after the work is submitted to a journal for review, but I think the solicitation process is not only a way to bring "unpublished" preprints more attention, but also is a great way to attract a wider range of authors and works to journals. Maurine has often shared that solicited authors have mentioned that they hadn't considered Proceeding B as an option for their work, but would definitely consider it for either their current or future works. I can also say that participating in this team, and seeing how supportive Proceedings B is of the preprint process has made me consider the journal as a place to submit my own work to in the future.
Proceedings B is looking to publish more high-quality research articles and reviews in ecology. If you have an idea for a review, we strongly encourage you to submit a proposal by completing our proposal template and sending it to the journal.