Over the past few years, the Royal Society Publishing team have conducted workshops for early career researchers across the globe. In October, Open Biology Publishing Editor Buchi Okereafor took our Author Workshop Initiative to South Korea and Japan.
Preparing to publish a scientific paper can be daunting, especially if doing so for the first time. With academics under pressure to publish earlier in their career, with greater frequency and in higher-ranking journals, deciding which journals to approach and how to package your research can bring up a number of obstacles before even getting started.
Our goal is to improve the quality of publications and facilitate the publication journey of researchers. As part of our aim to bridge the gap between international research and its dissemination, we organised a series of tailored workshops at institutions in South Korea and Japan. Our sessions were focused on introducing early career researchers to the challenges in getting published in high quality journals and how to avoid pitfalls along the way.
The first session took place at Seoul National University and was organised by the institution's Library Team, followed by another session at Korea University in partnership with the university's Science Library. Lastly, we traveled to the University of Tokyo for a training session in partnership with the Institute for Quantitative Biosciences.
The topics covered during these workshops addressed key areas including academic writing in the English language, choosing the right journal, understanding the peer review process and learning about journal policies. The workshops also provided important tips and critical insights on how to draft better manuscripts, best practices for avoiding plagiarism, and strategies for improving a paper's visibility. Participants took part in lively discussions and had opportunity to share knowledge of their own experiences as well as apply their own skills in practical exercises.
We also had the privilege of Dr Hitoshi Kurumizaka, Professor at the Institute for Quantitative Biosciences, University of Tokyo, joining us for the session to share his experience of peer review from the perspective of both author and as an Associate Editor for Open Biology. The sessions were followed by extensive Q&A sessions and we received very positive feedback from the attendees.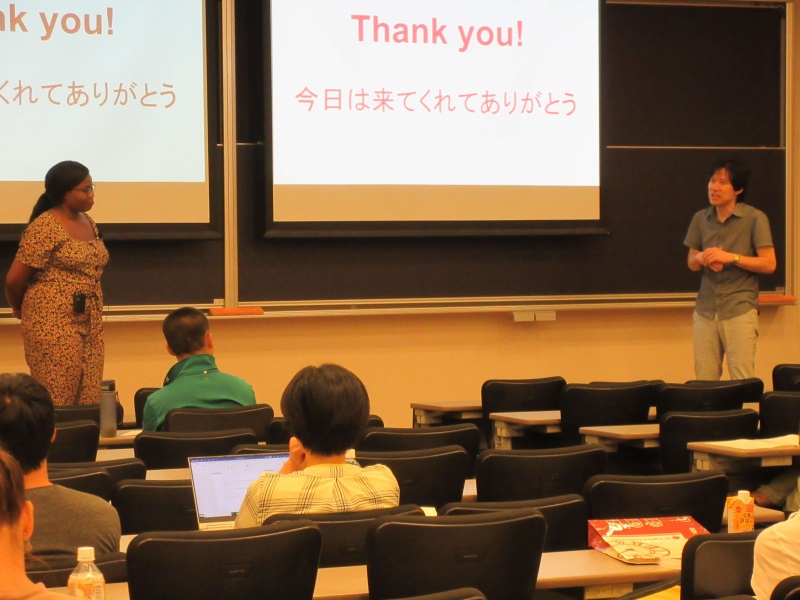 Professor Hitoshi Kurumizaka and Buchi Okereafor, University of Tokyo
Masahiro Nishimura, a Ph.D. program student with the Graduate School of Science at the University of Tokyo, commented: "This workshop provided a great opportunity for me to ask questions freely. I found that the publishing editors are very understanding of the researchers and their surrounding environments. I learned that selecting the right journal is important in making the best of publishing opportunities and thus succeeding in the sciences."
Look out for more news about our workshops on our blog and social media pages. For information about author training opportunities, contact the Publishing team at publishing@royalsociety.org.
Image credits: Buchi Okereafor