The latest Volume of Biographical Memoirs is now available, and as always, consists of a range of inspiring achievements and life stories across the scientific spectrum. This is the first volume to be published since we announced at the start of 2020 that all memoirs will be free to access from the day of publication, and so we are very pleased to share with everyone this new collection of memoirs.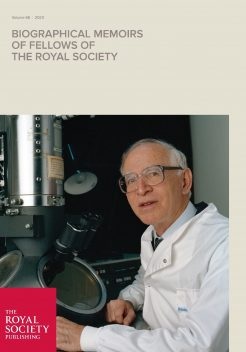 A key theme of Volume 68 is advancements in medical science. For example, Gustav Born and Patrick Mollison both made fundamental contributions in haematology, the former with the study of platelets and platelet-related disorders, and the latter as a pioneer in blood transfusion (not to mention his role as physician to the Queen). In addition, Alan Cuthbert and David Gadsby each played a role in expanding our understanding of the ion transport protein responsible for Cystic Fibrosis, whilst Edward Reynolds' memoir recounts his career at the forefront of neonatal medicine.
Chemistry is also well represented in the latest volume, with not one but three Nobel Prize winning chemists, including former Royal Society President and structural biologist, Sir Aaron Klug. He is joined by femtochemistry pioneer and first US Science Envoy to the Middle East, Ahmed Zewail, as well as atmospheric chemist, Frank 'Sherry' Rowland, who received the Nobel Prize for his role in the discovery of the impact of chlorofluorocarbon emissions on the ozone layer.
Other highlights from the latest volume include the life's work of Robin Clark, whose career in physical and inorganic chemistry led to seminal applications of Raman spectroscopy for detecting artwork and artefact forgeries. Perhaps the most intriguing, however, is the account of geologist and philatelist Raymond Casey, from ammonite fossils to pre-revolutionary Russian postal history.
Casey's Soviet research trips are just a hint at the international thread that runs through Volume 68. Be it in the form of overseas partnerships or of the work of the five Foreign Members included here, the importance of collaboration across the greater scientific community is made clear.
Memoirs are published as they are ready before being compiled into two volumes per year. Sign up for alerts or keep an eye on our website for new memoirs as they appear.
Image: Sir Aaron Klug OM (1926 – 2018) with an electron microscope. (Copyright © MRC Laboratory of Molecular Biology.)