Proceedings B is pleased to welcome all Associate Editors to the journal's editorial board. We recently asked two Associate Editors from India, Ullasa Kodandaramaiah (School of Biology, IISER Thiruvananthapuram) and V. V. Robin (Department of Biology, IISER Tirupati), about their backgrounds, current research and their motivation behind joining the journal's editorial board.
---
Ullasa Kodandaramaiah
Tell us more about your field of research
I am interested in understanding the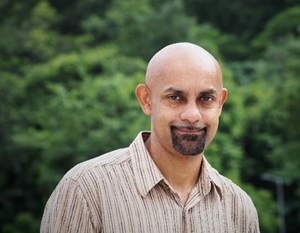 evolutionary forces underlying diversification of living forms. Diversification comprises a) speciation, which gives rise to new species, and the macroevolutionary patterns generated through successive speciation events b) intra-specific divergences among populations of a species, which are mediated by natural selection and form the basis for speciation. Our lab is interested in addressing these aspects of diversification. We are also diverse in terms of study systems – we have worked on butterflies, plants and reptiles, although butterfly evolutionary ecology forms the main core of our lab. Within the broad framework of understanding diversification, we currently address questions on a few research themes. E.g., we ask how animal groups such as lizards, snakes and butterflies use colour patterns against predation, and how these patterns may be related to rates of diversification. We test how the intricate interactions between butterflies and their larval host plants lead to intra-specific divergences between butterfly populations, and to coevolutionary patterns on a phylogenetic scale. We also try to understand the evolution of phenotypic plasticity and life-history traits.
What has been the biggest influence on your career?
The first couple of years of my PhD at Stockholm University were influential. Until then, I was interested in ecology and wildlife biology, with a rudimentary understanding of evolutionary biology. Working with my supervisor Niklas Wahlberg and in a department with a strong emphasis on evolutionary ecology nudged me into appreciating the beauty and magnificence of evolution. Though my PhD was on phylogenetics and biogeography, interactions with colleagues in the department got me interested in many other areas within evolutionary biology, some of which are main research themes in our lab today.
Why did you join the Proceedings B Editorial Board?
Ever since I began to appreciate the importance of publishing in peer-reviewed journals, I have realised that my colleagues viewed Proceedings B as the go-to journal for their most exciting results. When I got the chance to be an Editorial Board member of this prestigious journal, the decision to join was a no brainer. Being an editor will help me grow as a researcher, and I also hope to encourage more submissions from this part of the globe.
What advice would you give to early career researchers to help them to get their research published?
During an early career stage, having a combination of high and low risk projects could be helpful, as I found when I started my independent career. To publish in a good journal, one often needs to collect substantial data from multiple experiments. Several things may derail well laid out plans. However, in academia, going through long periods without publications may have a negative effect. I think having some low-risk projects can buffer an early career researcher in terms of continued productivity without lengthy breaks.
V. V. Robin
Tell us more about your field of research
Evolutionary ecology would be the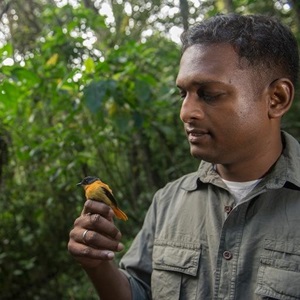 closest description of my research. I am hugely motivated by the natural history of birds, especially those on the Shola Sky Islands of the Western Ghats. Several of these species are endemic and endangered and I use a variety of tools including acoustics, genetics, and remote sensing images to explore different aspects of the ecology of these species. Every piece of research appears to unfold new lines of research; while new data keeps challenging our expectations of how birds live and adapt to human impacts.
What has been the biggest influence on your career?
People (scientists) and landscapes (where I conduct my research) have motivated me significantly. Engaging with a community of people who share my interest in science and exploration has been the source of new ideas, changing my career trajectory a few times. Some of these wonderful people have been formal or informal mentors; others have been my students or even based at funding agencies. Scientific meetings have been an excellent avenue for meeting such people.
Why did you join the Proceedings B Editorial Board?
I am excited by the opportunity to interact with the science that is submitted to this prestigious journal. I am also looking forward to meeting some of the wonderful scientists on the editorial board. Both of these, I am sure, will positively impact my science.
What advice would you give to early career researchers to help them to get their research published?
I am not sure I know enough about this, but I can share my own experience here. Getting published seemed like a big insurmountable obstacle at an early stage. The more closely I engaged with the peer review system, the easier it became for me to get published. I started reviewing and co-reviewing articles for various journals. This helped me break down what seemed like a huge black box into smaller components that I could engage with and understand. This approach could help some others as well.
---
Proceedings B is looking to publish more high-quality research articles and reviews in the fields of ecology and evolution. If you have an idea for a review, we strongly encourage you to submit a proposal. Find out more about the submission process.
Image credits: Top image photograph by Yogendra Singh from Pexels; Ullasa Kodandaramaiah photograph by Sandhya Sekar; V. V. Robin photograph by Prasenjeet Yadav