Earlier this month I came across a local news article about an annual event at London Zoo that I hadn't heard of before: a week-long 'stocktake', where their zookeepers tally up all the animals that reside with them.
An easy enough job for keepers of the larger mammals, this audit struck me as a much harder task for those responsible for London Zoo's insect and fish holdings - I was glad to read that the ants are counted by colony, rather than individually! Inspired, I decided to conduct a survey of my own, into visual representations of London Zoo in our collections, and I soon came across George Scharf's 'Six Views in the Zoological Gardens, Regent's Park', 1835.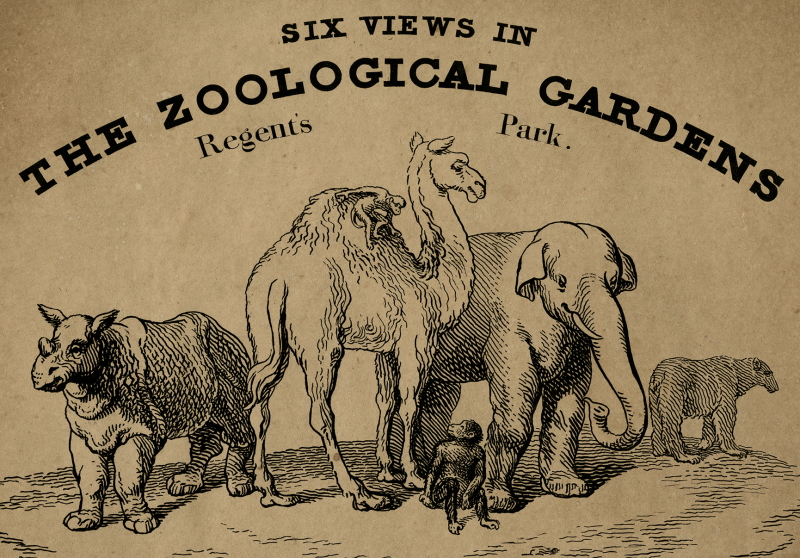 Illustration from the frontispiece to Scharf's 'Six Views', 1835.
George Johann Scharf (1788-1860) was a British-German painter, draughtsman and printmaker. He studied at the Royal Academy in Munich before moving to London in 1816, where he built a career as a scientific and topographical painter and lithographer. He is known to have been commissioned by several Fellows of the Royal Society, including Richard Owen (1804-1892), Charles Darwin (1809-1882) and Gideon Mantell (1790-1852), contributing illustrations to the latter's observations on the Iguanodon and Hylaeosaurus as published in the Society's Philosophical Transactions.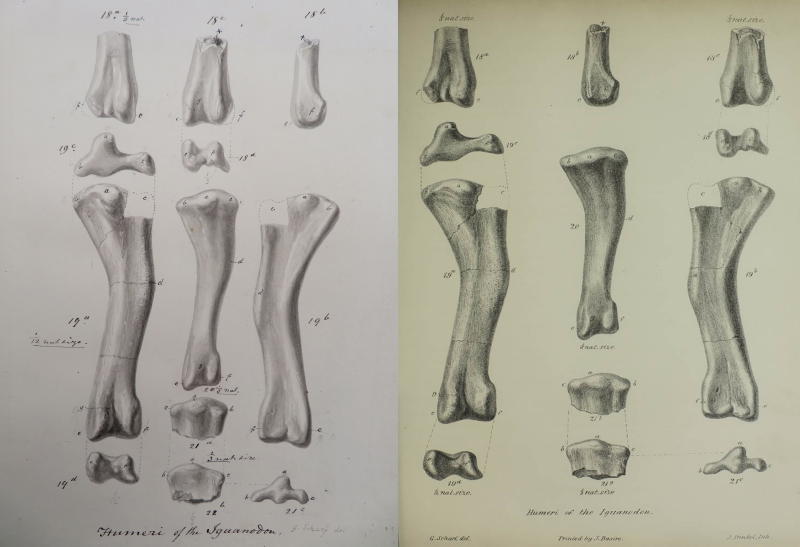 Scharf's preparatory drawing of the homunculi of an Iguanodon from PT/35/10 (left), later produced as an engraving (plate XXXI) in the Phil Trans (right)
Scharf initially began making sketches at London Zoo – then known as the 'Gardens of the Zoological Society of London' – of his own accord, before being commissioned by the Zoological Society to produce a series of lithographs. His resulting 'Six Views' provide a fascinating insight into how the zoo was perceived (or else, how it wanted to be perceived) in the years following its foundation.
On inspecting Scharf's 'Six Views', you can't help but feel that you're looking at a somewhat idealised version of the recently founded institution, which first opened its doors in 1828. Indeed, all of Scharf's visitors look like they're having a lovely time. No doubt they were, but this joviality takes on extra significance when you know that plans for a zoo in Regent's Park, full of hypothetically dangerous animals and their associated noises and smells, initially met with resistance from the inhabitants of Marylebone. The complainants included John Nash (1752-1835) himself, the celebrated designer of Regent's Park and, coincidentally, the architect behind the Royal Society's current premises in Carlton House Terrace, who denounced the zoo for exuding a 'noisome smell'.
But in Scharf's views of the zoo, visitors seem very happy in their proximity to the animals. A little too happy, in fact, with a surprising amount of human-animal interaction, most obvious in the bear pit and elephant enclosure prints: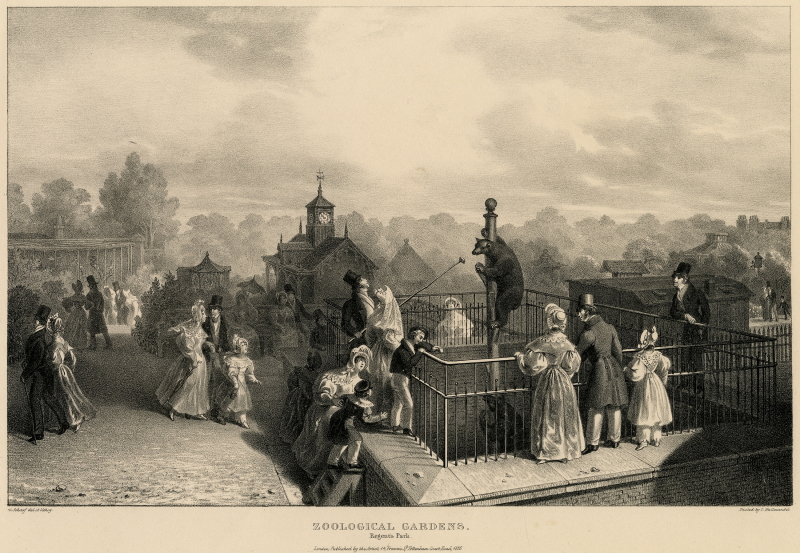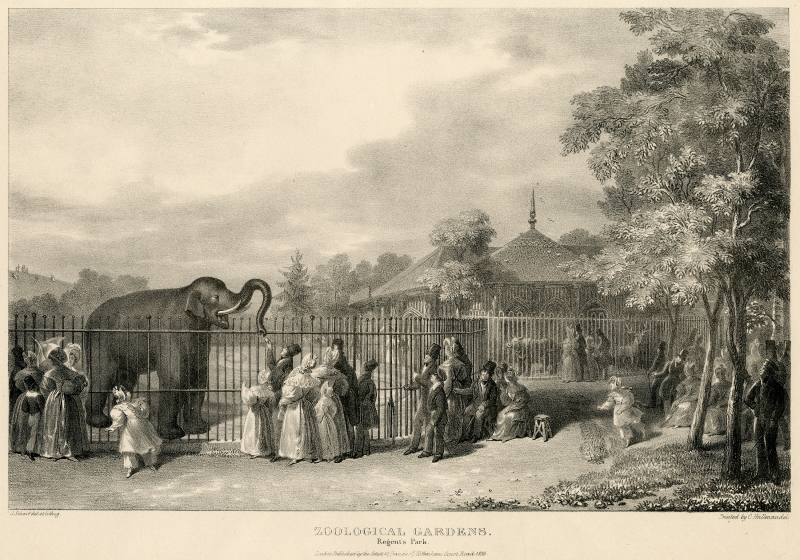 Scharf's depiction of the bear pit (above) and elephant enclosure (below), RS.20375 and RS.20370 respectively
The attentions of Scharf's visitors seem to be entirely captured by the zoo's novelty, rather than by any unwelcome sights or smells. Furthermore, the tameness and humorous appeal of the animals is foregrounded, perhaps in an attempt to squash any uncertainty about safety. He creates a sense of the zoo both as a place to learn about the behaviours of animals and a place to be entertained, deliberately tapping into the pre-existing market for menageries. These were already popular amidst the British public thanks, in part, to the Tower of London's Royal Menagerie, which housed a multitude of wild animals from the 1200s to 1835 (and which also features in our collections):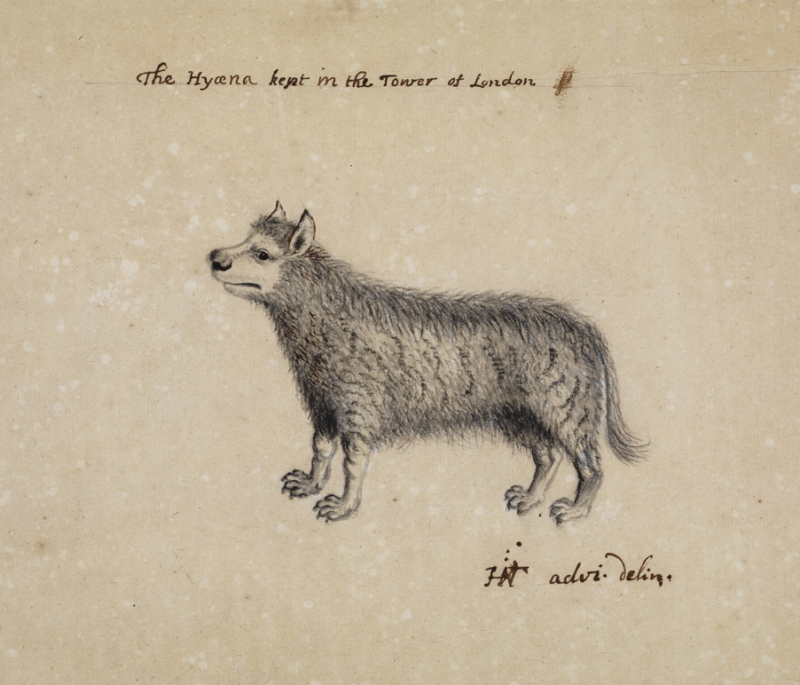 Profile view of a hyena kept at the Tower of London's Menagerie, by Henry Hunt, 1696, MS/131.
Equally interesting to note is the civility of Scharf's visitors. With voluminous overskirts, petticoats and top hats a-plenty, they look as though they're from the middling and upper classes. This was likely the case, with the zoo open only to Fellows of the Zoological Society and their guests from 1828 to 1847. At a time when prints of London were a popular way of cementing its reputation for 'progress', you can't help but wonder whether the visitors' sensitivity was purposefully emphasised in Scharf's series.
Furthermore, whether or not this was intended by the artist or the commissioners of the series, Scharf's prints point towards the extent of the British Empire. The majority of the animals depicted in the 'Six Views' – elephants, bears, chimpanzees – had been shipped from their native habitat (in colonial territories) to London, where they were kept in cold and strikingly stark cages, if Scharf's prints are anything to go by. Their presence here, therefore, is another reminder of the ways in which the establishment of many nineteenth-century institutions was inextricably linked to Britain's ruthless colonial expansion.
Not only do Scharf's 'Six Views' prompt consideration of certain of the contentious issues that have always surrounded zoos, with the promotion of wildlife research on one hand and the idea of animals in captivity for human entertainment on the other, they also illuminate the very specific context in which this zoo opened and operated. When I began my 'survey' I had planned to look for various prints of London Zoo in our collections. Safe to say I was stopped short by Scharf's imagery and how much it gave me to unpack.