New study model hints on how organs communicate with one another
Researchers have uncovered the proteins involved in key communication networks, which could help us better understand conditions like cancer and obesity. In this study, the authors describe a new mouse model marking the proteins that a cell secretes and tracks their movement throughout the body. This novel technology could shape our molecular understanding of healthy versus diseased tissue, as well as the role that inter-organ communication plays in disease onset and progression.
Bacteria lose cell wall in the presence of virus
Bacteriophages are viruses that infect and replicate only in bacterial cells. Phages pose a major threat for bacteria and have evolved sophisticated defense systems to withstand phage attacks. Researchers from Leiden University made a surprising discovery about a previously unknown mechanism by bacteria to survive infection. They found that exposure to phages leads to the conversion of walled cells to a cell wall-deficient state, which remain viable in osmoprotective conditions and can revert to the walled state. The results show that the formation of cell wall-deficient cells prevents complete eradication of the bacterial population and suggest that cell wall-deficiency may potentially limit the efficacy of phage therapy, especially in highly osmotic environments or when used together with antibiotics that target the cell wall.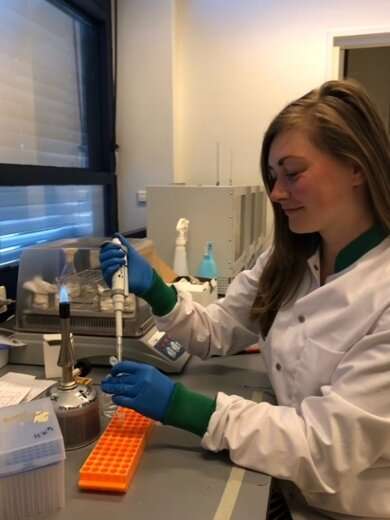 First author Veronique Ongenae. Credit: Leiden University
Modelling T-cell immunity against hepatitis C virus with liver organoids in a microfluidic coculture system
A vaccine against hepatitis C (HCV) has eluded scientists for more than 30 years, for several reasons. For one, the virus that causes the disease comes in many genetic forms, complicating the creation of a widely effective vaccine. For another, studying hepatitis C has been difficult because options in animals are limited and lab methods using infected cells have not adequately reflected the real-life dynamics of infection. Researchers at Gladstone Institutes, California, developed a new platform for studying how the human immune system responds to HCV infection. Senior Investigator Melanie Ott told us more about the method in this blog.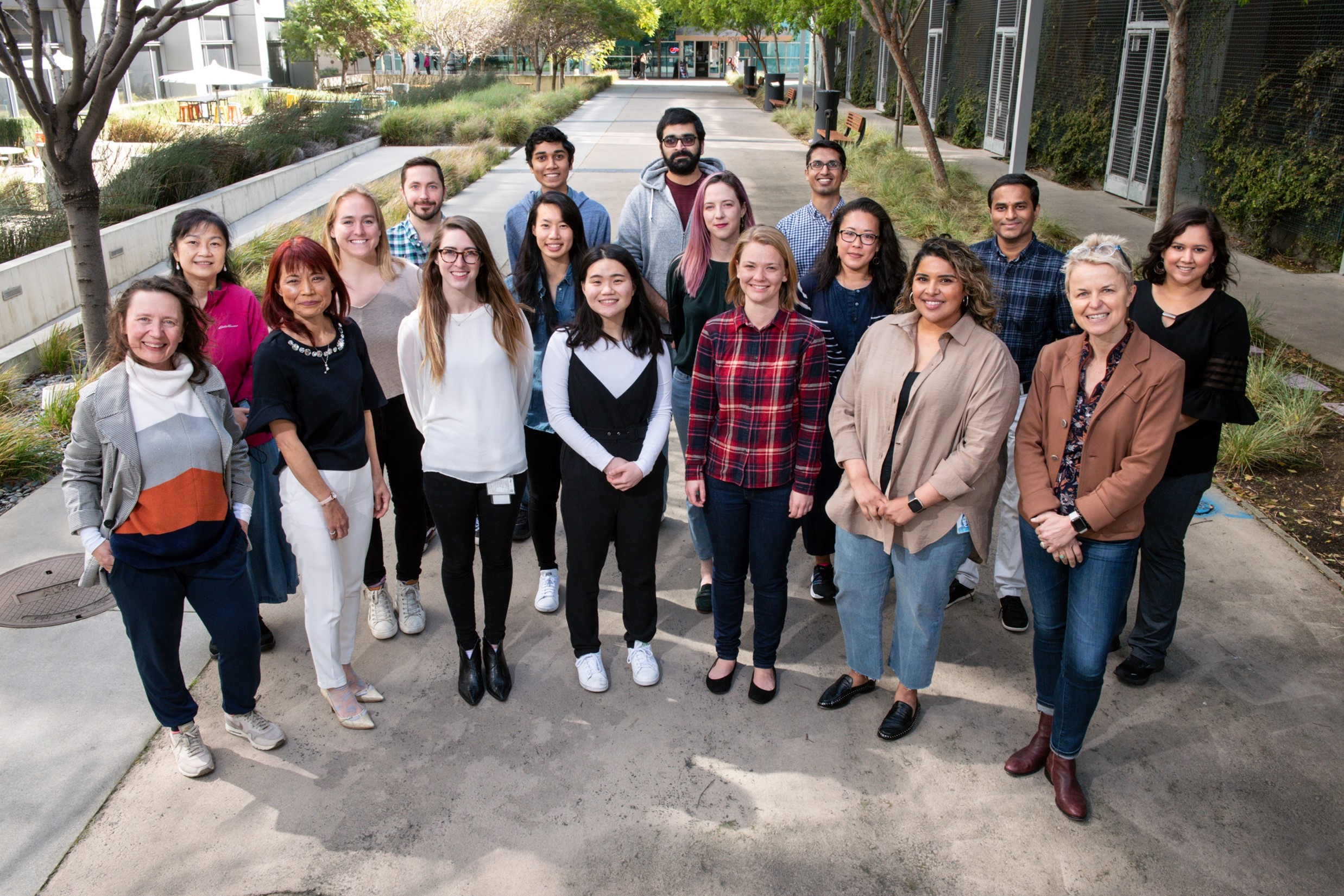 Ott Lab group, Gladstone Institute of Virology and Immunology. Credit: Gladstone Institutes
The immune deficiency and c-Jun N-terminal kinase pathways drive the functional integration of the immune and circulatory systems of mosquitoes
Biologists at Vanderbilt, USA, have discovered the genetic pathways that link the immune and circulatory systems of mosquitoes during the fight against infection. A mosquito fighting infection of malaria or bacteria attracts immune cells to its heart that filter microbes that are flowing in its blood, called hemolymph. The discovery of two pathways that link immunity and hemolymph circulation is a major contribution to the understanding of how mosquitoes, which are themselves disease vectors, respond to infection.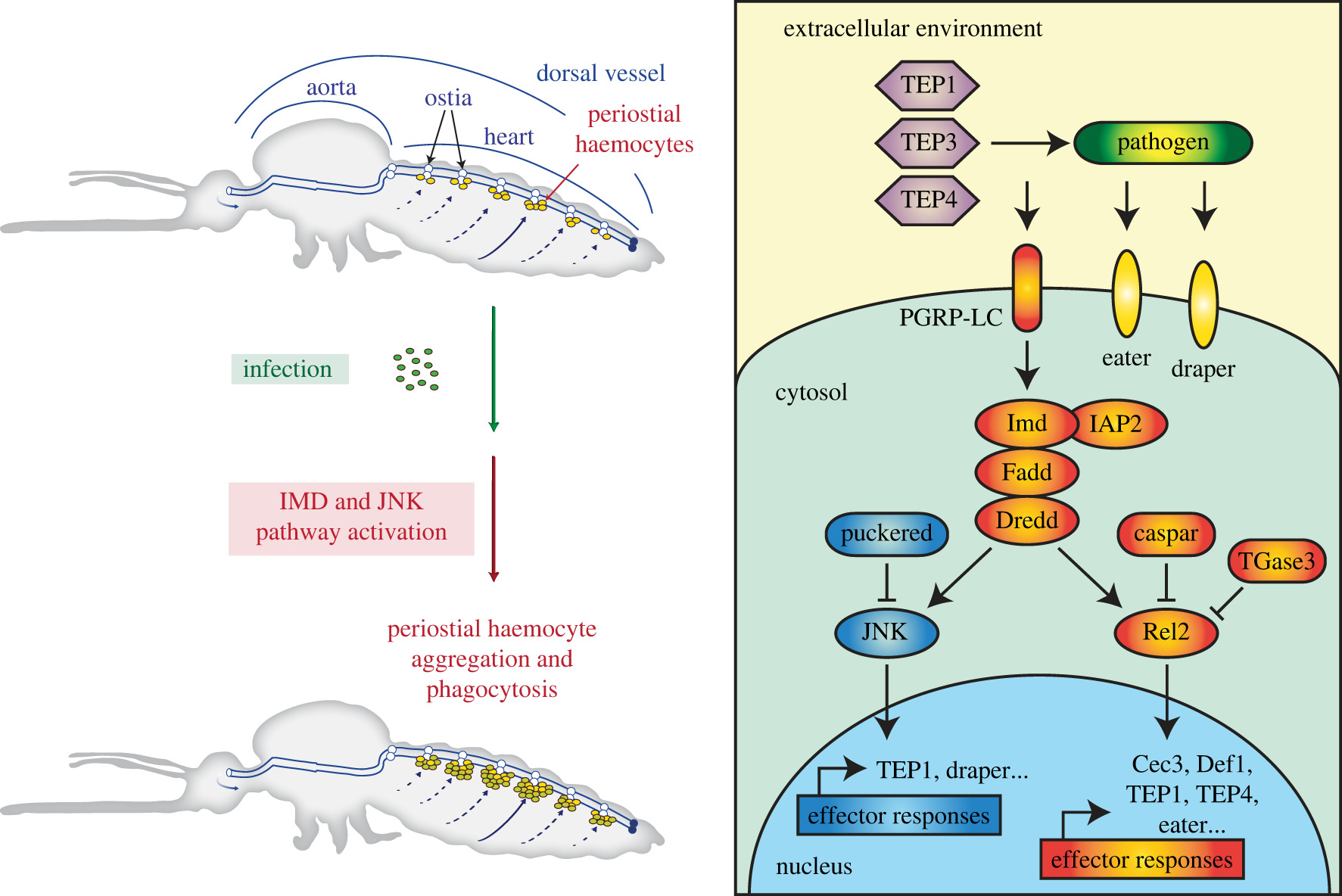 The immune deficiency (IMD) and c-Jun N-terminal kinase (JNK) pathways in mosquitoes. DOI: 10.1098/rsob.220111
Visualisation of sympathetic neural innervation in human white adipose tissue
Obesity-related complications such as type 2 diabetes and fatty liver disease represent a significant disease burden. As people gain weight, white adipose tissue (WAT) mass expands to store energy-rich triglycerides. The authors of this Methods and Techniques paper developed a new way to visualise the fine nerves, which penetrate fat tissue and control the burning of calories. The researchers asked people who struggle with their weight to volunteer by providing a sample of their fat. They then used a cutting-edge technique called optical clearing to remove the fats, making the cells completely transparent to reveal the fine nerves inside the cells. It is hoped that this research will help understand the ways in which our bodies burn calories and may reveal new ways to treat people with weight problems.
----------------
Open Biology is looking to publish more high-quality research articles in cellular and molecular biology. Find out more about our author benefits and submission process.
Top image credit: Scanning electron micrograph of an HIV-infected H9 T cell. NIAID images via Flickr CC BY 2.0