Peer review is a crucial part of scholarly communication, a system that would not work without good reviewers. Each year, researchers spend many hours conducting peer review, typically on an entirely voluntary basis. Reviewers devote a great deal of their time and effort to not only reading the submitted manuscript, but also consulting additional sources of information and providing thoughtful and constructive critique.
While this process serves as the foundation for evaluating and vetting scientific research, typically little or no reward is offered in exchange for their efforts. With journals facing increasing challenges in recruiting peer reviewers, we recently surveyed reviewers who had declined to review for their thoughts. The results from the survey indicated that over 40% would be more likely to review if we offered a token scheme for discounts on open access charges for future publication.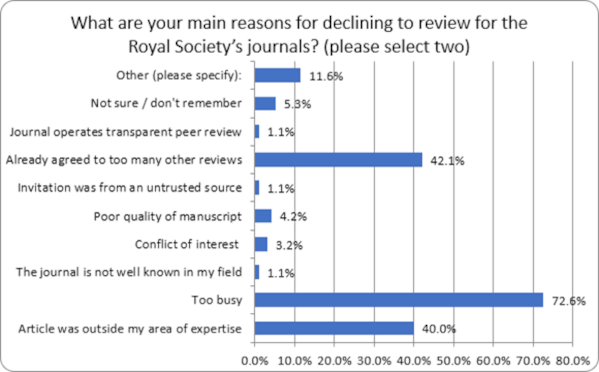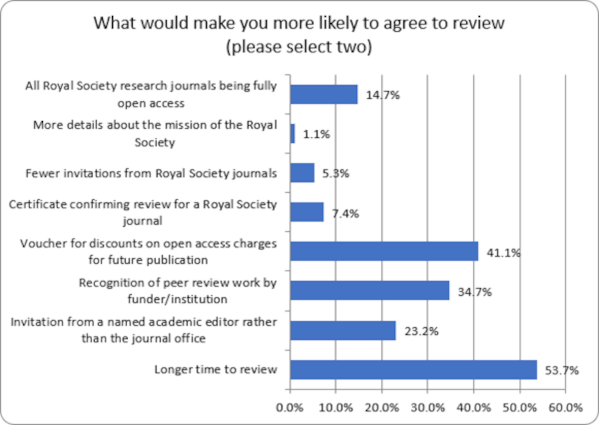 In our commitment to support our reviewers, to help recognise the vital contribution our reviewers make to the publishing process, and to lower barriers to open access publication, Open Biology is introducing a reward scheme launching 1 January 2023. When an article has been reviewed, we will provide one token to the reviewer which can be redeemed towards the Article Processing Charge (APC) cost of publishing an article in the same journal and can be accumulated over time. Find out more about our new rewards scheme.
The scheme is another initiative aimed at supporting the research community and making reviewing as rewarding as possible. We also offer the following:
Recognition through the Web of Science Reviewer Recognition Service (previously branded as Publons) – a free service records, verifies, and showcases peer review contributions, which can be used in promotion and grant applications.
Journal Recognition – a number of our journals including Open Biology publish an annual citable article containing the list of reviewers who have opted to receive this recognition.
Co-reviewing – we encourage opportunities for the senior reviewer to give recognition to the co-reviewer through the Reviewer Recognition Service and by adding their name to the published peer review reports.
Option to sign published reports - four of our journals offer transparency by publishing peer review information (reviewer reports, decision letter and response) alongside published articles.
"Expert peer-review is critical to the scientific enterprise: in addition to improving clarity, the best peer-reviews enhance papers through constructive dialogue to test alternative explanations, resolve contradictions, and sometimes consider wider implications. This takes considerable commitment on the part of the reviewer and we would like to acknowledge and reward this at Open Biology." Jon Pines FRS, Editor in Chief, Open Biology.
---
Open Biology is looking to publish more high quality research articles across cellular and molecular biology. Find out more about our author benefits and submission process.