A new paper in Proceedings B investigates the relationship between ripe fruit ethanol content and seed dispersal in avian and mammalian foragers. The authors tell us more…
---
Ethanol occurs naturally in wild fruit as a product of the fermentation of sugars by yeasts and may be pervasive throughout wild ecosystems. Accordingly, vertebrates that eat fruit and disperse seeds may be chronically exposed to low levels of ethanol in their diet, which may shape their sensory and digestive systems over evolutionary time. However, we currently have a limited understanding of the amounts of ethanol present in wild fruits and their sources of variation, which hinders our ability to untangle the ecological and evolutionary implications of ethanol consumption. We set out to help fill this gap by surveying naturally occurring ethanol in a large sample of wild fruits. We also compared and contrasted fruits predicted to be primarily eaten by two clades - birds versus mammals - in a tropical dry forest in Costa Rica. Using a custom-adapted breathalyzer, we measured ethanol concentration in ripe fruits of 37 species, and used the fruit traits displayed by these species (e.g., color, size, protection) to predict their primary seed disperser - bird or mammal.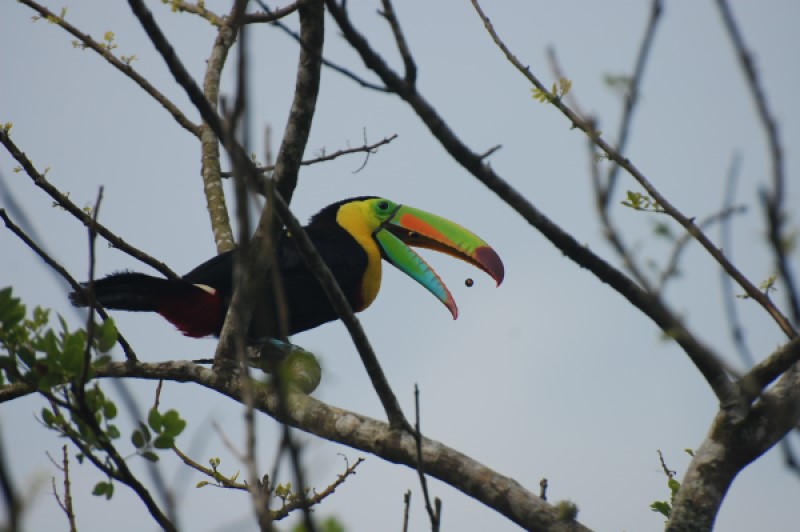 Wild toucan foraging on small berries in Costa Rica. Image credit: Amanda Melin
We found that ethanol production is pervasive across the plant community we studied, and that variation in ethanol content has a significant phylogenetic signal, suggesting it is shaped by the evolutionary history of the plant species. Intriguingly, we found that ethanol concentration is significantly greater in mammal-dispersed fruits compared to bird-dispersed fruits, supporting the idea that mammals may be more exposed to ethanol during fruit feeding. The two clades of seed dispersers differ considerably in the ways in which they find and consume fruit: birds are typically more visually oriented, relying on their excellent colour vision to find ripe fruits, while mammals rely more on their senses of smell and touch. Relatedly, fruits dispersed primarily by mammals are typically duller in colour but more odiferous compared to fruits dispersed primarily by birds, which tend to be visually conspicuous. Ethanol odours may join other components of fruit aroma and signal fruit ripeness to foragers. Overall, our findings offer support for a link between ethanol production and plant phylogeny, and for co-evolution with different seed dispersers.
How did the paper come about?
The idea for this paper was inspired by earlier research from Robert Dudley (e.g., Dudley 2014), Nate Dominy (e.g., Dominy 2014), and from our own labs (e.g. Carrigan et al. 2014, Hockings et al. 2015, and Janiak et al. 2020) suggesting that ethanol is naturally present in fruits and flowers, and may have favoured behavioural preferences and genetic adaptations in frugivorous animals. We have been wanting to measure wild fruit ethanol for years, but were lacking a feasible and field-friendly method. Co-author Matthew Carrigan facilitated this research through co-opting a police-grade breathalyzer.
How did you find your experience of publishing in Proceedings B and why did you choose the journal?
We chose to publish in Proceedings B because of the wide readership, excellent and professional standards, and the strong tradition of publishing research that asks questions in ecology and evolution using innovative approaches. We are additionally grateful to have the opportunity to participate in a blog post on our paper!
This is Julia Casorso's first article. She remarks that she "found the publishing process very pleasant and straightforward. The review process was very quick and the feedback from our reviewers really improved our manuscript".
About the authors
Julia Casorso is a recent undergraduate from and a lab technician at the University of Calgary. She studies the sensory and foraging ecology and evolution of primates and other mammals in her work with Dr. Amanda Melin in the Melin Lab, and in collaboration with Dr. Kimberley Hockings and Dr. Matthew Carrigan.
Allegra DePasquale is a PhD candidate in biological anthropology at the University of Calgary supervised by Dr. Amanda Melin. She studies the evolutionary ecology of fruit and fruit-eating vertebrates in the Costa Rican tropical dry forest.
Suheidy Romero Morales is a field project and intern coordinator with the Santa Rosa Primate Conservation Fund (SRPCF). She studies foraging ecology, social behaviour, and life history in wild primates, and she collected the majority of our data on ethanol concentration in wild fruits.
Saúl Cheves Hernandez is the field project manager and the director of the SRPCF. Having studied tropical dry forest ecology for over a decade, he offered extensive knowledge and expertise on the native plant species we studied and the frugivorous vertebrates that eat them.
Ronald Lopez Navarro is a field research assistant with the SRPCF, studying the behaviour, ecology, and demography of wild primates. He has extensive experience studying tropical dry forest ecology and offered knowledge and expertise on the native plant species we studied.
Kimberley Hockings is a Senior Lecturer in Conservation Science and core member of the Conservation Science Hub at the University of Exeter. She combines biological, ecological, and social science approaches in her research on the ways in which humans and great apes interact and coexist.
Matthew Carrigan is a Professor in the Science Department at the College of Central Florida. His research focuses on the evolutionary origins of life and the biochemical processes of evolution.
Amanda Melin is an Associate Professor and Canada Research Chair in the Department of Anthropology and Archaeology at the University of Calgary. She draws on methods from ecology, ethology, and genetics to understand how animals are adapted to consume different diets.
---
Proceedings B is looking to publish more high-quality research articles and reviews in animal behaviour. If you have an idea for a review, we strongly encourage you to submit a proposal by completing our proposal template and sending it to the journal. More information about the journal and the submission process can be found on our website.
Image Credits
Wild capuchin monkey foraging for the relatively large, thick-husked fruits of Bromelia pinguin in Costa Rica. Image credit: Julia Casorso.
Wild toucan foraging on small berries in Costa Rica. Image credit: Amanda Melin.