As an extended celebration of St Patrick's Day, here's the tale of a hardy Irishman in the Antarctic.
In the shadow of polar celebrities Robert Falcon Scott, Ernest Shackleton and Roald Amundsen, the men from below decks (the 'ratings') played a vital role in scientific and geographical exploration. Among these humble ratings was Tom Crean, who took part in three of the four British Antarctic expeditions led by Scott and Shackleton between 1901 and 1916.
The epic story of Crean's time in Antarctica almost defies belief; however, in an era when newspaper headlines were reserved for those of a certain class, his accomplishments were mostly consigned to footnotes. To help readjust the balance I have, since 2010, campaigned to have him officially honoured by his country of birth.
Tom Crean was born in the village of Annascaul, County Kerry, Ireland on or shortly before 16 February 1877, facing a life of poverty in a country still suffering 25 years after the devastating Great Famine. The Royal Navy provided one of the few opportunities for young men to escape and send back money to protect their families, many of whom were under the threat of eviction by the 'crowbar brigades' employed by landlords to banish any tenant farmers unable to pay the rent.
The sons of Annascaul, and other villages dotted around the Dingle Peninsula, had a long tradition of signing up to the Royal Navy, and in 1893, at the age of 16, Crean joined their ranks. After serving a harsh apprenticeship, he was assigned to HMS Royal Arthur, the flagship of the fleet. The base of operations of the Pacific Squadron was at Esquimalt in Vancouver Island, the most extensive of all the British naval stations abroad.
In what proved to be a baptism of fire for 17-year-old Crean, the ship was ordered to blockade the port of Corinto to enforce a compensation order on the Nicaraguan government for their part in maltreatment of British citizens. It's likely that Crean was in a party of three hundred who landed at the port to confront the Nicaraguans, forcing them to back down.
In 1900, 23-year-old Crean's travels took him to the Australian station, where he served out another eventful period aboard HMS Ringarooma. In an era when territorial disputes between Britain and France, and tribal wars, were commonplace across the outlying islands that made up New Hebrides (now Vanuatu), the early years of Crean's fledgling career appear to have had an adverse effect on him and he seems to have become increasingly disillusioned. Crean's discontent is reflected in his naval record where a rollercoaster ride up and down the ranks ensued.
Salvation arrived in the form of a ship that was heading out of New Zealand on a pioneering mission, the aptly-named RRS Discovery led by the ambitious Robert Falcon Scott. This was Crean's second chance of escape, to the place where he was to cement his legacy: Antarctica.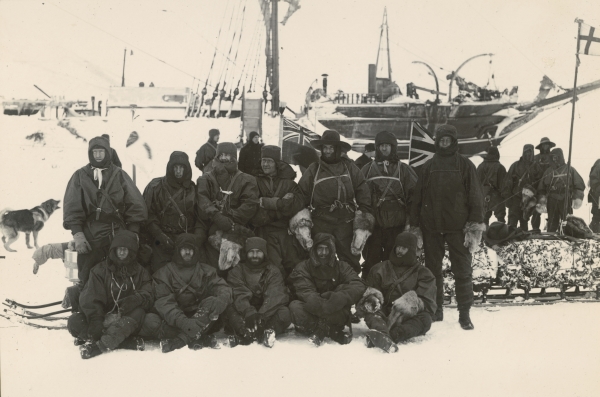 Southern depot laying party, 30 October 1902, with Tom Crean in the front row second from right. NAE/2/142 © The Royal Society.
The Discovery voyage, where Crean earned a reputation for being a hardy, dependable man with invaluable skills on the ice, could very easily have been his last. Ironically for someone who, in two following expeditions, distinguished himself as a lifesaver extraordinaire, Crean was thankful for the lifesaving skills of two petty officers who pulled him from below the freezing ice that gripped Discovery in its jaws. Crean's hardiness was displayed for all to see when he immediately carried on with his task of helping to free the ship, only to fall in a second time, again requiring rescue.
Crean was a member of a sledging team under Lieutenant Michael Barne who secured the sought-after prize of reaching farthest south. It was a short-lived achievement, however – just over a month later Scott, Ernest Shackleton and Edward Wilson extended the record to 82°11'S.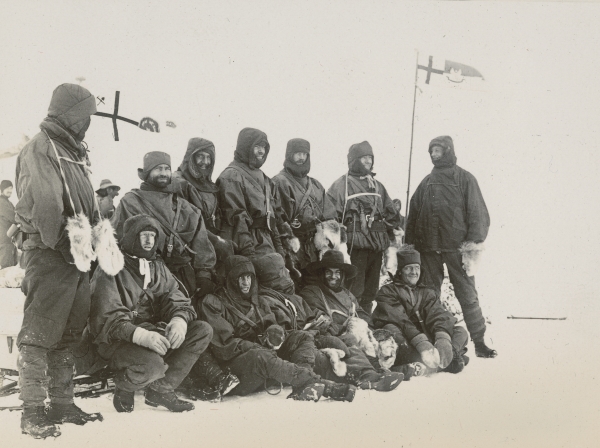 The Southern depot laying party, 30 October 1902. Tom Crean is in the back row, fifth from right and smiling at the camera. NAE/5/612 © The Royal Society.
After Discovery's return in 1904, Sir Clements Markham offered a telling insight into Crean's mindset at the time. Writing in his biographical dictionary of the expedition he stated:
'Crean Thomas, Able seaman aged 26. He joined the 'Discovery' from the 'Ringarooma' at Port Chalmers … Pay £55/14/11 a year. He allots to his mother Mrs K. Crean, Annascaul, Co. Kerry. A good man. Got a free discharge, but came back to the service.'
Mindful of the continuing threat of eviction to his family back in Ireland, Crean declined the opportunity to leave the Navy at the end of his tenure. In addition to securing his family's future, we can speculate that the Antarctic expedition had led to the 'discovery' of his true self, giving him the sense of purpose and pride hitherto missing from his naval career.
Tom Crean went on to serve with excellence on the ill-fated Terra Nova expedition, again under the leadership of Scott. He saved his commander, Edward Evans, from almost certain death, by means of a solo trek of 35 miles in 18 hours, without skis and on a ration of three biscuits and two sticks of chocolate. Crean's historic rescue came at the end of an arduous period of three months and 1500 miles on the ice, undertaken in the face of fierce Antarctic conditions.
Nine months after the return of Terra Nova, on St Patrick's Day 1914, Evans delivered a speech to a packed audience at New York's Carnegie Hall. In it he revealed Crean's words to him after he had begged Crean and his colleague William Lashly to continue without him. Refusing his commander's wishes, Crean said to Evans: 'If you go out sir, we all go out together.'
In August 1914, Crean travelled on his third and final expedition to Antarctica as Second Officer to Sir Ernest Shackleton aboard Endurance. After the loss of the ship, Crean was to play a primary role in the greatest survival and rescue story in maritime history, on the expedition aptly dubbed 'a glorious failure'. After a naval career that spanned almost 27 years, Crean's retirement was an enforced one following a diagnosis of retinitis – his eyes failing after constant exposure to blizzards and the blinding whiteness of the ice and snowstorms.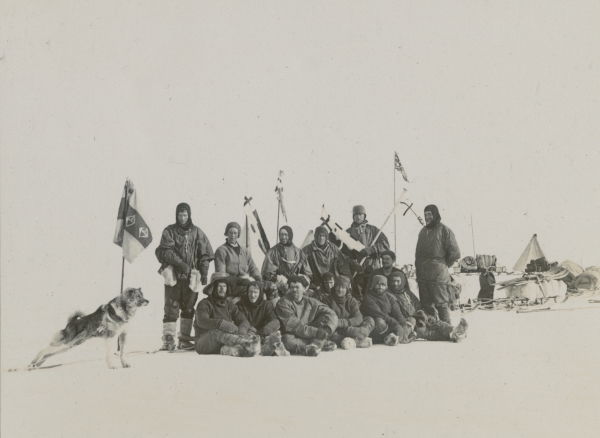 Southern depot laying party journey, 13 November 1902. A remarkable image that features a number of Polar stalwarts such as Robert Falcon Scott, Ernest Shackleton and Edgar Evans. Tom Crean is standing on the extreme left. NAE/6/745 © The Royal Society.
Having served on three expeditions, with eight years of his naval career spent in the most inhospitable and unforgiving climate on earth, documentary evidence reveals that Crean was solely or jointly responsible for saving 29 lives over four separate occasions, yet his feats still remain largely unknown. I'm sure, however, that the descendants of those he saved are eternally grateful that Tom Crean walked up the gangplank of RRS Discovery on 10 December 1901 to forge his legend in Antarctica.
On a personal note, I began my research into Crean's life early in 2017. This revealed a host of new information about this remarkable man, and resulted in my recently published biography, Crean – The Extraordinary Life of an Irish Hero (Irish Academic Press, imprint Merrion Press).
To discover more about Tom Crean, please visit http://www.tomcreanbook.com/ where there are a wealth of free Tom Crean learning resources available.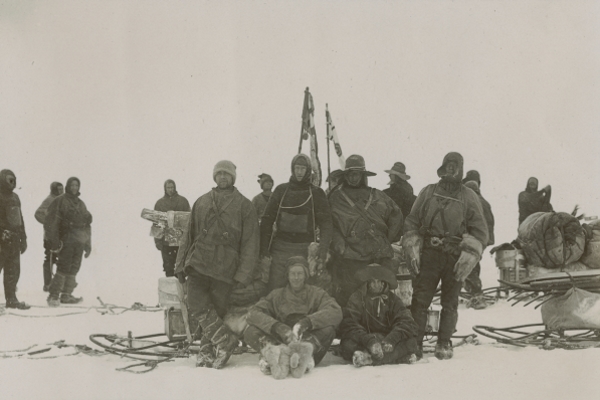 Barne Barrier sledge party, 6 October 1903. Tom Crean is in the back row on the extreme right. NAE/2/188 © The Royal Society.