We're on the countdown to Christmas! If the arrival of December has surprised you too, and you're reading this thinking '15 days until Christmas? Really?', then do not fear – there's still time* to get some shopping done from the Royal Society Print Shop.
Since the Society's foundation our library and archive collection has done nothing but grow, and it now contains a rich collection of illustrated printed books and manuscripts from all disciplines, as well as original artworks and museum objects from a range of periods. Digital images of these sources are selected for inclusion in the Print Shop and made available for purchase as a number of products, from high-quality fine art posters to framed prints, canvases and greetings cards.
Here are a few recent additions to the Print Shop, uploaded to inspire you this festive season: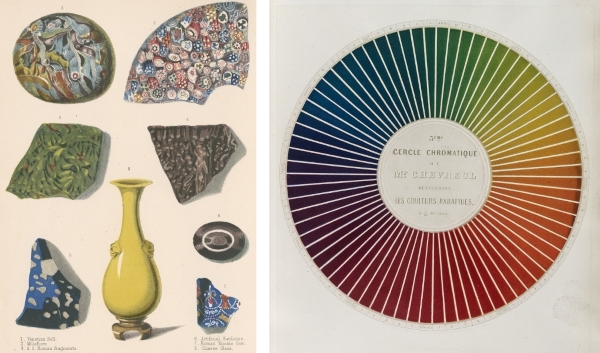 Left: Eight figures of ancient coloured glass, from Apsley Pellatt's Curiosities of glass making, with details of the processes and productions of ancient and modern ornamental glass manufacture (1849); Right: A 'colour circle' from Michel Chevreul's Presenting a way to define and name the colours according to a precise and experimental method… (1861). This is the third in a series of ten, diagramming the variations obtained by the progressive addition of black to the basic colours of red, yellow and blue.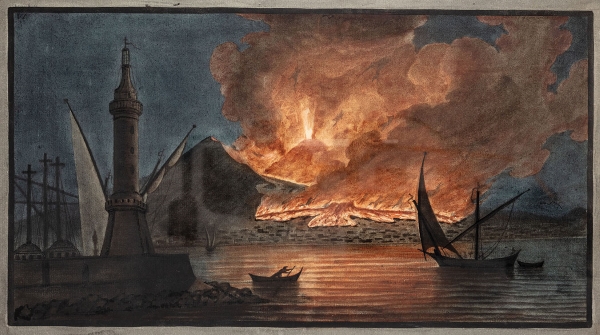 A night view of the eruption of Mount Vesuvius in the 1770s as seen from Naples. From William Hamilton's Campi Phlegraei: observations on the volcanos of the two Sicilies (1776).
And here are some all-time favourites, based on analytics from this year's sales: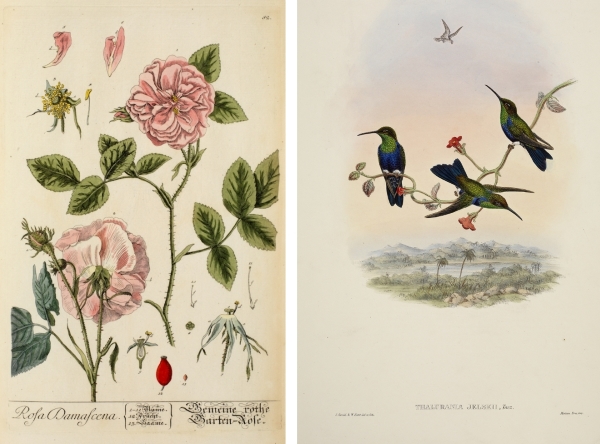 Left: A botanical study of the 'Rosa damascena' or Damask rose, from Elizabeth Blackwell's Herbarium Blackwellianum, vol.1 (1750); Right: Three 'Thalurania jelskii' or Jelski's wood-nymph, named after its discoverer Konstanty Jelski, from John Gould's A monograph of the Trochilidae, or family of humming-birds: Supplement … completed after the author's death by R. Bowdler Sharpe, part V (1887).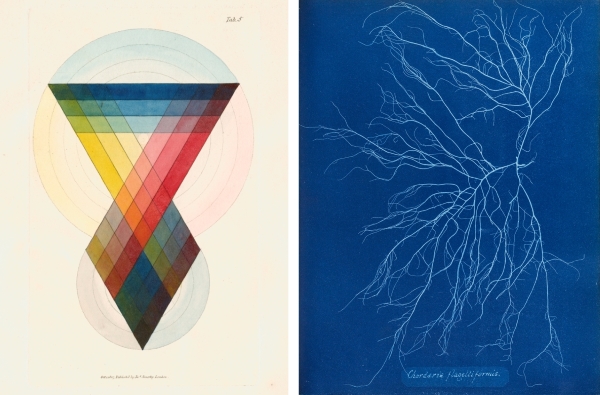 Left: A chromatic scale of colours from James Sowerby's A new elucidation of colours, original prismatic, and material; showing their coincidence in three primitives, yellow, red and blue… (1807); Right: A botanical study of slimy whip weed, a large algae with clear and defined filaments. Blueprint from Photographs of British algae: cyanotype impressions, volume one by Anna Atkins (1843).
If you're shopping for a friend or family member who is a practising scientist, whether in chemistry, geology, astronomy, physics or another discipline, head to our 'Browse by subject' page to narrow the results down. Alternatively, use the search bar to conduct keyword searches of your own and explore what's on offer.
All this and from the comfort of your own home! We hope you enjoy browsing and enjoy a picture perfect Christmas this holiday season.
* Please see here for our Christmas delivery dates.