Royal Society Library staff are currently working from home, and we've had to adjust to life without regular access to our archival and book collections. However, we certainly haven't been idle during this time.
Today we're very excited to launch our new online collections portal and catalogue search. This brings our collections together in one location, and provides a cleaner and more user-friendly design that can also be used on mobile devices.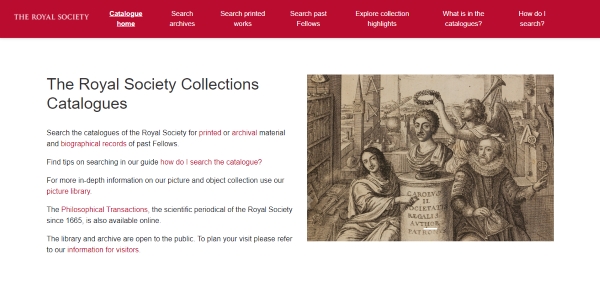 You can find the new collections search by following the links from our website, or by navigating directly to the search homepage. Alongside the wonderful image of the frontispiece from Thomas Sprat's 1667 History of the Royal Society of London, you will find a general introduction to our collections and links to the search pages for the Society's archive and printed works collections, as well as a new search page for our Past Fellows database.
For visitors simply looking to browse the collections, the Highlights page showcases some of the particularly interesting records and books we hold. We'll be refreshing the content on this part of the website over time, particularly to showcase newly-catalogued material in the database, so check back often!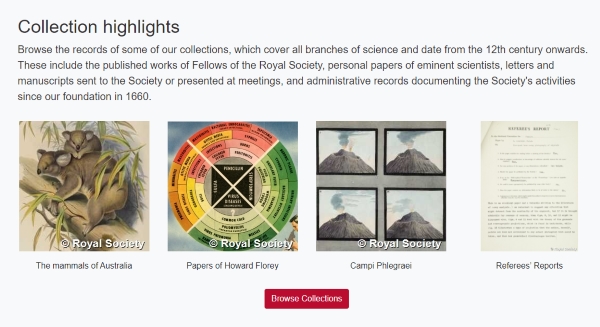 For researchers looking to get the most out of the new catalogue, our What is in the Catalogues? page outlines the overall structure of the collections and provides a summary of the key series contained within it. We also have extensive guidance for searching the collections, which will ensure researchers get the most relevant and useful results from our new search functionality.
We've made some important improvements to hierarchies within the archive catalogue. When viewing a record, users can now see how it sits within the context of its overall collection, allowing navigation up collection levels: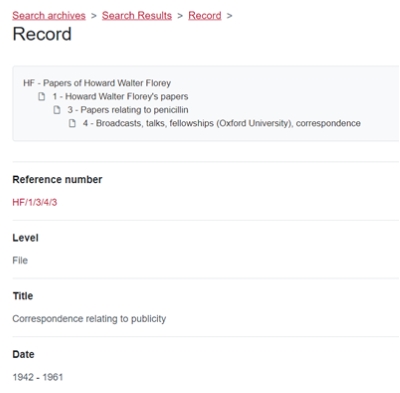 Clicking on the record's reference number will also bring up an improved tree browser, allowing users to see the structure of the entire collection: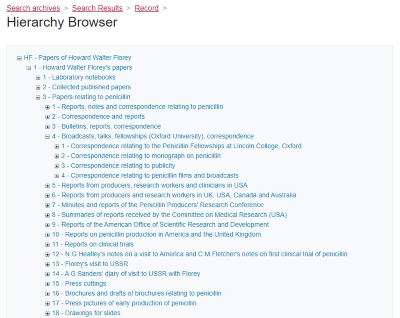 The new catalogue has also given us the opportunity to integrate our Past Fellows database with our archival records in a more streamlined way. Users can now search for historical Fellows and Foreign Members of the Royal Society from within the catalogue, rather than needing to visit a separate section of the Society's website. The authority records for past Fellows provide useful biographical information about their careers and interactions with the Society. Each record also contains a list of links to archive material associated with that particular Fellow, offering users another entry point into the collections: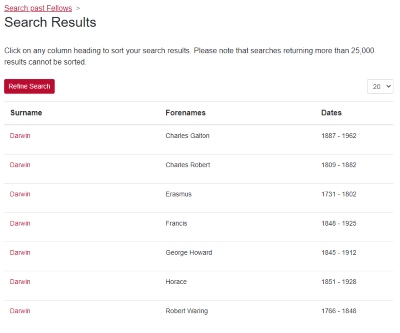 We encourage you all to take a look at the new catalogue and discover what's in our collections. I do unfortunately have to remind visitors that the Library is closed to researchers at the present time; however, while you're currently unable to visit in person and view archival material, you can email us at library@royalsociety.org and we'll do our very best to assist you. Information about any potential reopening will be posted on our visitor information page, as soon as we have confirmation that it's safe for us to allow the public back into Carlton House Terrace.
There's plenty of material to discover on the new platform, and we would very much welcome any feedback about the redesign. We have set up a short survey, which only takes a couple of minutes to complete. Your responses will help the Society prioritise future additions and enhancements to the platform.