The Royal Society Picture Library is a growing visual resource, and we've just reached 10,000 images online. Do have a browse – it's the perfect place to explore the development of science and the history of the Society through our extensive pictorial collections.
Here's a selection of ten images to celebrate our new milestone and to highlight a few of the projects which have guided us along the way.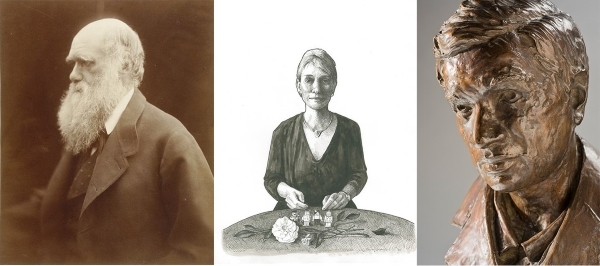 Left to right: Portrait of Charles Darwin by Julia Margaret Cameron, 1868 (RS.13313). Portrait of Francesca Happé by Garry Kennard, 2013 (RS.18287). Sculptured head of Srinivasa Ramanujan by Paul Granlund, 1983 (RS.13611) ©The Estate of Paul Granlund.
Portraits
From paintings and sculpture to engravings and photographs, the Society has an impressive collection of scientific portraiture. It's an important resource for historians of science and biographers, and continues to grow through the official photographs of new Fellows, and the commissioning of portraits by contemporary artists of our outgoing Presidents and other notable Fellows.
Above, you can see Garry Kennard's depiction of cognitive neuroscientist Francesca Happé. This was one of five portraits commissioned by the Society for inclusion in Scientists, an exhibition of female researchers which aimed to remedy the lack of representation in our portrait collection.
With the support of Art UK, we had the opportunity to re-photograph some of the Society's 60 sculptures and to capture these 3D objects from several angles. The resultant images are showcased on the Art UK platform, a project which aims to bring together all publicly-held sculpture. The depiction of Ramanujan's bust is one of these photographs and offers a more intimate view of the sitter. Created 60 years after his death and modelled on his passport photograph, the full story can be found in this article.
Darwin wrote of his portrait: 'I like this photograph very much better than any other which has been taken of me.' This iconic image was taken by the pioneering photographer Julia Margaret Cameron and appears to capture Darwin deep in thought.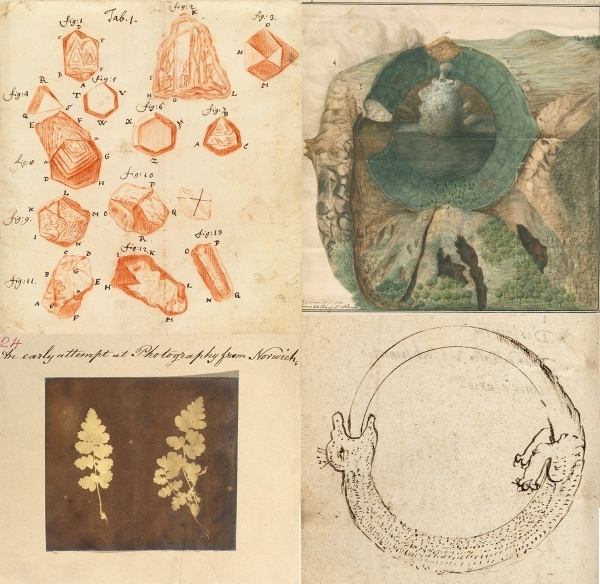 Clockwise from top left: Microscopic observations of sand by an unknown draftsman for Antoni van Leeuwenhoek, 1703 (RS.15798). La Soufrière volcano on St Vincent by Frederick Polydore Nodder, 1784 (RS.9780). Ouroboros by unknown artist, 1573 (RS.16884). Two specimens of fern leaf by Caleb Burrell Rose, ca.1840s (RS.9354).
Archives
Rich in scientific imagery, the archives contain correspondence and papers sent to the Royal Society as well as important scientific manuscripts unique to the collection. The composite picture above shows:
A microscopic study of sand particles by 'father of microbiology' Antoni van Leeuwenhoek, from one of over 300 letters he sent to the Society. The original drawings have been digitised and catalogued as part of the Making Visible project, a comprehensive study of the visual and graphic practices of the early Society which has generated more than 3000 Picture Library entries.
A schematic depiction of La Soufrière, an active volcano on the island of Saint Vincent. It accompanies an account of the volcano by Scottish botanist James Anderson (1738-1809) in a letter to William Forsyth (1737-1804), superintendent to the Royal Gardens at Kensington and St James, and was painted by Frederick Polydore Nodder, botanical artist to Queen Charlotte.
An ouroboros, symbol of wholeness or eternity, represented here by a dragon eating its own tail. It is taken from a French manuscript about the philosopher's stone, Clangor Buccinae (1573), which originally belonged to Royal Society Founder Fellow Robert Boyle.
An example of early 'photogenic drawing' created after Fox Talbot's photographic process. The contact print or photogram of two fern leaves belonged to naturalist and geologist Caleb Burrell Rose. An important stage in the invention of photography was presented to the Society by William Henry Fox Talbot in 1839.

Wood duck by Mark Catesby, plate 97 from The natural history of Carolina…, 1731 (RS.18632). The lunar landscape 'at sunset' by an unknown lithographer, from Sun, moon and stars by Agnes Giberne, 1910 (RS.9173).
Library
The library was formed very shortly after the creation of the Royal Society, and is a treasure trove of scientific books, with over 70,000 printed titles – perfect for sourcing beautiful imagery.
The two folio volumes of exquisite natural history engravings which comprise Mark Catesby's Natural history of Carolina, Florida and the Bahama Islands … (1731) are a firm favourite, and a popular choice in our Print Shop. This wood duck has recently been catalogued as part of an initiative to make both volumes available online.
Agnes Giberne's popular book Sun, moon and stars: astronomy for beginners (1910) offers this charming lithograph of a lunar landscape to appeal to the younger reader. Giberne (1845-1939) wrote books on astronomy for children, and became a founding member of the British Astronomical Association in 1890.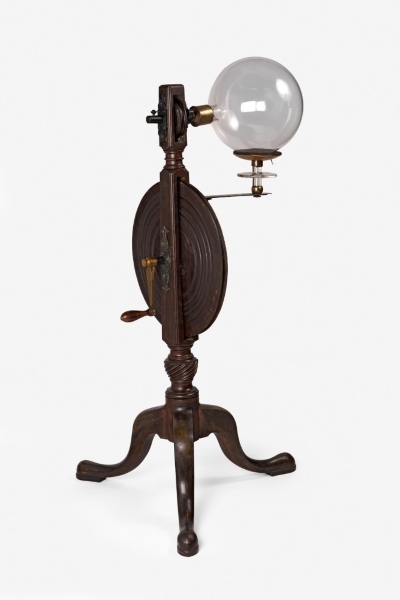 Joseph Priestley's electrical machine, 1768 (RS.8458)
Museum objects
The museum object collections have recently been re-catalogued, following the return of items loaned to the Science Museum in 1932 while the Museum relocates its reserve collection (some 300,000 objects!) from Blythe House to a specially-built facility in Wiltshire.
Our holdings are a little more modest, largely because the Society's original Repository was given to the British Museum in 1781. The collection is a mixture of instruments and historical relics, often posthumously donated by Fellows, such as Priestley's electrical machine, presented to the Society by James Yates FRS (1789-1871).
As well as a resource for academic research, we also license material for reproduction. If you have a specific enquiry, feel free to get in touch by emailing picturelibrary@royalsociety.org. Otherwise, keep an eye on our social media channels such as Twitter for more highlights and search suggestions.