This week we're delighted to present a new online exhibition, 'Scientists 2010-2021: Portraits of Fellows of the Royal Society' by Anne-Katrin Purkiss.
Over 30 leading researchers are featured in this Google Arts & Culture exhibit, some of whose faces may be unfamiliar outside the scientific community. The aim of this project is not only to provide a retrospective of Anne-Katrin's work but also to bring widespread recognition to some of the exceptional individuals she has photographed. Launched during British Science Week, this celebration of scientists comes at a time when their work is more important than ever in our daily lives.
Anne-Katrin Purkiss is an independent photographer. Her portraits document the lives of the people who inspire her, including scientists and creative professionals. Her portraits of Fellows of the Royal Society form part of an ongoing project to show distinguished scientists in their working environment. With a background in journalism, Anne-Katrin's photographs allow us a unique documentary insight into the working lives of her subjects and how those lives have changed over the years. As Anne-Katrin says in her introduction to 'Scientists 2010-2021':
'The purpose of collecting these portraits remains unchanged: to create a photographic record of exceptional people who apply their curiosity, creativity and imagination to science.'
With the support of the Royal Society Picture Library, which hosts and licenses her images, Anne-Katrin has curated this exhibition of portraits from the last decade. It's a follow-up to a show held at Carlton House Terrace in 2010, which showcased traditional black-and-white likenesses of Fellows from 1985 onwards: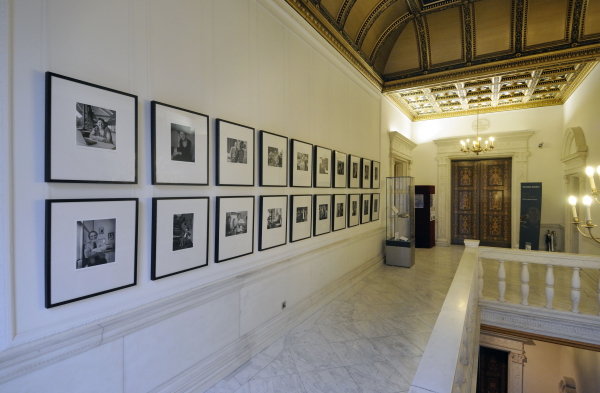 Interior view of Carlton House Terrace, showing the 'Scientists 1985-2010' exhibition in situ. Photograph by Anne-Katrin Purkiss, 2010
Anne-Katrin's techniques have since moved to a mix of digital and analogue photography, in which she often chooses to capture her subjects with both types of camera. This latest instalment, hosted on a digital platform, is a balance between the two and reflects the changing work of the artist as well as her subjects. Meanwhile, we continue to hold a collection of physical prints in our archive, to ensure their long-term preservation within our wider picture collections.
The portraits are in no particular order, and I'd encourage you to explore the environment of each individual scientist by reading their biographical details and enjoying high-resolution closeups using the deep zoom display. One of the defining features of the Google Arts & Culture platform is the sharing of pictures to support the dissemination of culture and knowledge, making it accessible to everyone. These pictures can be used by other organisations and institutions to build their own exhibition stories within the Google resource (they remain in copyright, of course!) and I hope they'll bring further appreciation of both the scientists and the artist.