Royal Society Picture Library staff are still working from home, but while we may be far away from our much-treasured picture collections, we've been using this time productively to develop several exciting projects. One of these has involved a number of updates to the Picture Library web interface, and we're pleased to announce that these improvements are now live.
As regular readers of our blog will know, the Royal Society Picture Library is the primary tool through which users can search photographs, prints, paintings, drawings and objects from our historic picture collection, from the sixteenth to the twenty-first centuries. We work hard to ensure the contents of the Picture Library are always growing, covering as wide a variety of scientific disciplines and artistic media as possible in our cataloguing.
Having recently reached the 10,000 images mark, we thought we'd celebrate by introducing certain cosmetic tweaks to the site, which hasn't been updated since it was first launched in 2012. It's accessible via the same URL, https://pictures.royalsociety.org, or via the links on our digital resources page. Aside from a cleaner header and an exciting reformatted search bar, you can now expect to see a number of new galleries when you visit the Picture Library home page: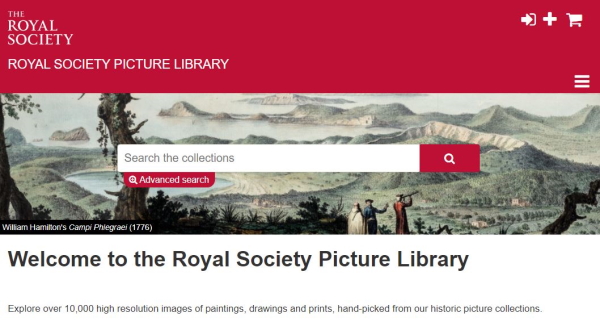 View of the Picture Library home page
The galleries are perfect for those simply looking to browse the picture collections. They contain images from several of our primary series, including our oil-on-canvases, sculpture busts and photographs, as well as images from recently-catalogued material. This latter category covers the Mark Catesby FRS, Newtoniana and Philosophical Transactions digital galleries, all of which contain new additions to the Picture Library. We hope to refresh this portion of the site regularly to keep users up to date with what we're cataloguing.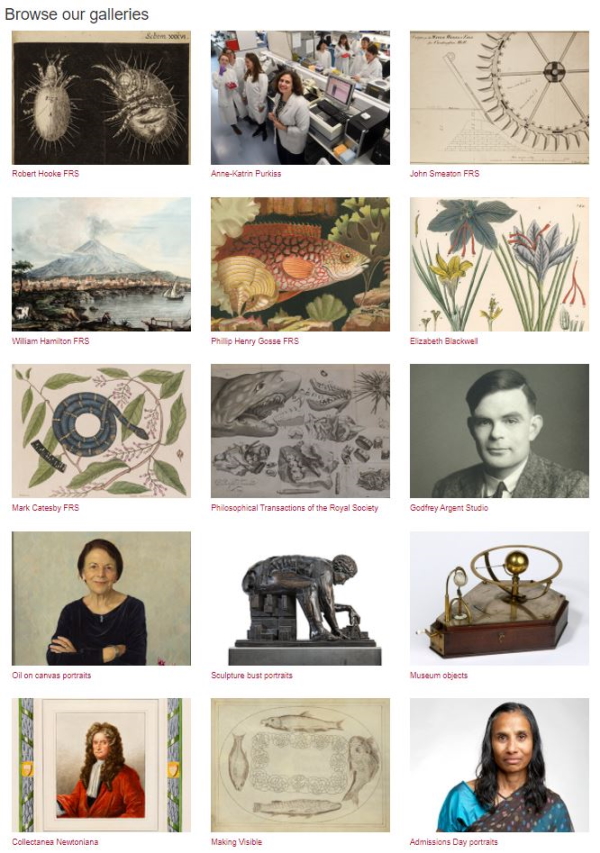 View of the Picture Library galleries
The Philosophical Transactions gallery showcases some of our favourite engraved plates from early volumes of the Society's journal, including this one of Newton's telescope. If you scroll to the bottom of this image entry, you'll see that a 'Related Material' field now appears. This is a new feature, which points users in the direction of image entries that relate to the one they're on.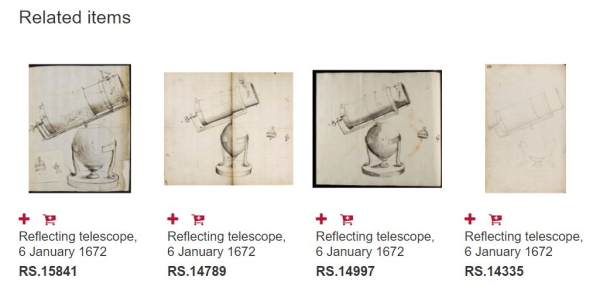 View of the related items for RS.18673.
In the above example, you can see various iterations of Newton's telescope that pre-date the engraved version, including Henry Oldenburg's drawing of it from our Early Letters series, as well as various copies of it in our Letter Books and Register Books. These are active links and we hope their presence will enrich your research and take you to corners of the picture collection that you might not otherwise have found.
Other tweaks include bigger images throughout the site, including on the search results page, which we hope enhances the browsing process by giving our users a better idea of what an image is before they click through on it. Similarly, we've moved towards a more icon-based approach which allows for the straightforward addition of pictures to the images module (formerly known as the 'lightbox') or the shopping basket, directly from the search results view.
We hope users will agree that these little tweaks go a long way in refreshing the Picture Library and bringing it in line with our other online catalogues, which are efficient and conducive to easy browsing. For returning users, we hope you'll find the images and licensing modules fairly unchanged and straightforward to use. If you have an account with us, you'll be able to log in and purchase licenses to reproduce material as normal.
All that's left to say is we encourage you to dive in! With over 10,000 images to look through, we hope there's something for everyone. The Royal Society Library remains closed to researchers at present, although we hope to greet our readers soon; meanwhile, you can still search and license our digital images, and if you'd like further information on any of the content you discover, do email us on picturelibrary@royalsociety.org and we'll do our best to assist.