I've recently been rehousing and cataloguing a series of original artworks from our collections, featuring Bushy House, the home of the National Physical Laboratory (NPL) since 1902. These works were originally displayed in Bushy House, then more recently in the Royal Society's former Kavli Centre at Chicheley Hall. We were very excited to receive them in the Library earlier this year.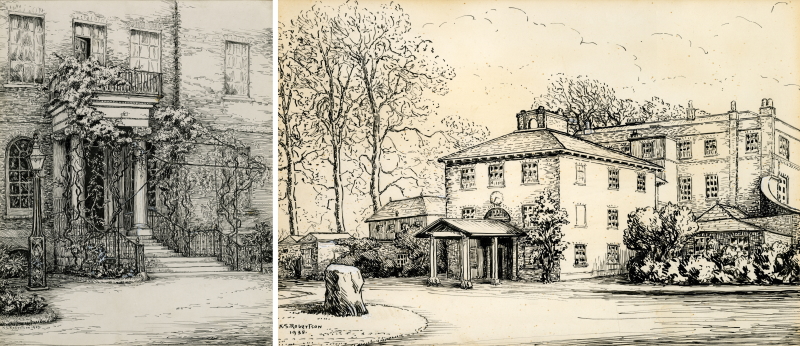 Entrance to Bushy House (left), and landscape view of the north side of Bushy House (right) by Lady Robertson ©Estate of the Robertson Family
The cataloguing process has raised many questions, some of which we've been able to answer while others remain mysterious. The works are all black ink on card and the majority are dated and signed 'K S Robertson'. We know that this was the British artist Lady Kathleen Stannus Robertson (1874-1939), daughter of Hugh Hutton Stannus (1840-1908), sculptor and art lecturer, and wife of Sir Robert Robertson FRS (1869-1949), Government Chemist. Even though she clearly inherited her father's artistic ability, there's disappointingly little information on Lady Robertson's work available online. But, after a little digging, I was able to shed some light on why she might have chosen the home of the NPL, Bushy House, as her subject for this series.
First, a little background information on the NPL itself. It was founded in 1900 'for standardising and verifying instruments, for testing materials, and for the determination of physical constants', and was to be the home of British measurement science. It was under the control of the Royal Society from 1900 to 1918 and the Society's collections give a clear sense how it came into being.
We have correspondence from 1896 from the British Association requesting that the Society join them in urging the Government to create a National Physical Laboratory at Kew Observatory (CMP/7/61).The Society established a Committee, headed by Lord Rayleigh FRS (1842-1919), to lead an inquiry into the question, and in 1898 the Committee recommended its establishment under the Society's control (CMP/8/4), with Richard Tetley Glazebrook FRS (1854-1935) as first Director. Initially, the NPL was to be housed at Kew Observatory, but this ran into local opposition from Richmond Town Council. After negotiations with H.M. Office of Works, the site was switched to Bushy House and the NPL was inaugurated there in 1902, remaining at the same location ever since.

Extract from a letter from H.M. Office of Works, offering Bushy House as a site for the NPL, CMP/8/7
The Department of Scientific and Industrial Research took over responsibility for the NPL's maintenance in 1918, but the Society remained responsible for its scientific programme, which it oversaw through a General Board and Executive Committee. It's through this General Board that I believe Lady Robertson might have found herself at Bushy House. Her husband, Sir Robert, represented the Society on the Board from 1925 onwards. He also served on the Aeronautical Research Committee, which often met at the NPL, so had many reasons to visit. It seems likely that Lady Robertson would have accompanied her husband on occasion, exploring Bushy House's grounds while he was otherwise engaged and, eventually, making sketches.

Cannon Gate, Bushy Park ©Estate of the Robertson Family (left) and a photograph of the same, 1900, courtesy of the NPL (right)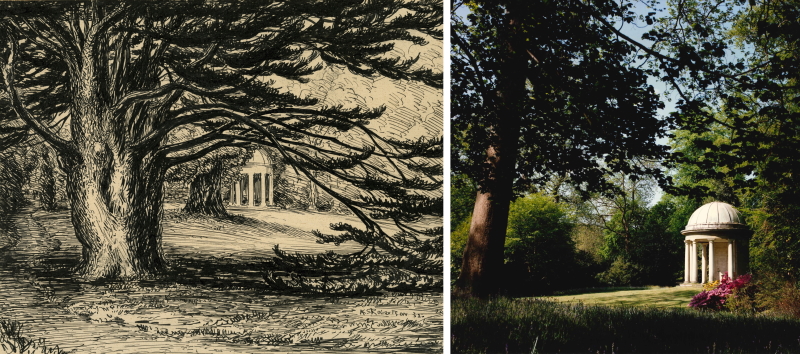 Landscape view of the grounds of Bushy House, showing the temple in the background ©Estate of the Robertson Family (left) and a photograph of the temple from a different angle, courtesy of the NPL (right)
Comparisons of her landscapes with photographs taken at the same locations show Lady Robertson's attention to detail in this endeavour. The subtleties of her subjects – the curved ironwork at Cannon Gate, the Doric columns of the temple – are very much incorporated and recognisable in her work.
We believe these artworks passed from Lady Robinson to Sir Joseph Ernest Petavel FRS (1873-1936), the Director of the National Physical Laboratory from 1919 until his death. Some of Lady Robertson's verso inscriptions mention Petavel by name, and Lady Robertson's husband was the author of Sir Joseph's Biographical Memoir, so we can assume the families were friendly. In an article for Notes & Records (starting on page 150), Sir Aaron Klug FRS (1926-2008), noted that:
'In his Will, [Petavel] left furniture and pictures to The Royal Society, for the use of his successors in Bushy House. Now that the Director's apartment at Bushy House is no longer occupied, we are considering what to do with the remaining items.'
This would suggest that Lady Robertson's artworks were left to the Society in Petavel's will. I haven't yet found paperwork to confirm this fact, perhaps because they were moved from Bushy House straight to Chicheley Hall, but I'll continue looking for clues. In the meantime, we've made Lady Robertson's works available for viewing on our Picture Library and will continue to update their entries as we uncover more. We hope people will enjoy the drawings of this little-known artist and the fresh take she provides on a historic institution.
(Note: our research hasn't yet led us to any living descendants of Lady Robertson, but we acknowledge that copyright over these works resides with them.)