A blogpost can hardly aspire to being encyclopaedic. This one discusses just such a book, however: a 1495 copy of De proprietatibus rerum, the oldest printed item in the Royal Society Library in English, rather than Latin or German. It was given to the Royal Society in 1683 by John Mellin, a craftsman noted for his expertise in making tiny microscope lenses.
The work was by Bartholomaeus Anglicus (or Bartholomew the Englishman), a Franciscan friar who in 1240 set out to create an encyclopaedia that would endeavour to explain all the words, concepts and ideas found within the Bible. De proprietatibus rerum (On the properties of things) contained 19 sections, starting with God, angels, demons and the soul, and continuing with a huge range of material in nature, from medicine to meteorology, and from animals to astronomy.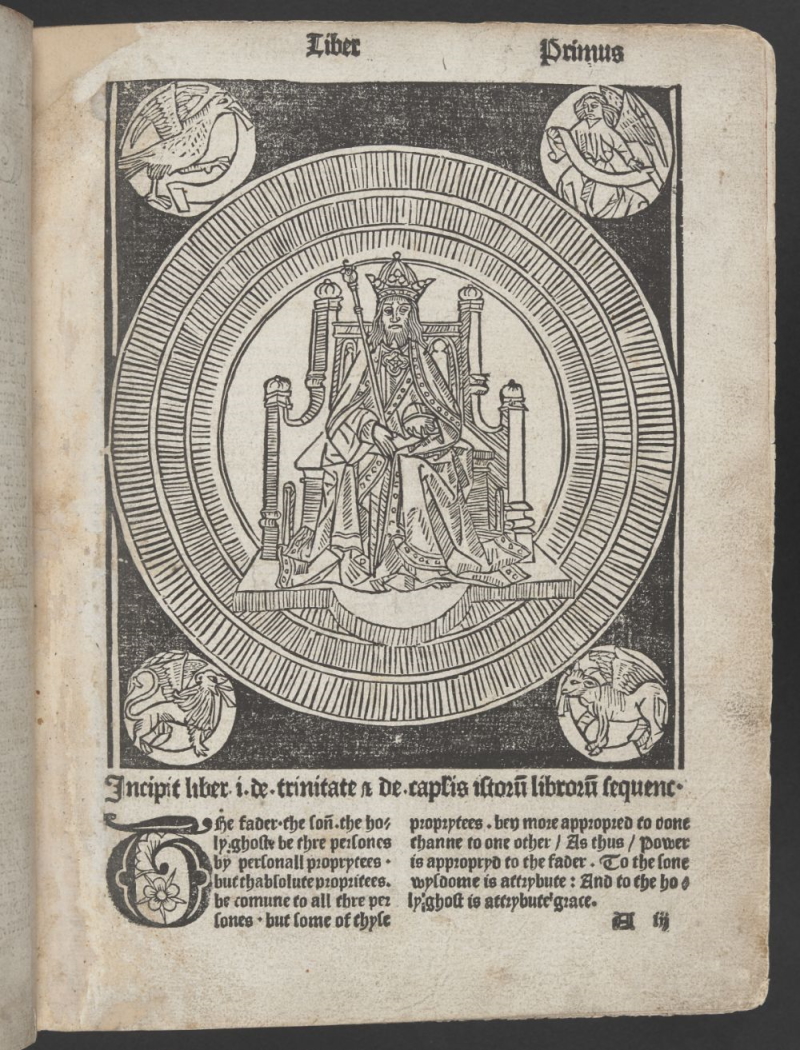 The medieval equivalent of a bestseller, De proprietatibus rerum was a natural choice when fifteenth-century printers began to look for items to send to their newly-established presses. The first edition was printed in Cologne in 1471 by Johann Veldener in partnership with William Caxton, an English merchant and diplomat turned printer and translator. It was likely Caxton's first foray into printing.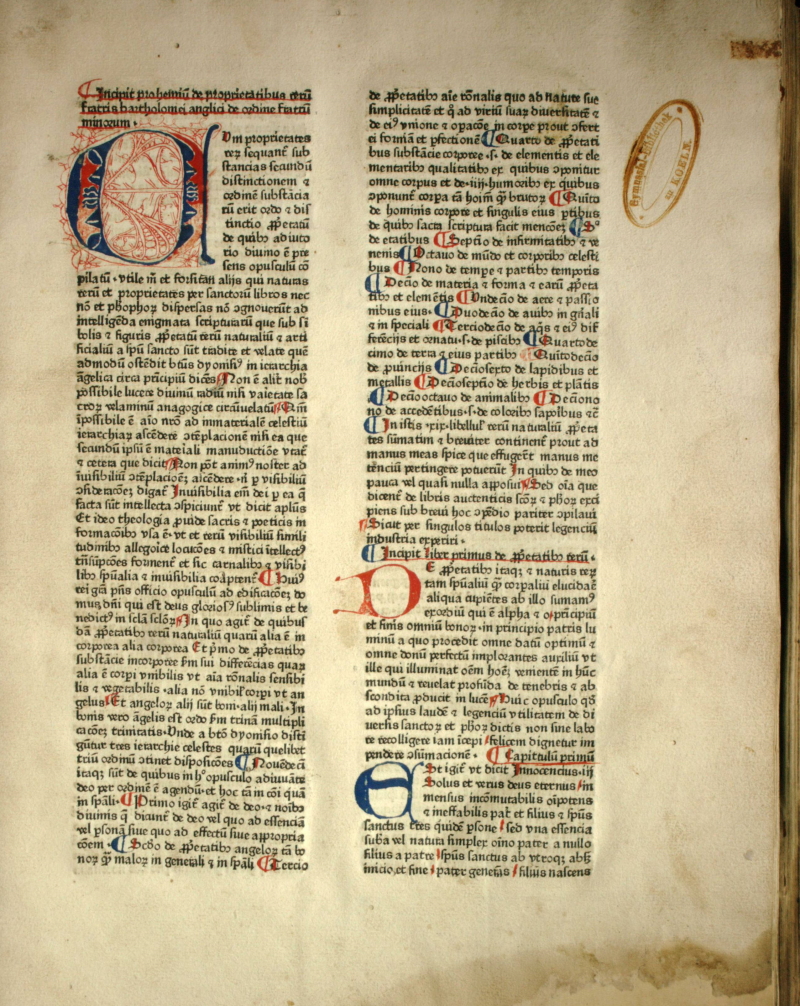 Page from the 1471 Cologne edition (CC Licence)
Four years later, Caxton moved back to England and brought his press with him. Setting up shop in Westminster, he was shortly reunited with Wynkyn de Worde, a printer with whom Caxton had likely worked when he was still on the continent. Of the 100-plus works that Caxton printed before his death in 1492, he never returned to De proprietatibus rerum, though it's possible that it was on his mind in 1482 when he wrote, in his preface to the Polychronicon of Ranulf Higden, that the latter book had been 'englisshed by one Treuisa Vycarye of barkley [John Trevisa] which atte request of one Sir thomas lord barkley translated this sayd book the byble & bartylmew de proprietatibus rerū out of Latyn in to englyssh':

(British Library, Public Domain)
Shortly after Caxton's death, Wynkyn de Worde decided to return to the encyclopaedia, but this time in English, using John Trevisa's translation of De proprietatibus rerum – though it retained its Latin title. The manuscript copy of Trevisa's text that served as the exemplar for de Worde's printed edition (now Plimpton MS 263), was likely borrowed from Roger Thorney (c.1450–1515), a noted book collector.
The Royal Society's copy is one of these, printed by Wynkyn de Worde at the Westminster press that he inherited from Caxton. While Veldener and Caxton's first edition was intended to look like a manuscript copy of the text, de Worde's edition took a dramatic turn, embracing the printed form, incorporating stunning large-format woodcuts at the beginning of every section, and printing headings, paragraph marks, and decorated initials, all elements which were previously done by hand. Though de Worde makes no mention of who created the woodcuts, his preamble does uniquely acknowledge the man responsible for making the paper, Johannes Tate, who ran the first English paper mill.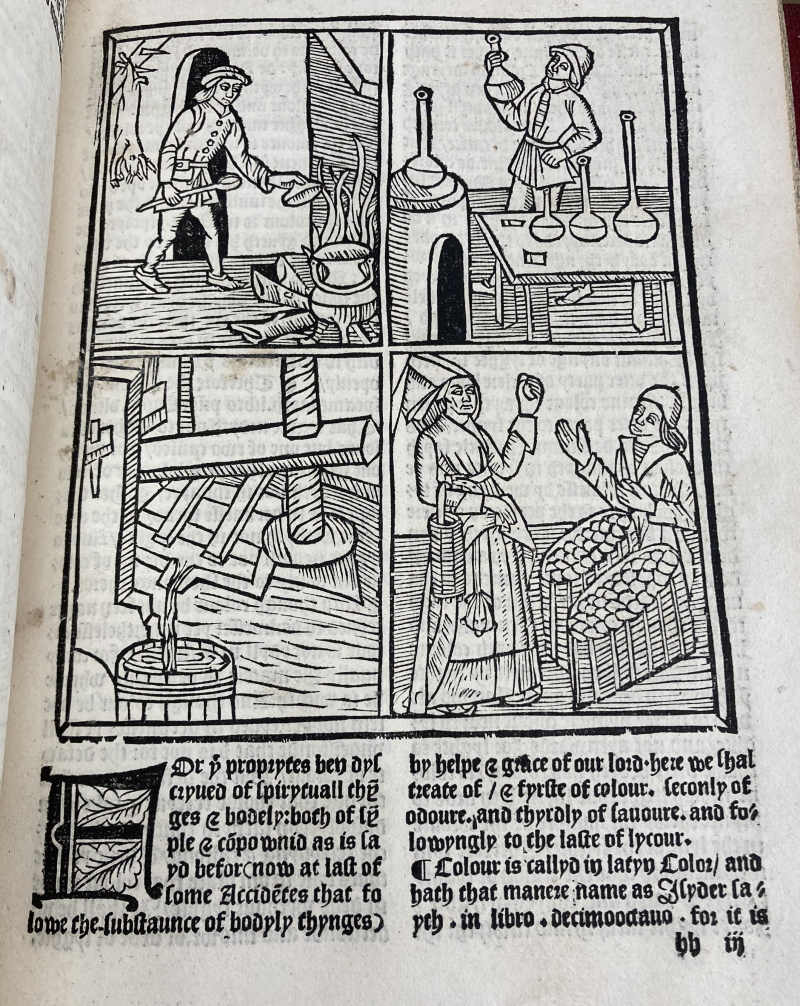 Despite clear differences – English instead of Latin, printed type replacing manuscript initials, and the addition of images – de Worde's 1495 edition clearly pays homage to Caxton and his 1471 version of De proprietatibus rerum. Not only is the typeface one that Caxton used, but the fact that this is one of the first works printed by de Worde after inheriting Caxton's press speaks to the close relationship between the two collaborators.
Even without the attribution of the first edition of Bartholmaeus's encyclopaedia to Caxton in the preamble, de Worde ensured that his edition of the text paid homage to the man that he worked with for more than 30 years: at the end of part 11, devoted to air and the weather, de Worde chose to fill space remaining on the page with a full-size woodcut of Caxton's printer's mark: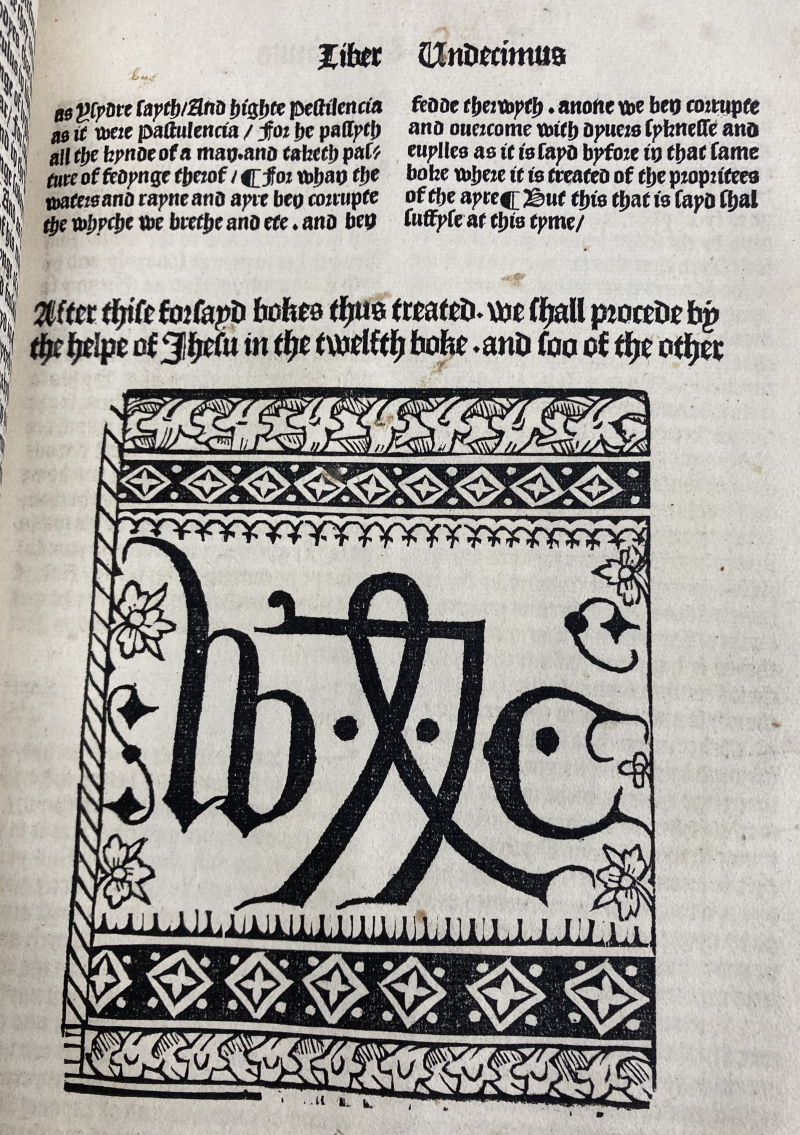 By ensuring that the link between the two works could not be lost, de Worde paid lasting tribute to Caxton and his career. He also expressed his hopes for the longevity of his printed books:
'yf one thing myght laste a M [1000] yere […]
Thise bokes old and blynde whan we renewe
By goodly pryntyng they ben bright of hewe'.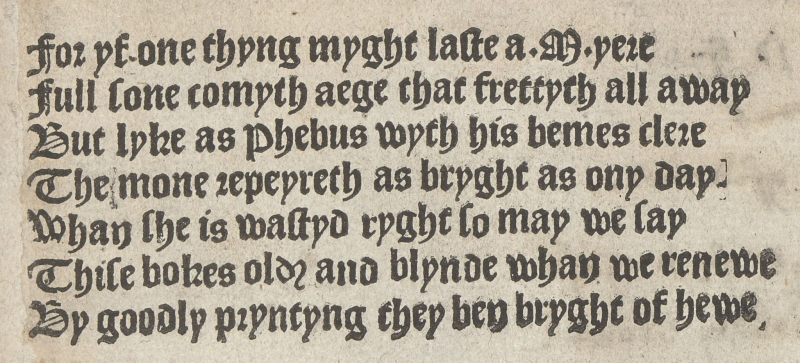 Well, Wynkyn de Worde's printed edition of the thirteenth-century De proprietatibus rerum was published in 1495, and is still in good, bright condition on our shelves. Only 472 years to go!