Anyone who has been on a tour of our Library will likely be familiar with the Royal Society 'Scrapbook', a chunky volume of paintings and drawings presented to the Society, largely for publication. We love getting it out to impress people with Richard Waller's beautiful watercolours of English grasses and weeds, and then watching their faces change as the pages take a turn for the anatomical – a personal favourite is this watercolour of a bladder stone, reportedly 9 inches in diameter.
A lesser-known scrapbook in our collection is MS/654, or the Priestley Papers. Less eclectic but equally fascinating, this volume contains material about Joseph Priestley FRS (1733-1804) and the many people associated with him. Those familiar with Priestley will know he was a person of huge fame and notoriety in his lifetime. When not making discoveries about the gas that would go on to be named oxygen, or authoring the first comprehensive study of the history of electricity, he was, as one of the most influential Dissenters of the late eighteenth century, forced to defend himself against claims of sedition and atheism.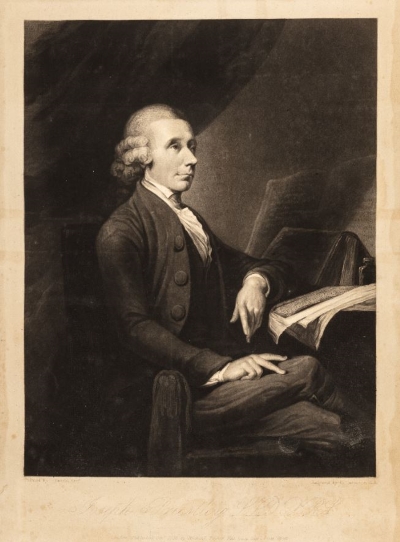 Engraved portrait of Joseph Priestley, from the Priestley Papers, MS/654
The curator of the Priestley Papers was James Yates FRS (1789-1871). Yates never met his hero personally, but knew many of Priestley's relatives, friends and pupils as a Unitarian minister himself, and spent much of his career documenting Priestley's discoveries and writings. As he explains in the preface to the volume, in 1856 he volunteered to oversee the creation of a statue of Priestley for the new University Museum of Oxford. As part of the process, he gathered information about busts, medallions and portraits of Priestley to guide the sculptor towards an accurate likeness. In this process, he acquired many other materials:
'The consequence was that many reminiscences of Priestley came into my possession, either by purchase or by gift, and after the inauguration of the statue I had to consider what good use I could make of them…'
In 1864 Yates decided to assemble everything into a beautiful, if slightly oversized, scrapbook, and the Priestley Papers were born: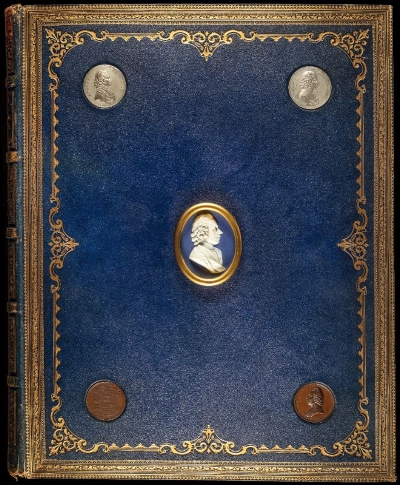 The Priestley Papers, Picture Library number RS.17950
The volume is bound in blue leather and adorned with a gold leaf design around its edges. Any member of the Library team who has carried it will know it is an incredibly weighty item, in part because of the commemorative medals attached to its cover. The top two are silver and inscribed 'JOSEPHUS PRIESTLEY'; while the bottom two are copies of the same bronze medal, with one side listing the various academies and societies to which Priestley belonged. The Wedgwood miniature of Priestley in the centre is said to be after a design by John Flaxman, who worked as a modeller under Josiah Wedgwood FRS himself.
All that before you have even looked inside! Unsurprisingly, a great number of likenesses of Priestley grace the volume's pages. However, equally exciting to me were items that linked directly to others in our collection. With holdings as large as ours, spanning archival and printed material, paintings and objects, it feels like a victory to be able to make these links and piece things together. One example is this engraving by British engraver Thomas Holloway (1748-1827) after a portrait in our collection of Richard Price FRS (1723-1791):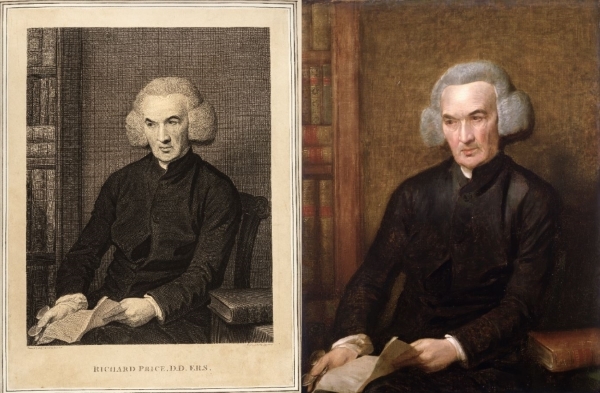 Engraved portrait of Richard Price by Thomas Holloway (left), after a portrait by Benjamin West (right); Picture Library numbers RS.17957 and RS.9279 respectively
Like Priestley, Richard Price was caricatured in a number of satirical prints and engravings for his theological stance and views on the French and American Revolutions; however, there were few attempts to create a true likeness of him. This portrait represents one of these, and to discover an engraving made after it in the Priestley Papers was a very pleasant surprise.
Another pleasing link is this painting of one of Priestley's famous electrical machines, the same model that the Society owns as part of its museum object collection: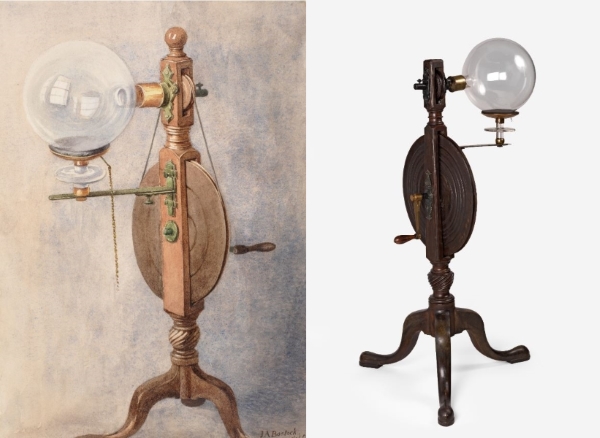 Painting of one of Priestley's electrical machines by a 'J A Bostock' (left) and Priestley's electrical machine (right); Picture Library numbers RS.17961 and RS.8458 respectively
This painting provides grounds for an interesting comparison. Its version of the machine contains a number of small details missing from the object itself, namely, a chain attached to the rubber support underneath the globe and a pulley linking the brass arm to the lever.
In his History and Present State of Electricity (1767), Priestley explains that the use of a pulley allows the globe to be fitted to the frame with one arm, rather than two, and notes the function of the chain as follows:
'When positive electricity is intended to be produced, a chain must connect the rubber with the floor; but when negative electricity is wanted, the chain must be removed, and hung upon the common conductor, while another prime conductor must be connected with the rubber; which will therefore be electrified negatively.'
The painted representation of the machine really complements Priestley's descriptions, bringing them to life and allowing us to imagine it at work. It also highlights the fact that our object is somewhat incomplete; however, I think it can be forgiven, considering it has survived otherwise intact since its creation in 1767!
You can find these images alongside more gems from Yates's memorial volume in our Picture Library by searching 'Priestley papers'. Alternatively, if one of your resolutions for 2020 was to make more of a record of your day-to-day via journaling or scrapbooking, the volume can be viewed in our Library Reading Room. It's a fascinating exercise in information-gathering and preservation, and could provide you with the inspiration you need to get going!